4 Reasons Intentional Rest Is Key For Every Runner
It is easy to go and go without taking a much-needed break. Here's why you shouldn't fear losing fitness and get some rest.
Heading out the door? Read this article on the new Outside+ app available now on iOS devices for members! Download the app.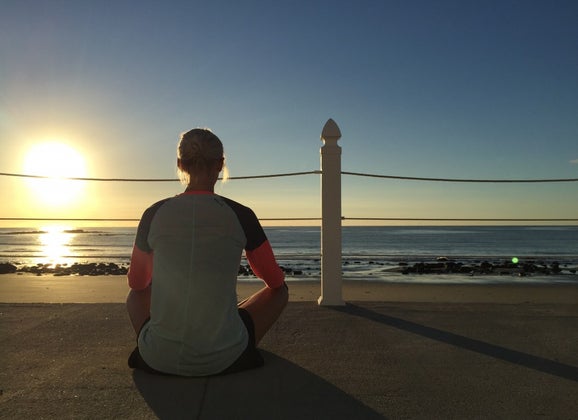 When was the last time you took a week off from running? What about two weeks? Chances are you were probably injured, forced to take a break from your daily runs because your body needed healing. So often, runners go and go and go without taking necessarily breaks that allow their body to recover and recharge. We are afraid we will lose hard-earned fitness, or that running will be harder when we return.
While both of those things are true—you do lose a little fitness during time off and running will most likely be hard again when you return—the benefits of taking planned time off from running far outweigh the cost and has the potential to help take your running to an even higher level.
The Pros Do It
Every professional athlete has a planned time off; usually it comes at the end of a training cycle after they have competed in a big goal race. Most pros will take a few days to a week off after a major "in-season" race and then have an extended time off at the end of the year, some athletes will take several weeks to a month off from organized training. This "off-season" allows them to fully recover, mentally and physically.
Injury Prevention
Taking planned rest after major races like a half marathon or marathon can help prevent injury. Returning to strenuous training to soon after a big race can lead to injury, as your muscles and ligaments are still weakened by the big effort of a race. Taking a few days to an entire week off after a race can help prevent overuse injuries, like tendonitis, down the road as you return to training again.
Recover And Reset
We can push our bodies to amazing limits, but only if we rest and recover periodically. Regular training can often leave the body depleted and tired, taking a dedicated "off season" can help your body rebuild. Consider taking two weeks off from all training after a big training cycle and race before heading into the build up for you next race. The physical rest will allow your body to heal and the mental rest from following a training plan and pushing yourself every day will prevent burnout, and help you feel hungry for the next race.
Coming Back
One of the reasons we avoid time off is because we're afraid we will lose fitness. We have worked so hard to get to where we are and wonder if taking two weeks off will negate all that hard work. The truth is that you will lose some fitness and as you return to running there will be a period of time where you are building your fitness again. Instead of looking at time off as a set-back, consider it a fresh start. Chances are that if you have taken deliberate rest you will be able to push yourself much harder and achieve much more once you return to running.