Top 10 Training Tips For Busy People Who Want To Race
Want to train for a race but have an impossible schedule to work around? One coach shares her top training tips to help you finish strong.
Heading out the door? Read this article on the new Outside+ app available now on iOS devices for members! Download the app.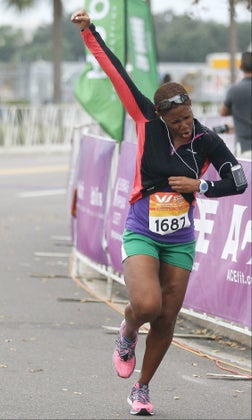 Training for a race, but having trouble finding the time? Coach Lesley Paterson is here to help with these great training tips:
Do Weekly High Intensity interval Training (HIT).
Bursts of 10s – 5min intervals is your best bet to increase race speed when you only have 30 minutes to run. Aim for one HIT run and one Tempo run (~80% of max heart rate) each week. The benefits are well supported by science there are plenty of sessions online.
Always measure the intensity of your workout. You can use the 1-10 Rating of Perceived Exertion (RPE), measure heart rate, or pace. You can't manage what you can't measure!
Follow a structured program.
Make sure it includes a 'periodized' progression in your training across the year. Either find a coach to set you one or purchase a generic program online. Structure  = efficiency. Simple.
Keep track of your training with new technology.
This will make you more accountable, help motivation, and allow you to see improvement. Online programs like www.trainingpeaks.com  or the simpler www.workoutlog.com are great. Buy a training watch like a Garmin Forerunner or use a running 'app' to measure your runs and let it wirelessly upload your data while you get on with life.
Do weekly 'form' drills to improve neuromuscular efficiency and strength.
Perform 3 x 30 yard drills including high knees, butt kicks, skips, bounds, quick steps, stride outs. Add in 6 squat jumps between alternate sets to better activate the glutes and hammies. Form drills train neural activation pathways that lead to a stronger, more efficient stride.
Need to do longer sessions but lack time?
Try splitting them up across the day. For example, break a 90 min run into 2 x 45 min runs (one AM, one PM), or do your long run only every 2-3 weeks.
Create Tiny Habits to ensure behaviors 'stick.'
Science tells us that creating a 'trigger' for your routine, removing barriers, creating a sense of urgency and rewarding yourself make habits stick. For example, try our core strength workout for endurance athletes that takes only 6 minutes! (www.6min6pack.com)
Recover!
It is a critical component of getting fitter even if you don't train very much!  Recovery assists physiological adaption to the training and gives your brain a break. Try doing 3 hard days followed by 2 easy days, or 3 hard weeks followed by 1 easy week. Experiment.
Get creative.
If traveling for work, use hotel fitness centers and gyms to get a 30min run session in. Put a treadmill in your office. See if some meetings can be done during a run (the Hollywood Exec favorite!) . Meet your family at a coffee shop halfway into a long run. Time-with-family does not need to equal no training. Pick holiday destinations that have great places to run!
Time-crunched competitive runners can compete successfully in 5Ks on 2-3 hours of running per week, in 10Ks on 3-5 hrs per week; half marathons on 4-6 hrs or week; and marathons on 6-8hrs/week. Run smart!