10 Tips For Running Back-To-Back Races
Running two in a month? Follow these tips to a strong double-finish.
Photo: LEO_KENNEY_603-387-6363
Heading out the door? Read this article on the new Outside+ app available now on iOS devices for members! Download the app.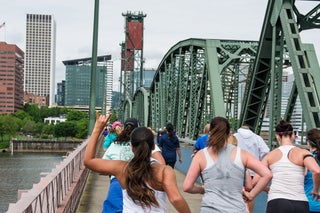 Snagging some extra bragging rights is all the rage at running events lately. (Think: Boston 2 Big Sur Challenge.) Everyone gets an additional something for completing multiple races just weeks—or even days or hours—apart. Races, such as the Rock 'n' Roll Marathon Series, offer runners bonus hardware for completing more than one race in a series, begging the question: How do I stay fit without getting injured in between start lines? If you're about to tackle two half marathons in the same month, here are some of our best tips for staying healthy and up for the challenge:
1. Focus on recovery. Running a big event twice in a month is a fun challenge. You get to have two fun days of racing—and you only have to go through one training cycle! If you made it to the first finish line, you've already put in the work you need to get to the second. Take the weeks in between to run easy—maybe with one long one mixed in—and focus on staying healthy. Trust your training to carry you through.
2. Make the second a leisurely one. Enjoy the scenery of a new city. If you crushed your PR at Rock 'n' Roll Portland and are hovering over the register button for Seattle, ride out the benefits of your already-existing training and cruise through the Emerald City for the sites.
3. Keep any speed work light. In the spirit of focusing on recovery, keep the fast workouts short and sweet. Any fartlek, tempo or interval training you completed before the first race will still be relevant. If you get the itch to go fast before the second race, cut a normal workout in half to avoid fatigue and injury. You're in recovery mode!
Related: 9 Ways To Fartlek
4. Rehab and prehab. You just finished a race, so it's time to party with your foam roller and best stretches. While maintaining running fitness is great for the second race, this period is the perfect time to roll out any race soreness and also keep your muscles loose for another go at the half marathon.
5. Stick to the same diet. Now is not the time to try new foods. Stick with the pre-race nutrition plan that works best for your body.
6. Review your race plan—again. Is there anything you would do differently in terms of pace or strategy? Now is your second chance to make minor race-day adjustments and see what happens. (We still recommend keeping the same fueling system.)
7. Cross-train. Other activities outside of running—yoga, swimming, cycling—are all great options to keep your cardio up but also give your body a break from the pounding before the second race. Stick to a regular post-race routine and swap out some run days with an extra day at the pool or on the bike.
Related: 13.1 Tips For Running Your Best Half Marathon
8. Get tons of sleep. Your body is tired! You just rocked 13.1 miles, and you're about to do it again. Extra sleep will recharge your muscles and mind and prepare you for round two.
9. Go in with no expectations, only opportunities. Similar to #2, free your body and mind of the pressures of performing at full potential. Heck, go the extra step and leave the GPS watch at home. Stepping up to the start line with zero expectations will leave you delighted with your finish and save you from disappointment if something doesn't go quite right.
10. Think of the bling. Runners can't get enough medals for the handfuls of races they complete. For races like Portland and Seattle, you're going to be one race away from scoring the "Cascadia" medal— for all those Northwest runners that are itching for an excuse to visit Vancouver too!