Your Tips For Racing In The Heat
Here's how to soar through your race even when temperatures are also rising.
Heading out the door? Read this article on the new Outside+ app available now on iOS devices for members! Download the app.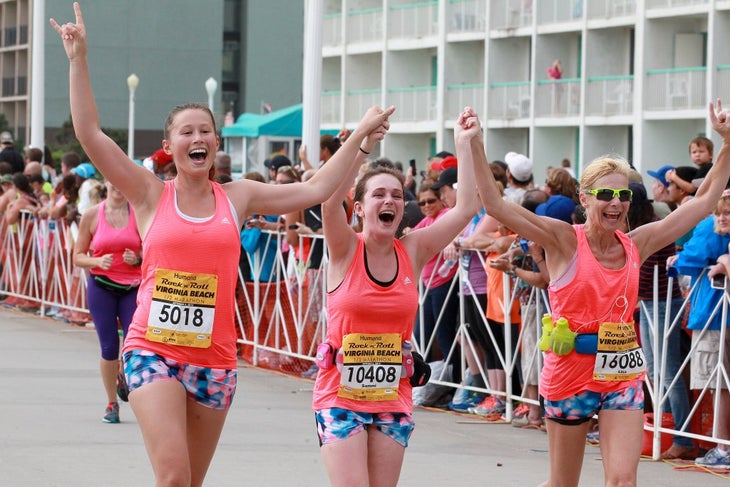 With hot and humid weather predicted for the next few weeks, the Rock 'n' Roll Virginia Beach Half Marathon, 5K and One Mile Race will likely be a scorcher—but that doesn't mean runners can't have a fantastic race! Keep these 10 tips in mind and you'll rock your event even if temperatures soar.
1. Slow down. The most important advice to heed during a hot race is to stay in tune to your body. Your heart, lungs and legs will likely tell you to slow your pace, so listen! Olympic coach Andrew Castor recommends adding 5 to 7 percent to your goal finish time on a warm day. Start out conservatively to ensure you have a happy and healthy day.
2. Make sure you start the morning well hydrated. Drink up at breakfast and take fluids (both Gatorade and water) early and often during the race.
3. Do a hat trick. One of the best ways to chill out is to wear a cap on race day. This will keep the sun out of your eyes and can act like your portable cooling station. At aid tables, douse the cap in water or stuff it in ice to cool your body off from the top down as you go.
4. Layer on the sunblock. A post-race beverage goes down more smoothly without a side of sunburn!
5. Keep hydrating. Rock 'n' Roll courses are well-supported with frequent water stations and electrolytes available on course. Grab for water at every stop, even if you don't feel like you "need it" yet.
Related: A Runner's Guide To Sun Protection
6. Relax in your hotel room. In the 24-hour pre-race window, stay horizontal as much as possible and soak up that A/C.
7. Be mindful of warning signs. Heat exhaustion can be dangerous. If you feel dizzy, lightheaded or disoriented, stop running. Ask for help from a race volunteer who will help you to a medical tent.
8. Carry salt packets. Hydration is important, but so is keeping your salt levels in check as you sweat out those electrolytes. This can play a role in preventing muscle cramps as well. Drinks like Gatorade are another good option to replenish what's lost in your sweat if you're not comfortable trying salt packets on race day.
Related: Warning Signs Of Heat-Related Illness
9. Stay positive. If the race gets tough, think happy thoughts. Coach Kastor lends this advice for marathoners: "Make sure you're choosing positivity. Run the first 20 miles with your head and the last 6 miles with your heart, instinct and desire to get through."
10. Listen to your body and visualize success. When your entire body starts aching and legs are cramping up, listen to your body and slow down if needed; a hotter-than-usual day isn't the ideal time to shoot for that PR. In addition, visualize yourself crossing that finish line, and remember that you did the training to get there. "Imagine yourself putting your hands up in the air at the line," says Kastor. If you dream it, your body will do it. And remember one thing: You've got this! Good luck!