10 Simple Reasons To Lace Up and Run
Need a reason to run? We have 10.
Heading out the door? Read this article on the new Outside+ app available now on iOS devices for members! Download the app.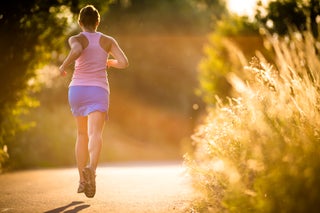 "Why do you run?" This ongoing question from non-runners to runners assumes a simple answer but often launches a runner into a deeper reflection of, well, why do I run every day? Our non-running friends equate running with some intense form of torturous, strenuous activity—which, at times, can be true. Yet we continue to write races on our calendar, set alarm clocks to chime before the dawn and scarf down carbs and cals on the regular. If you're scratching your sweaty head in search of the perfect poetic answer to give your curious peers, here are 10 options that will provide some clarity on why we love losing toenails and hate waking up late:
To release endorphins. Aka, the "runner's high." These hormones block pain and allow the body to reach a euphoric state during strenuous activity. These happy vibes often linger long after you've finished running and serve as enough motivation to get you out there over and over again.
To relieve stress. Avid runners often report that running relieves the stresses of life. Whether you're fixing for a little LSD (long, slow distance) or a quick jaunt around your neighborhood, getting out there and letting exercise elevate your mood and stimulate your noggin can help minimize the mental pressure that work, relationships or life in general can place on you.
To managed your weight. We've all heard incredible weight-loss stories through running, and it's true—if combined with proper nutrition, running can be a major player in anyone's weight-loss journey. In general, one mile or 10 minutes of running burns approximately 100 calories. If you're eyeing a marathon in your future, that's more than 2,600 cals!
RELATED: Weight-Loss Mistakes: Do This, Not That!
To make new friends. There's, like, a zillion run clubs all around the country. From local run stores, to city run clubs, to your neighbor's Facebook page, there are almost endless opportunities to make a running friend. Running is always better when you have a confidant who totally gets the highs and lows of the sport.
To test your body's limits. In a safe, manageable way, of course. Set tangible process goals and challenge yourself to increase the running just a bit every week. After awhile, someone who once thought she could barely walk a mile is suddenly toeing the line of her first 5K!
To wear neon. Has anyone else noticed that florescent is probably the most popular hue among running shoes? If there's any group who can get away with wearing neon socks, shoes, shorts, tanks, sports bras, jackets, headbands, arm sleeves, watches, hats, gloves or tights year-round—bonus points for reflectors—it's runners.
RELATED: Flashy Reflective Gear For Night Runs
To save money. If you're fortunate enough to live in an area that offers sunshine 360 days a year, there's no need for a treadmill. If you suffer through snow-pocalypse every winter, but you're ever so brave, it is possible(?) to ditch the gym and head outside for a no-charge sweat session underneath layers of neon lights.
To get smooth, sexy skin. All that salt that sticks to you and makes funny sweat art on the back of your tank? It's cleansing you of gunk that blocks pores and causes blemishes the morning of your next hot date. Us runners can all agree: Skin feels way smoother after a good workout and a hot shower.
To boost self-esteem. Witnessing your body overcome physical obstacles previous thought to be unattainable, you can definitely experience an increase in overall self-esteem through running. Plus, the sport is majorly mental, often more so than physical. Building up that upstairs confidence will translate to other areas of life that call for a strong will to succeed, be persistent and overcome roadblocks along the way.
To snag some bling. Come on—who doesn't drool in anticipation for when their next race reveals that sparkly finisher's medal and race-day apparel?