5 Things You Should Know About Running Mind Games
We want to help you understand the connection between your noggin and your footsies with these important facts about mind games on the run.
Heading out the door? Read this article on the new Outside+ app available now on iOS devices for members! Download the app.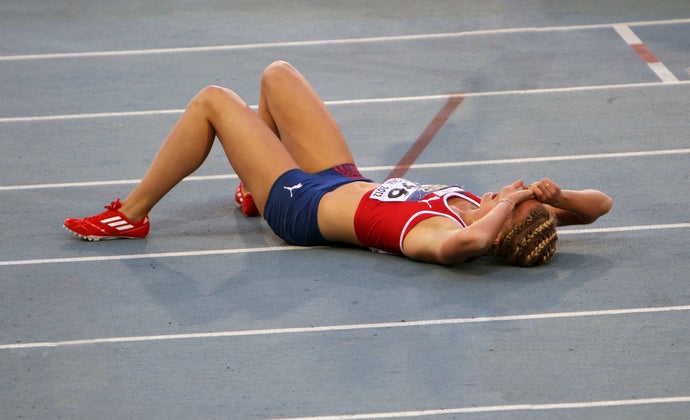 Understand the connection between your noggin and your footsies.
Is Running More Mental or Physical?
50% mental, 50% physical
"I believe running is equal parts. You've got to physically put in the work necessary to run well, but you also have to believe in the work you're doing, otherwise the physical work is futile."
— Mario Fraioli, Olympic coach
60% mental, 40% physical
"I would say the percentage of mental strength necessary goes above that of physical ability."
— Alysia Montaño, five-time USA Outdoor Track & Field 800-meter champion
100% mental (sometimes)
"If an athlete has done everything she can to physically prepare for the race, the race becomes 100 percent mental. My Olympic Trials win was 100 percent mental. I stood on the line knowing I had prepared myself as much as I possibly could. The only thing standing in my way of making an Olympic team was my mind."
— Julie Culley, 2012 U.S. Olympic Trials 5,000-meter champion
What is a "taper tantrum"?
A runner's version of a temper tantrum, this is a common side effect of tapering (i.e., running minimal mileage to allow your body to rest before a race). After days, weeks and months of building up to long, tough runs, your noggin must swallow the idea of "reversing" that work. (In other words, it's confused and is throwing aggro side effects your way as punishment.) Give yourself—and your brain—a break during the dreaded taper period. This lull is just as important for your mental preparation as it is for your physical training.
Is runner's high real?
Heck yeah! The "high" feeling most runners experience during and after a run is a result of endorphins, a chemical released during long periods of strenuous exercise. Mimicking the effects of opiates in the body, endorphins create a feeling of euphoria. No wonder running is the best drug.
How do I recover from a tough race?
"It is vital to transform your relationship with failure. Begin to see a tough race as an opportunity for personal growth and use your pain as fuel to burn as you move forward on your journey toward your goals," says Dr. Alexandra Wagener of Premier Sport Psychology. Wagener also recommends accepting feelings of failure to give your mind an opportunity to digest, move on and heal. Even the greatest runners in the world have off days!
Do mantras work on race day?
Similar to Pavlov's classical conditioning, mantras can serve as positive mental stimuli, creating a positive response in your body. Practice mantras during every training run, and by race day, your body will dig your mental games. Dreading that midrace incline? A mantra like "I eat hills for breakfast" will translate down to your toes and lessen the blow of a steep incline on the mind, thereby making you run stronger and feel better.