9 Worst Pieces Of Marathon Advice I've Received
Sometimes you have to ignore the marathon advice you've heard and just trust your training. Here are a few of those times.
Heading out the door? Read this article on the new Outside+ app available now on iOS devices for members! Download the app.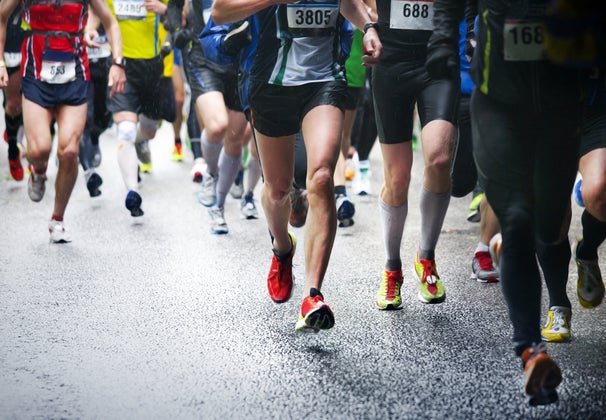 Over the course of 13 years and 31 marathons I've heard some pretty hilarious advice. When it's your well-meaning uncle who calls a 5K a marathon and has never run farther than 2 miles in his life it's easy to smile and ignore. But what about that advice from the guy from your running club who has been running for forever? It may cause you to question what you think you know about race day.
Here are tidbits I've been told over the years, words I can assure you are hands-down some of the worst bits of marathon advice I've ever received.
Buy yourself a new outfit for race day, you deserve to look pretty.
I'm all for feeling confident in your clothing, but picking out a new outfit the week before a race so I look pretty? I can can assure you that looking good for anyone other than myself hasn't been a priority in any marathon. Which leads me to my next bit of awful advice…
Nothing new on race day is a stupid rule.
There are going to be people who have tried something new on race day whether it's an outfit or fuel and survived, maybe they even felt they thrived in the race. But 26.2 miles is a long way to run if that fly by the seat of your yoga pants theory doesn't work for you. Play it safe, test everything out beforehand.
Calories don't count the week leading up to the race, eat whatever you want.
I'm all for the treat-yo-self moments, but unless you want to arrive to the start line of your race feeling icky, it's best to limit treats and focus on nutrient-dense foods that you are accustomed to eating. Nothing is worse than spending half your race in the port-o-potty because your stomach is rebelling against all the junk you fed it leading up to your big day.
Try all the samples at the expo.
While many of the samples being handed out at race expos are considered healthy, that doesn't mean they will agree with your body. Focus on getting your packet and save your desire to sample foods for a day post race when you are at somewhere like Costco.
Whatever the sales associate says at the expo must be true, listen to them.
I'm of the belief that the majority of individuals working at race expos have a passion for running or the product they are selling. This doesn't mean that a. they know everything and b. that they are qualified to tell you what you should do. Be smart about the advice you take, trust your training and don't stray from your plan.
You HAVE to have new shoes for your race.
While I recommend to my clients that they wear newer shoes, meaning don't wear that pair that has 400+ miles on them, brand new shoes are not the way to go. I like to have at least one long run on the pair I'm going to wear during the race, with no more than 50 – 100 miles on them. This means that I know whether there are any little things that are going to bother me come race day, but I'm also not pushing my body to the limits in a pair that's essentially dead.
Start faster than goal pace, you have to bank miles for when you hit the wall.
Hitting the wall is not inevitable in a race. Doing what some runners call banking miles is, in my opinion, the worst thing you can do in a marathon. It's been proven time and time again that starting slower and working in to a faster pace is the best race plan, unless you are one of those runners who is capable of running an even pace for the entire duration of the race. Banking time doesn't work.
Don't eat or drink until you are hungry or thirsty.
At this point, it's past the point. I've gotten in to the habit of starting my fueling plan at mile 5 of a marathon, that's miles earlier than I did when I started running marathons. I can tell you from experience that I hit the wall in every single one of those early marathons and I contribute that to a combination of starting too fast and fueling too late. The water stations start early on in the race for a reason.
Drink ALL the beer post race, it helps you recover.
I'll admit I enjoy a post race beer. I'm exhausted enough that one beer gives me the giggles and takes me to a lala land where I don't focus on how much my legs currently hate me. That being said, drink the beer because you enjoy the beer not because you think it's going to help you recover. What is not often mentioned in articles touting beers recovery properties is that the study published in the Journal Of American College Of Sports Medicine on whether beer reduces inflammation and post race upper respiratory track infections had the subjects drink non-alcoholic beer! Enjoy a beer or two but remember that few things are worse than waking up the day after a marathon with a hang-over!