5 Winter Foods That Help Your Body Fight Inflammation
Some of the best foods to fight inflammation are in season. Here is what you should be eating to keep soreness and swelling at bay.
Heading out the door? Read this article on the new Outside+ app available now on iOS devices for members! Download the app.
Runners understand the plight of inflammation more than any other type of athlete (in my opinion). Who else would sit in an ice bath after a workout, just to reduce the swelling in their tired joints? Let's avoid the torturous inflammation fighting tactics and adapt simpler ways to keep those joints happy, like filling our plates with ingredients heavy with antioxidants. Luckily, winter is the best season for finding antioxidant-rich produce that is ripe for the picking.
First, what exactly are antioxidants? Found in vitamins, minerals, or other plant compounds (called phytochemicals), antioxidants protect the body from oxidative damage, which can cause inflammation. Not only can inflammation cause painful swelling in our joints, but it has negative effects on the immune system and is associated with developing chronic diseases, like heart disease and cancer. Antioxidants are most prevalent in food, and each food boasts a different antioxidant profile.
These five winter foods are chock-full of antioxidants to help ward off post-run joint pain.
Beets
This earthy-flavored, deep purple veggie can't be beat (pun intended) in terms of nutrients. Beets contain an antioxidant called betaine, which has been linked to reducing oxidative stress associated with heart disease and Alzheimer's. For a double whammy, beet greens contain lutein, an antioxidant that may prevent the eyes from macular degeneration. And, as an extra special added bonus, beets contain nitrates that may increase your athletic endurance and help you run longer.
Try this recipe: Beets are the star in Shalane Flanagan and Elyse Kopecky's new Vegan Red Velvet Superhero Muffin recipe. They give the muffin a natural red color without artificial dyes.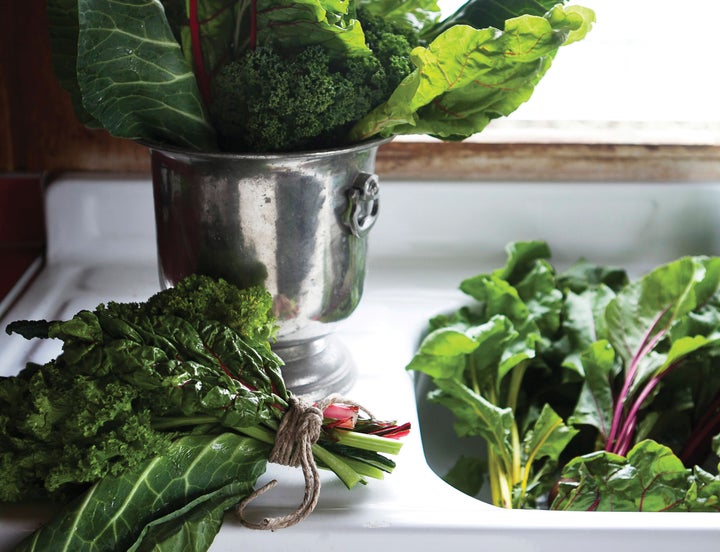 Leafy Greens
Because they can withstand cold temperatures, leafy greens like kale, Swiss chard, collard greens, arugula, and spinach grow best in the winter. Leafy greens contain a vast combination of antioxidants, including carotenoids, flavonoids, omega-3 fatty acids, Vitamin C, and lutein. Each green is different, but you will reap the benefits from any green you decide to throw on your plate.
Try this recipe: This red lentil and kale bowl is a winter powerhouse. Lentils are an excellent source of protein and fiber, while the kale provides those antioxidants that we now know we need as runners.
Citrus Fruits
One of the best things about winter is the abundance of citrus. The supermarket shelves are stocked with a variety of tangerines, clementines, oranges, grapefruits and pummelos, and they are all at the peak of freshness. When we think of citrus, we think of immune-boosting Vitamin C, but some research suggests that Vitamin C might fight the inflammation consistent with exercise-induced asthma. Important for masters runners, an observational study published in the Journal of Nutrition found that men and women over 50 who regularly consumed foods with Vitamin C retained the most skeletal muscle mass.
Citrus also contains flavonoids, which may reduce the incidence of stroke and lycopene, which may protect the cells from oxidative damage.
Try this recipe: This grapefruit and avocado salad does double-duty with antioxidant-rich citrus and greens (chard, arugula, or watercress is recommended).
Turmeric
OK—turmeric isn't exactly a winter food on its own, but it pairs really well with winter foods, like cauliflower or roasted root veggies. Turmeric has been shown to be a powerful antioxidant, which may reduce the inflammation associated with arthritis. Several studies are being conducted to test the effects of supplementing with the active form of turmeric, called curcumin, in order to reduce the incidence of arthritic knee pain and even improve cholesterol. Although the research is still preliminary, it definitely doesn't hurt to add more turmeric to your diet.
Try this recipe: The ready-to-go nature of overnight oats is definitely something to be thankful on a bleary-eyed morning. This overnight oats recipe is made with golden milk–a mixture of honey, turmeric, ginger, cardamom, cinnamon, salt, and, of course, milk. Topped with mangos, coconut, and pistachios, it makes a perfect pre-run breakfast.
Potatoes
That's right, your favorite starchy veggie actually has antioxidants. All potatoes—even white ones—contain plenty of the antioxidant Vitamin C. But two types of potatoes are particularly high in antioxidants—sweet potatoes and purple potatoes. Sweet potatoes contain carotenoids, which are a precursor to Vitamin A that helps protect the cells from sun damage and protect the eyes. And purple potatoes have almost twice the amount of the antioxidant anthocyanin found in most produce.
Try this recipe: Introducing Thanksgiving dinner, but make it breakfast. Who knew so much goodness could be packed onto what used to be a boring piece of toast. We're talking about turkey sweet potato toast. Definitely worth a try.