6 Whole Grains That Runners Should Be Eating
More and more people are banishing grains from their diet, but here are six whole grains that provide extra nutrients for runners.
Heading out the door? Read this article on the new Outside+ app available now on iOS devices for members! Download the app.
With the gluten-free and carb-free trends growing in popularity, more and more people are banishing grains from their diet. But carbohydrates are the fuel for your running gas tank, and whole grains are some of the healthiest sources for runners. In honor of National Whole Grains Month, here are six whole grains that make a great addition to any runner's healthy diet.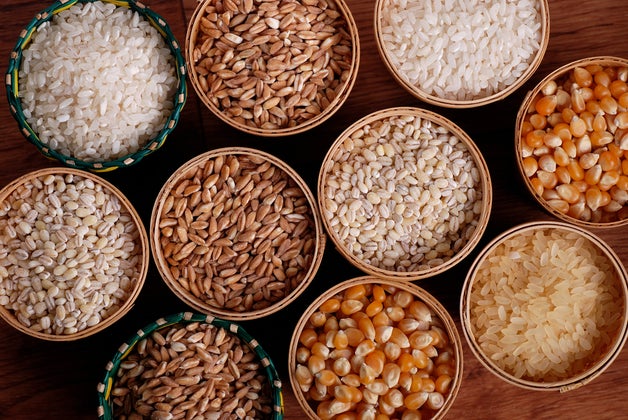 Whole Grains You Should Be Eating
Whole Wheat
Having whole wheat at the top of the list may seem like no-brainer, but it's often the most misunderstood grain of all. With many less nutritious varieties, like honey wheat and multi-grain, it's no wonder that people get confused when picking out a loaf of bread. Whole wheat, which should be the first ingredient on any whole wheat product, is actually packed with fiber and protein. Whole wheat in the diet has been shown to reduce the risk of stroke, type 2 Diabetes and heart disease, lower blood pressure and reduce inflammation.
How to eat it: Make a pre-run sandwich on non-GMO and organic Dave's Killer Bread, which comes in 15 varieties.
Oats
A sweeter grain, oats are usually synonymous with breakfast. "Old-fashioned" or steel cut oats are popular hot breakfast cereals with huge health benefits. Not only are oats full of fiber to keep you full, but the fiber they contain—beta-glucan—has been shown to lower cholesterol.
How to eat it: Overnight oats are all the rage and there's no cooking required. Try these Strawberry Mint Overnight Oats. Not a fan of oatmeal? KIND Healthy Grain Clusters are a great low-sugar source of oats and other healthy grains, making them the perfect pre-run fueling snack.
Quinoa
This light and fluffy gluten-free grain has become a staple among vegetarians and healthy eaters. Packed with 6 grams of protein in a quarter cup, quinoa is one of the only plant-based proteins that contains all the essential amino acids that our bodies can't make on their own.
How to eat t it: Quinoa is now regularly seen in soups, salads and baked goods. Try adding it your favorite hearty post-run dinner, like this Buffalo Chicken Grain Bowl.
Sorghum
Known as the drought-resistant grain, sorghum is a gluten-free ancient grain. It is commonly eaten with all its outer layers intact, which is why it retains the majority of its nutrients. Sorghum is also high in iron, which helps keep the blood pumping to your muscles during long strenuous runs.
How to eat it: Sorghum can be the base of a delicious dinner bowl, like this Summer Sorghum Bowl with Sweet Corn Succotash. You can also enjoy it in a delicious breakfast parfait—Strawberry Vanilla Sorghum Parfait.
Farro
This whole grain is popular in Italian cooking and actually has more protein than quinoa. Plus, farro contains an added bonus for runners—calcium for your bones. Chewy and nutty in flavor, farro is great in stews, casseroles or pilafs. Avoid "pearled" versions of farro, which have part of the grain and nutrients removed.
How to eat it: After a long run, indulge in a healthier version of risotto. This Tomato and Corn Farrotto uses whole grain farro in place of white rice, adding protein and fiber to curb your runger.
Freekeh
Pronounced "freak-a", this whole grain has a bite and a special surprise—it's lower in calories than rice, quinoa or wheat. A quarter cup serving contains only 130 calories with 6 grams of protein. Plus, it's an excellent source of manganese, which helps with fat and carbohydrate digestion, calcium absorption and regulating blood sugar.
How to eat it: Freekeh is a great addition to a salad, like this Blood Orange & Freekeh Salad. Or, enjoy a portion-controlled dinner in this Rosemary Sage Freekeh Stuffed Zucchini Boats.