What You Need To Know About Red Light Therapy
What's the deal with red light therapy? We take a look at the latest studies and scientific facts of this popular therapy trend.
Heading out the door? Read this article on the new Outside+ app available now on iOS devices for members! Download the app.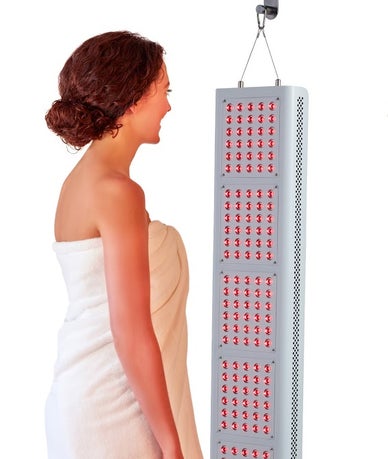 The timeframe for injury recovery might be getting shorter.
Not long ago, few people were familiar with red light therapy, and it was only available in specialized clinics. However, thanks to the ever-evolving technology, you can now recover under the lights at home.
Related: We Tried A Spa Treatment Right Out Of "Stranger Things"
What Is Red Light Therapy?
Red light therapy has been credited with treating acne, scars and SAD (seasonal affective disorder). But the futuristic treatment is more than a beauty regimen or mood booster; it can also help speed up muscle recovery and enhance athletic performance.
Let's revisit an early childhood light lesson real quick. The light spectrum comprises short gamma rays, visible light waves and longer radio waves. NASA confirms that the visible red light has a wavelength of about 650 nanometers. During sunrise and sunset, the light you see travels a longer distance through the atmosphere, removing a significant amount of blue and violet light and leaving more of the red-tinted light you see (often coming in hues of pink and orange).
Each color in the visible light spectrum has a different effect on the human body. For example, violet and blue light represent shorter wavelengths. Ultraviolet light can lead to the development of skin cancer and a lot of other health concerns. Blue light is emitted through screens on electronic devices and can lead to health stressors like poor eye health.
Meanwhile, red light wavelengths can pass through human tissue and restore cellular function, according to a Harvard Medical School study. In other words, red light therapy can help repair muscle tissue. Researchers have found that athletes can train and build muscle tissue effectively and efficiently with the assistance of red light therapy.
How Red Light Therapy Repairs Muscle
The exact red light therapy process is quite complex. In a nutshell, red light helps promote the production of antioxidants, which play a big role in reducing oxidative stress associated with muscle fatigue. Antioxidants also increase the production of heat proteins, which help repair and build muscle. Red light therapy can also reduce inflammation and prevent cell damage.
"Red Light Therapy (RLT) or Low-Level Laser Therapy (LLLT) has the potential to promote tissue healing and decrease pain," explains Frank Hoeffner, a physical therapist at Professional Physical Therapy. "There is some evidence that shows RLT and LLLT have some promising results, helping athletes and patients heal and recover more quickly."
Other Benefits Of Red Light Therapy
Red light therapy has several other clinically proven abilities, including the following:
Repairing sun damage
Diminishing wrinkles, scars and stretch marks
Healing acne
Repairing and rebuilding muscle
Enhancing performance
Fast-tracking wound healing
Reducing inflammation
How Can We Use Red Light Therapy?
In the past, you would have to go to a fancy salon or a dermatology medical center to get red light treatment. Moreover, red light therapy was mostly used for skin and acne treatments. But with recent technological advancements and research about how this light-based therapy can help repair muscles, the new product Joovv has made it easy for anyone to practice red light therapy from the comfort of their own homes.
Joovv is three inches thick and is designed to hang on the back of a door. It uses the latest LED technology, lasts about 50,000 hours and delivers 660nm of light, which is quickly absorbed through the outer layer of the skin. It comes in three different consumer options: mini, original and max. Though it's expensive, Joovv's sleek, easy-to-use design allows professional athletes and weekend warriors to do post-workout recovery at home instead of spending time and money on massages and light treatment at sports and medical facilities.
While it is natural and drug-free, red light therapy is not the whole answer to recovery. If you use red light therapy in conjunction with stretching, you can reap the benefits of both practices. This type of therapy can help athletes prevent muscle fatigue or soreness and can speed up recovery so pain doesn't interfere with training or competitive performance.
"Red light therapy has the potential to improve tissue healing and reduce pain in athletes and patients. It is not a treatment I would recommend in isolation; rather, it should be part of a comprehensive physical therapy program, to address underlying impairments that led to the injury," Hoeffner said.
The bottom line: red light therapy could work for you, but we recommend talking to a professional first.
Related:
I Went Naked And Tried Infrared Therapy
New Study Shows The Positive Effects Of Float Tanks