Living And Running With Premenstrual Dysphoric Disorder
A runner describes the struggles and triumphs she's experienced while learning to live and run with Premenstrual Dysphoric Disorder (PMDD).
Heading out the door? Read this article on the new Outside+ app available now on iOS devices for members! Download the app.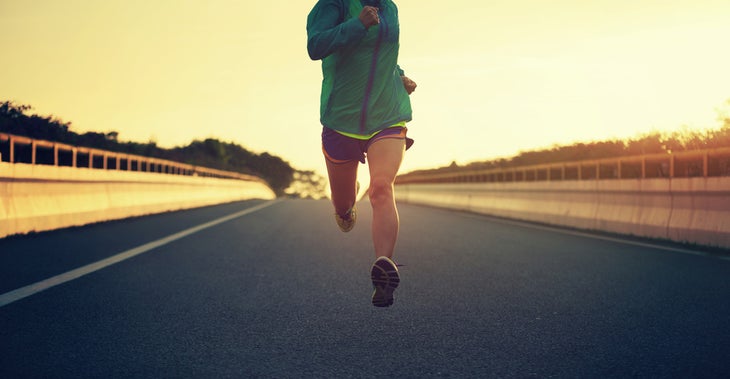 Running With Premenstrual Dysphoric Disorder
I ran today.
For those who know me, this statement is superfluous. Saying I ran is the same as me talking about cats and pizza, both of which I discuss frequently, and without provocation. When I talk about running, I may as well be talking about breathing, because both are vital to my own survival.
Most days, going for a run is usually determined by the weather (though a "true" runner can run in anything), time of day and how much sleep I got the night before. I could spend an entire lunch break thinking about running, ultimately accomplishing nothing and rushing through my meal as I type away during my 9-5. But on the days I can turn off my mind, turn on my music and take those first few strides, I feel invincible. I realize that everything I need to run is already within me, and that I've taken the necessary steps (run pun intended) to be healthy and happy.
Most days are easy. Most days simply require me to get out of my own way. Today's run, however, was different. Today's run literally felt like I was running for my life.
I suffer from Premenstrual Dysphoric Disorder (PMDD), a severe form of PMS that occurs the week before, and sometimes the week during, my period. Though it has been officially recognized as a mental disorder by the Diagnostic and Statistical Manual of Mental Disorders, Edition 5 (DSM-V), information and advocacy for PMDD is scattered at best. Only 3-8 percent of women experience PMDD, though I wouldn't be surprised if that number is much higher. Because it mimics other mental disorders, and because menstruation still does have a stigma attached, many women—myself included—do not speak up and do not seek treatment. It is especially tricky to diagnose because it is so temporary. The feelings of anxiety, hopelessness and inability to enjoy certain activities may last only a few days. Once your period starts, the fog lifts, you feel "normal" and you convince yourself it will not happen again. But it does, every month. It's like your own personal "Groundhog Day," without the charm and comedic timing of Bill Murray. It feels like your life has to start from zero, and that everything you've accomplished throughout the month is moot. And when you're training for a race, this can feel frustrating and defeating.
I am running the Chicago Marathon this year, but it will not be my first marathon or my first race. Aside from the physical ailments that I have grappled with like chronic asthma and a tibial stress fracture, PMDD is very prevalent during my runs. I cannot count how many times my training has completely stopped in the past because I couldn't get out of bed or remember why I loved running in the first place.
Tips For Running With PMDD
But none of this has stopped me from running. If anything, I now look at PMDD as a hurdle to run and jump across, not an excuse to roll over and play dead. I am only a few weeks into Chicago training, and I have adapted my training plan so that it works with my PMDD, not against it. Here are a few things I do to cater to my body, but not limit it:
If I have a shorter run scheduled, I walk instead or I switch out one of my cross-training days. If I absolutely cannot run, I don't.
I've never been a fast runner, and my goal has always been to finish a race with a smile. I use a training plan, running group and coaching as helpful tools rather than hard and fast rules.
Longer runs typically fall on a Saturday or Sunday, so if I don't run first thing in the morning, I know I have an entire weekend to log those miles.
I've found the best way to silence that chatter is by practicing yoga. Ego plays a big role in marathon training, and mine has certainly interfered on more than one occasion. I've compared myself to other runners, questioned my slow pace, and questioned my overall love for running. Even if it's only 10 minutes, yoga can make such a difference during the days I doubt myself. If I have learned anything from PMDD, it's that self-care is not selfish, it is necessary.
Diet has always been a crucial component to race training, and it is even more important when dealing with PMDD. Ultimately, it's about trying different things to find what works for you. Listen to your body, forgive yourself, and know that with effort and time, you can accomplish amazing things.
Most importantly, be honest with yourself and others about where you are. I used to feel ashamed of my illness, but the more I talk about it the more my community of love and support has grown.
So when someone says, "I ran today," know that they are doing more than exercising and more than what training requires. They are running, for the rest of their lives.
Related: