Tips From A Laundry Expert On Cleaning Your Athletic Gear
A laundry expert (yes, they exist) tells you how to banish the B.O. from your run gear.
Heading out the door? Read this article on the new Outside+ app available now on iOS devices for members! Download the app.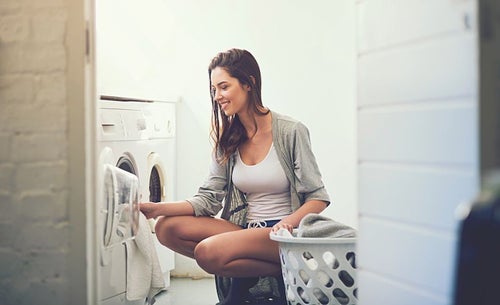 Whether it's a lucky race shirt or a sports bra that fits oh so perfectly, we've all got our favorite gear. Those workout wardrobe staples get a lot of love, and it shows—and smells. If you want a long, happy relationship with your workout wear, you've got to show it some TLC. Richard Geiger, a scientist who develops laundry detergents like Defunkify, explains why your workout clothes are so gross—and how to return them to their freshest state.
What Causes That Stank
Believe it or not, it's not sweat that's making your favorite shirt smell badly—it's bacteria: "Our bodies have millions of bacteria that live on our skin," explains Geiger. "When we exercise, our sweat and these bacteria are transferred to our clothing. The bacteria most responsible for the funk thrive on synthetic fibers. The more we work out, the more sweat we release, providing an all-you-can-eat buffet for funk-producing bacteria."
The problem gets worse as clothes warm up and the bacteria become more active—this is why that running bra may start out smelling fine but reeks like whoa a half mile into your run.
Why Washing Doesn't Work
Cleaning the technical fabrics used in workout wear is tricky because of the same principles that make them great for running: They are hydrophobic, meaning they repel water. Traditional detergents aren't made for these advanced fabrics and don't get synthetic fibers very clean. In fact, the active ingredients in a typical detergent just stay on top of the fibers rather than getting into the nooks and crannies that trap sweat, dirt and oils. It doesn't clean the bacteria, says Geiger—rather, it feeds it.
"If you examine a typical polyester running shirt that was washed with traditional detergent using an electron microscope, you see what looks like mashed potatoes trapped between the fibers," says Geiger. "This residue is a combination of detergent and body oils that bacteria feast on, creating that funky smell."
But Don't DIY!
Though desperate times call for desperate measures, Geiger says the DIY route is not recommended: "We meet a lot of people creating DIY laundry detergents, often using vinegar or borax. When you do actual testing, you see that these DIY treatments don't work very well and worse, they can cause big problems. Vinegar is actually harmful to the seals in your washing machine, and borax can cause contact burns and is poisonous, so we don't recommend these options."
Your 5-Step Laundry Plan
Don't let your clothes marinate! Get them out of the gym bag and into the wash ASAP.
Follow the care instructions on the clothing label—though it can be convenient to throw everything into one load, some items (like sports bras) may need to be laundered in a different temperature or on a delicate cycle.
Had a delightfully dirty trail run? Remove any caked-on mud before tossing your clothes into the wash.
Choose a detergent specially developed for workout wear, like Defunkify, Nathan Sport Wash or Raw Athletics Vapor Fresh, which are designed to get in between the fibers of moisture-repelling fabrics. Avoid fabric softeners, which can clog up the breathability and moisture-wicking properties of technical gear.
Air drying is ideal, but only if you hang clothes—laying them flat can cause clothes to smell like mildew. If using the dryer, set the heat level to low and skip the dryer sheets.
Related:
What My Pear-Shaped Body Taught Me About Apparel
The Real Way To Care For Your Running Clothes