How Training For A Marathon Does Help With Heartbreak
One doctor dishes up actual proof that there are some significant parallels between handling heartbreak and training for 26.2.
Heading out the door? Read this article on the new Outside+ app available now on iOS devices for members! Download the app.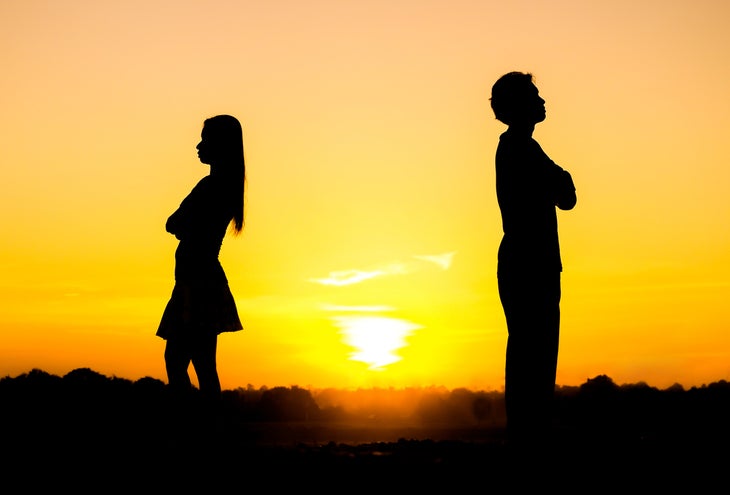 Over the course of our lives, experiencing heartbreak in some form is usually unavoidable. Everyone endures loss in some form or another, whether it's a romantic relationship, family member, friend or job. And while it's certainly tempting to wallow in bed with a pint of ice cream, that's one of the worst things you can do to recover. Instead, engaging in physical activity can help you deal with the pain and heal the heartbreak. Dr. Ken Yeager, Director of the Stress, Trauma and Resilience Program at The Ohio State University Wexner Medical Center, says the best cure for a broken heart may actually be running a marathon. Dr. Yeager spoke with us about the parallels between running and relationships, the connection between heartbreak and health, and the incredible physical and mental benefits that come from committing to training for a race.
Women's Running: Why is heartbreak so detrimental to our mental and physical health?
Ken Yeager: Investing in a relationship is an emotional risk. We not only invest time and effort, but often times we also invest our self-worth and self-identity and place at risk our self-perception when investing in a relationship. If one invests in a project at work and the project is delayed or rejected, there can (at times) be a good business reason for the decision not to move forward.
This is not always the case with a relationship. Frequently, when a relationship fails, persons who have invested don't have a good reason for why the relationship didn't work. We may intellectually understand why it didn't work, but that doesn't always impact the emotional investment. You can understand why and still be left emotionally drained, hurt and, at times, stunned. To make this even more difficult individuals don't always emotionally invest at the same level, so naturally the person who invests more is at risk at having a greater negative impact on their emotional and physical wellbeing. Often times, emotional dysregulation leads to deterioration of physical health. People stop taking care of themselves, they stop working out, stop eating right. After all, isn't junk food one cure for the symptoms of a broken heart?
WR: Why should we commit to something as long-term as training for a marathon? Why not just exercise until we feel better and have moved on?
KY: It's more than just getting to the point of feeling better. It is really more about self-confidence and building resilience. When a relationship ends it is not unusual to question your ability to be a success. Running a marathon is one measure of success. It's kind of like writing the great American novel—many attempt to do so, but there are few who actually succeed. The boost to self-confidence and self-esteem is remarkable. If you can complete a marathon you are most likely to be able to move forward in many aspects of your life successfully.
There is also the commitment aspect, as both relationships and completing a marathon are about commitment. You have to be able to make a commitment to the training for the marathon. Doing so successfully paves the way for some to be able [to take a risk and commit] to other major efforts—like relationships in the future. There is also the risk factor, as committing to a marathon is a risk, the most obvious being failure. This could backfire if your motivation isn't that great or if you haven't ever attempted even a 5K, but the payoff is substantial if you can take the risk and you succeed.
WR: What's the connection between the emotional aspect of heartbreak and the physical aspect of running?
KY: There are aspects of a marathon and a relationship that parallel one another; as stated above, risk and commitment are present in both relationships and preparing for a race of any length. When one runs, it offers a free space in your mind to think and process many emotionally difficult issues. Many runners report their best thinking occurs when running, as running gives them time to process and to really think through difficult issues. It is almost as if running provides a perfect format for processing a break-up.
In many cases trauma can be an accumulation of smaller traumatic events. In relationships that have been emotionally traumatizing, movement and the effort associated with movement is freeing. This, combined with a format for thinking and processing the emotional turmoil, is a naturally healing process. Initially, many run to avoid their emotional pain but find they run toward and eventually through the heartbreak rather than running away from the pain.
WR: Can running regularly help prevent the pain/anger of future heartbreak?
KY: Running is a tool—the more tools we have in our tool box, the better equipped we are to handle the challenges life sends our way. Running is not a magic bullet or a cure-all for the pain and anger of future heartbreak. It is more of a tool that can be used to help cope. Life necessitates the development of coping skills. The more we work to nurture our coping and the more tools we collect and the better skill with which we use our tools the better prepared we will be to cope with the future challenges life brings us.