"Today Show" Nutritionist Gives Tips On Eating For Runners
Let's start with the basics—like how to avoid runner's trots.
Heading out the door? Read this article on the new Outside+ app available now on iOS devices for members! Download the app.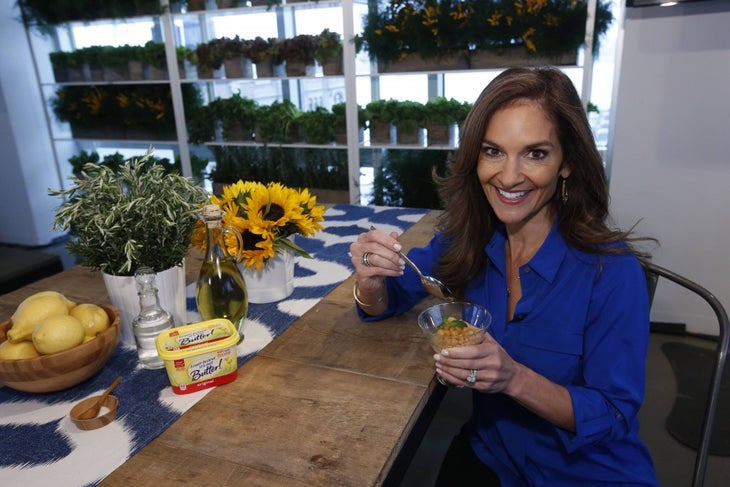 There's no magic pill that will help you run faster, but what you feed your body can help you recover faster and boost energy—which can help you pick up your pace.
The combination of carbs, proteins and fats is a masterpiece for runners. Carbs and fats provide the energy you need for running, while proteins offer muscle repairs post-run. But so many runners are caught up with carbs, carbs, carbs. While they are important to maximize your running performance, feeding your body with healthful fats and proteins can help you take a run from good to great.
Joy Bauer, author and "Today Show" nutritionist, wants runners—especially female runners—to not be scared to eat healthy fats. "Fats are incredibly healthful for number of reasons. One, they are so darn good. But they help steady your blood sugar and prolong your energy level. And help you feel full."
How To Balance Carbs, Proteins And Fats

Long-lasting energy is key to go the distance, whether it's a 5- or 26-mile run. "For runners it's kind of tricky. You want to feel full, but you don't want anything that will weigh you down. You want a diet that's balanced," expresses Bauer. "You want healthy carbs, but you don't want carbs that are full of fiber. You don't want to be gassy or have to go to the bathroom in the middle of your run."
So here's the trick to fueling before a long run: Eat a meal two hours before a long run, suggests Bauer. "You want some protein as well. So it could be a turkey sandwich on whole-grain bread with fruit and water."
Try this breakfast recipe:
1 chopped apple
1 tsp. of cinnamon
1 cup low-fat Greek yogurt
1 cup Quinoa, cooked
Saute the apples and cinnamon with a buttery spread of your choice. Mix everything together, or mix apple, cinnamon and Quinoa together, placing yogurt on top.
"The buttery spread with plant-based oils are lower in calories than a stick of butter, helps you feel fuller, and keeps energy."
Carbo-Loading: Big Myth?
Carbo-loading does exist and is very real, but it's not when you think you should down a plate of pasta. "We used to think it should be done the night before, which is not in your best interest," Bauer shares. "You want to start carbo-loading about a week before your race. You should really eat carbs with breakfast, lunch and dinner. It can be whole-grain pasta, Quinoa, whole-grain bread, fruits and vegetables. You want to eat an adequate amount to keep your energy up and muscles replenished."
But should you do more throughout the week? "The week before when you start to taper down your runs, add a little bit more carb to your meals," suggests Bauer. "In the morning, if you're having oatmeal, have a quarter cup more than you normally would. At lunch, if you have a sandwich, up your bread to a whole-grain roll. At dinner, have a few more tablespoons of brown rice."
What happens is you work out less in that last week, but you lay down the most glycogen store that you can possibly do, which will help keep your energy up come race day.
Related: Don't Believe These Runner Lies
Eating Less Than Two Hours Before
If you don't have time to eat two hours before a run, try to bite into a light carb—preferably an hour before. "You want to keep it higher in carbs, lower in fat and protein because you want the carbs to be digested more quickly than the fat or protein. And carbs give you fuel. But you don't want too much. Keep it 100 calories or less; so that could be a granola bar or fruit," says Bauer.
Eating After A Run
After a run, anything really goes. You definitely need a shot of carbohydrates to replenish the muscles, and you need a small hit of protein to help recover as well, explains Bauer. This should be done within the hour after the run. For a good snack, try Greek yogurt with fruit or kiwi with low-fat chocolate milk. "You get carbs and protein from the chocolate and dairy—it's like a one-stop shop," says Bauer.
Try this: Best Way To Eat Tart Cherries
Eating To Avoid The Trots

The dreaded runner's trots…no one wants to deal with it, but we've all been there. "The trick to avoid stomach issues on race day is to NOT try anything new the day before and morning of. You have to know exactly what your body is comfortable with when eating and drinking."
So this means—don't try any pre-race snacks the race offers. You don't want to risk an upset stomach come mile 8. "You need to know exactly what you're doing and have tried it several times before to make sure it doesn't bother your stomach. That is the key to avoiding stomach issues on race day."
Bauer suggests that all runners should journal their daily fuel when training. Write down what you ate and how you felt during the run to determine what is safe for you to eat before, during and after the race.