Tips And Myths On How Combat The Dreaded Flu Season
It's that time of year again—check these tips and myths about how to conduct yourself through flu season.
Heading out the door? Read this article on the new Outside+ app available now on iOS devices for members! Download the app.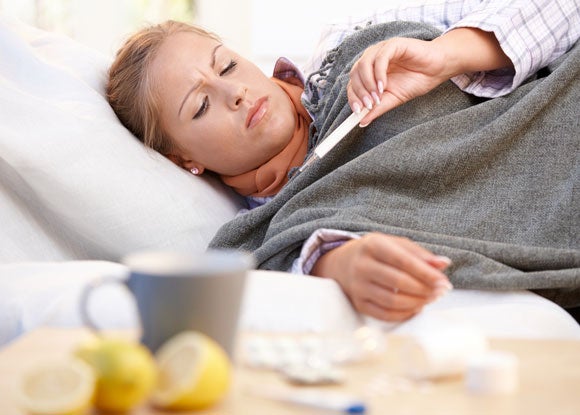 Achy neck and back, sore throat, foggy head—what you've been fighting all season long has finally arrived: the dreaded cold or flu.
Between the months of September and May, most adults get two to four colds every year—kids get even more!—according to Lenox Hill Hospital internist and "Today Show" contributor Keri Peterson, MD.
The cold and flu can knock you right off of your feet, forcing you to REST, which is extremely difficult for many people—especially runners. So in order to survive the cold and flu season, know your symptoms and try these prevention strategies that Peterson suggests.
Common Cold And Flu Symptoms
Cold symptoms usually begin with a sore throat, which can goes away after a day or two.  Nasal symptoms, runny nose and congestion follow, along with a cough by the fourth and fifth days. Symptoms can last for about a week.  
Flu symptoms are usually more severe than cold symptoms and come on quickly. Symptoms of flu include sore throat, fever, headache, muscle aches and soreness, congestion and cough. Most flu symptoms gradually improve over two to five days, but it's not uncommon to feel run down for a week or more.
At the first sign of a cold, take zinc. "I happen to like Cold-Eeze lozenges—they're clinically proven to shorten the duration of the common cold by almost half. The zinc ions released in your mouth inhibit the cold virus from replicating, shortening your cold," says Peterson.
Prevention Tips
Don't touch your eyes, mouth or nose. These are direct entry points for germs.
Eat healthily and exercise regularly. Maintaining a healthy lifestyle keeps your immune system strong.
Get the flu shot. While many people debate whether or not to get the shot, the flu vaccine is your first line of defense and will reduce the likelihood that you get the flu by 70 to 90 percent.
Wash your hands for about 20 seconds using warm water and soap.
Grab a disinfecting wipe and use hand sanitizer when you don't have access to soap and water. Look for a hand sanitizer with at least 60 percent alcohol, according to the CDC. Make sure you use about a dime size and rub your hands together to get rid of all the bacteria.
Related: Running From The Flu
Cold And Flu Myths Debunked
Can you get a cold in fall or winter if you go outside with wet hair?
The answer used to be, emphatically, no. Only a cold virus could give you a cold, but a new study came out that shows when exposed to cold weather/temperature, the blood vessels in the back of your throat constrict and that makes you more susceptible to illness. So yes, you are more susceptible if you go out with wet hair in cold weather and your body temperature drops.
What's more effective: washing or hand sanitizing?
As stated above, hand washing is more effective, because hand sanitizers don't work well if your hands are dirty or greasy. The product can't penetrate the layers of grime. Using a hand-wipe is best if you don't have access to a sink.
Anti-microbial soap or plain old Ivory?
A new study by the Journal of Antimicrobial Chemotherapy shows that plain soap is just as effective at killing germs as anti-microbial.
What about how germs spread via coughing? Hand, tissue or elbow?
A fair number of respiratory particles will escape when you cough into your hand or a tissue and probably into your elbow/inner arm as well. If you have to pick one, choose your elbow because it's less likely to come in contact with a surface you might touch (with hand) leaving germs behind to spread.
What's the rule? Work out or bed rest when sick?
If you have any symptoms below the neck, cough, fever or body aches, then you should rest.