These Banana Oat Nut Bars Make The Perfect Pocket Fuel
These make-at-home bars are great to take on-the-go for all the nutrition you need!
Heading out the door? Read this article on the new Outside+ app available now on iOS devices for members! Download the app.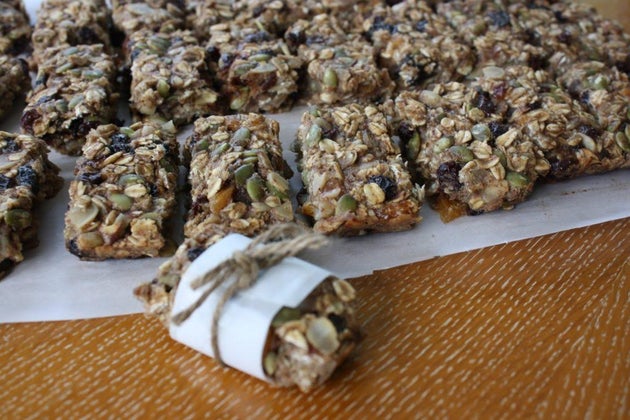 On-the-bike fuel has been on my mind a lot these days. What is your go-to? I've toyed around with some gels and—to my surprise—I actually happen to like Clif Shots! I also go for RXBars on longer rides. I am constantly trying new bars and products to see what works.
At the end of the day you can't beat homemade fuel—you control the ingredients and you can modify the recipes to your needs and tastes. I teamed up with Garmin to bring you this next recipe. I recently got the new Edge 520 for my bike, which is a device that allows me to plan routes on my rides, see my RPM, speed, distance and more; it syncs to my Strava account which is always a bonus. There is nothing like new toys to get you motivated! Cycling can be intimidating and overwhelming, which is why I always recommend to start off small. Don't buy everything at once! The Edge has been on my wish list FOREVER so I went for it and am so glad I did!
New bike toys means more time in the saddle, which means—more fuel! I will be embarking on Raphas Women 100k on July 17th and I will be supplying bars pre-ride. I had some recipes in mind but decided to create something new and fresh!
The base of the bars are banana which offer carbs and potassium. The seeds provide protein and Omega-3s, while the high fat content in the nuts slows down the absorption of the fruit. This way, you don't have a spike in blood sugar followed by a drop later. Slow-releasing energy is great on long workouts because it keeps your food working for you. Gels can help when you need a quick burst but for longer workouts, I love these bars! I plan on having them during my training all summer long.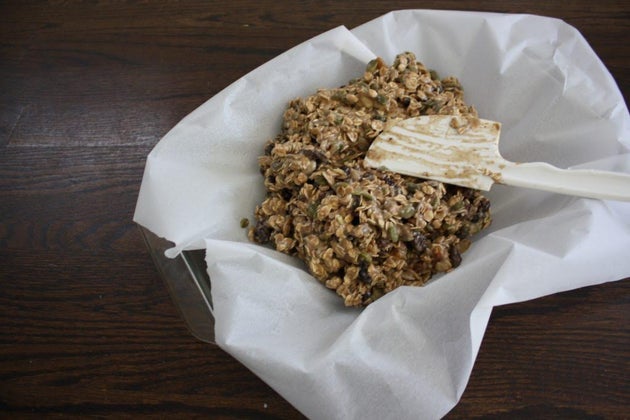 They hold nicely together and can fit right in your back pocket. I showed up to my group workout with a bunch of these wrapped in foil for my friends—and they loved them. They are pretty easy to eat on-the-go as well; I call them pocket fuel but you can really eat them whenever. Just keep in mind that "pocket fuel" is often dense because it needs to fuel you sufficiently!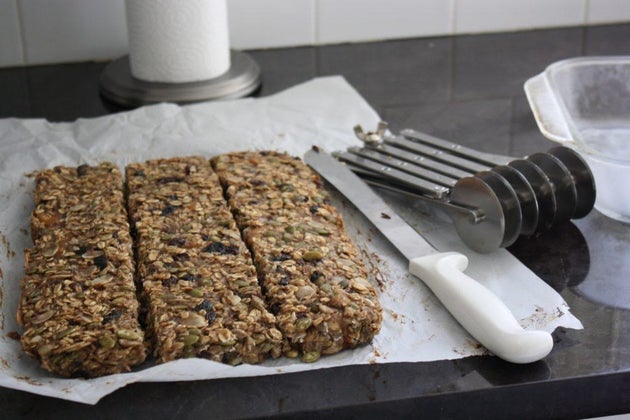 These bars can even be used as pre-workout/run fuel, but just keep in mind that you may want to give them time to digest since the nuts may make you feel heavy. My stomach is made of steel, so I can eat one of these and do anything! Remember—nutrition and fueling during a race is so subjective; everyone is different. But it is always worth trying new things and seeing what makes you feel your best! Give these a try. I promise you won't regret it.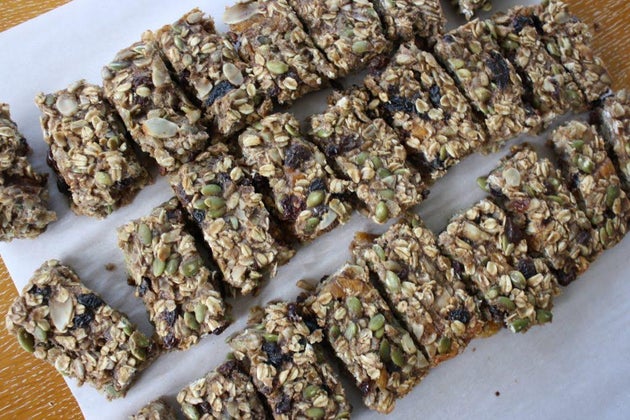 Recipe
Wet Ingredients:
5-6 medium size bananas
1/4 cup coconut oil
1/4 cup almond butter (any nut butter works)
1 teaspoon vanilla extract
Dry Ingredients:
3 cups old fashion oats
1 cup pumpkin seeds
1 cup chopped up dried fruit (apricots, figs, dried cherries)
1/2 cup sliced/slivered almonds
1/2 cup raisins
1/4 cup chia seeds or ground flaxseeds
1 teaspoon cinnamon
dash of sea salt
Note: You can use whatever nuts and seeds you like in the recipe, just be sure to use the same measurements.
Directions:
In a food processor or blender combine all wet ingredients process until smooth.
In a large mixing bowl combine all dry ingredients and mix.
Add wet mixture into dry mixture and evenly coat everything.
Line a pyrex with parchment paper and spray with non-stick spray.
In your lined pyrex add mixture and spread out till it's about 1 inch thick. If your pyrex is small you may need to use two. If its too large just don't fill it all the way.
Bake in the oven for 20-25 minutes at 350 degrees till golden brown
Let cool for at least an hour or refrigerate  and then cut into bars. You can cut them however large you want. I did small narrow bars for a total of 27 bars. I like making big batches because they can be stored in the freezer and you will always have a homemade treat to take on a ride or snack on.
To preserve freshness store in the freezer. They will last in the refrigerator for up to 3 days.