The "Big 5" Challenging Situations for Gluten-Free Runners
Some popular pre-, during and post-run festivities are too intense for the "intestinally" challenged.
Heading out the door? Read this article on the new Outside+ app available now on iOS devices for members! Download the app.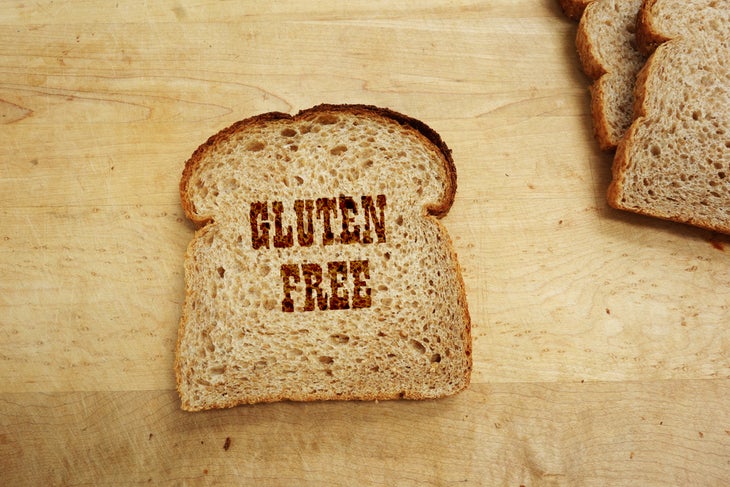 I've been at this whole gluten-free running thing for a while now. As someone with celiac disease, it's a fact of life. As much as I want to think it hasn't impacted my running, the truth is it has. Just like any big changes, it was an adjustment. Instantly feeling better after giving up gluten made the transition easier, yet I've still had to learn many lessons on the run. The most important is that it takes planning. I always have snacks. Once you accept that your food, and your health, is your responsibility, it's truly a relief. For those who don't have to read labels on the fly, you may not think it's a big deal (1. Lucky you. 2. Please have a slice of pizza and a beer for me!).
Let me open your eyes to the "big 5" for gluten-free runners.
Beer miles
It's not happening. Accept it, and move on. While there are a few notable exceptions, most gluten-free beers are oddly viscous and sweet, yet somehow bitter. Anyway, the thought of chugging one makes me queasy, as does the idea of taking shots or downing wine instead. Cheer for your friends and offer to be the designated driver; they'll need it!
Related: 9 Fuels And Foods For Gluten-Free Runner
Brewpub runs
While some brewpubs offer hard cider or even gluten-free ales, it isn't the norm, so don't count on it. Plus, much of the food at breweries has beer added as well. Take the opportunity to hydrate with lemon water and hog the potato chips. It's a small price to pay for a fun time with friends. Depending upon the group, consider suggesting post-run margaritas for the next outing.
Pre-race pasta dinners
Just say, "No." Sure, you can prepare your own gluten-free pasta at home. You can even brave a gluten-free pasta meal at a restaurant. But when thousands upon thousands of spaghetti dinners are being served, do not expect to get your very own portion of gluten-free noodles cooked in a fresh pot of water. It's simply too much to ask. And if you can't find something that works, eat some of your snacks—because you bring your own food, remember? I've had an almond butter and banana sandwich (on GF bread of course) as dinner before more races than I care to count.
Aid stations
I used to look upon race aid stations as a buffet oasis, full of my favorite snacks. What was once a personal refuge has turned into a war zone for my immune system. Bagels, sandwiches, pretzels—it's a cross-contamination nightmare. Add exhaustion, hunger and poor choices to the mix and you have the makings of a truly bad day. Instead be prepared…that's right—bring your own snacks. It's not fair to expect volunteers to know if a specific knife or cutting board has been properly cleaned since slicing 12 dozen bagels. So don't ask. Instead, choose options like whole bananas (or throw out the first bite if halves are the only choice), packaged gels or foods you recognize as being safe or something tasty from what you have stashed in your bra, shorts or pockets.
Related: Gluten-Free Power Foods
Post-race burgers, pizza and beer
After my first 5K, I ate an entire tomato and mozzarella focaccia bread from my favorite bakery. Not only did I consume a gazillion more calories than I needed, but I was also sick for days with no clue as to why. That post-race burger and beer you crave from mile 17 on of a marathon? I crave it too. But I've convinced myself that a lettuce wrap burger and a Coke (okay, sometimes the Coke has a shot of whiskey in it) are just as satisfying. To be honest, they are. Almost. Then again, there have been times when my post-race snack was a leftover bar or gel I had with me. And that's fine too. Because I still got to run!