The Best Shrimp Recipe For A Labor Day Party
Appetizer or full-blown main course, give this grilled dish a try.
Heading out the door? Read this article on the new Outside+ app available now on iOS devices for members! Download the app.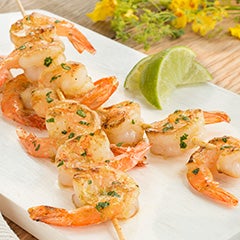 Grilled Cilantro Dijon Shrimp with Buttery Glaze
A Recipe by Nutrition Expert and Television Personality, Joy Bauer, MS, RDN
Ingredients
1/2 cup fresh cilantro leaves and stems, coarsely chopped, (plus additional for garnish if desired)
1 1/2 Tbsp fresh lime juice
1 Tbsp extra virgin olive oil
2 1/2 tsp fresh lemon juice
1 tsp grated lime peel
1/2 tsp grated lemon peel
3/4 tsp Dijon mustard
1 clove garlic, chopped
1/16 tsp red pepper flakes
1 1/2 lbs uncooked large shrimp, peeled and deveined
6 (12-inch) bamboo skewers, soaked in water at least 30 minutes prior to use
Glaze
2 Tbsp I Can't Believe It's Not Butter! spread
1 Tbsp honey
Directions
Combine cilantro, lime juice, oil, lemon juice, grated peels, mustard, garlic and pepper flakes in blender or food processor and blend until smooth. Add salt and pepper to taste, if desired. Pour 1/4 cup marinade over shrimp; stir to coat evenly, then cover with plastic wrap and refrigerate for 1 hour. Reserve remaining marinade.
Coat grill or grill pan with nonstick cooking spray and preheat. Skewer the shrimp. For glaze, combine I Can't Believe It's Not Butter! spread and honey in small saucepan and cook over low heat 2 to 3 minutes, or until spread melts. Add 2 tablespoons of the reserved marinade and stir to combine.
Once the grill is hot, cook the shrimp for 1 to 2 minutes, then turn and spoon over some of the glaze (or brush with a heat-proof kitchen brush), and cook for 1 to 2 minutes on the other side until shrimp turn pink. Place the shrimp on a platter and baste with additional glaze to your liking. Sprinkle with chopped cilantro, if desired.
Serve over steamed kale or with Mexican rice if desired.