Sometimes It's Okay To Be Lazy
Recovery is an essential part of your training cycle.
Heading out the door? Read this article on the new Outside+ app available now on iOS devices for members! Download the app.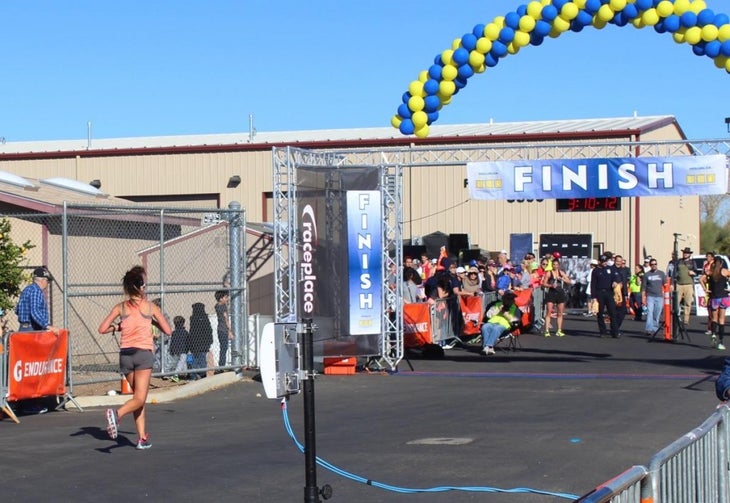 Just hang with me while I write a post to remind myself that it is okay to rest. Taking it easy is sometimes really hard for me. I think a few of you might be in the same boat.
I ran my eighth marathon last weekend! The Tucson Marathon was absolutely gorgeous and the temperatures were perfect. It was the perfectly sized race (for me). My training leading up to the marathon went really well. I had a goal and I was hungry to chase after it for 26.2 miles. And then it happened. Something out of my control (THE FLU) prevented me from hitting the goal I have worked towards for years and years. The first 19 miles went okay but then my body ran out of gas. I couldn't keep any fuel or liquid down during the race and those last 7 miles were rough. I counted steps. I prayed. I walked. I cried. I put on my most peppy songs. I bribed myself. I cried again and I finally reached the finish line. I came to terms with missing my goal during those 7 miles, while wishing badly I could try it all over again soon without the flu. I finished still hungry to reach my goals and ready to sign up for another marathon to work towards. It made sense in my brain at the time to build off of the previous training cycle. I needed to get right back to work so that all of the training from the previous six months wouldn't go to "waste." Let the speed work, long runs and tempo runs begin… right!?!
And then I realized that type of training would lead me to one place—injury and burnoutville (not a word but I am trying to be creative). The absolute best thing I can do in order to reach my goals is to rest now. My goal is to be lazy. It is to take some Saturdays off from the long run. It is the time to try other forms of exercise— to focus in on yoga and strength training. After taking 7-10 days completely off from running, it will be time to leave the house without my GPS, to listen to my body and to keep my runs nice and easy. It is so easy for me to get caught up in the MORE IS MORE mentality especially with my running. But for now, less is more. A lot of skeletal and muscular damage is done during those 26 miles and our bodies need time to repair everything. The more I rest and let my body recover, the better my next training cycle will go.
So if you are in between training cycles, burnt-out, worn out, or dealing with life issues, just know that running will always be there for you when you are ready physically and mentally to get back to it! Enjoy that extra sleep, couch time and washing your hair less often (you are sweating less = less hair washing in my book). Before you know it, you will be back to training hard and getting that much closer to your goals.

More From Hungry Runner Girl
Getting Over A Missed Race
This Happens To Runners Every Training Cycle