What's The Deal With Smoking Pot And Running?
As legal restrictions and moral opposition surrounding marijuana begin to wane, tricky questions emerge regarding drug use and athletics.
Heading out the door? Read this article on the new Outside+ app available now on iOS devices for members! Download the app.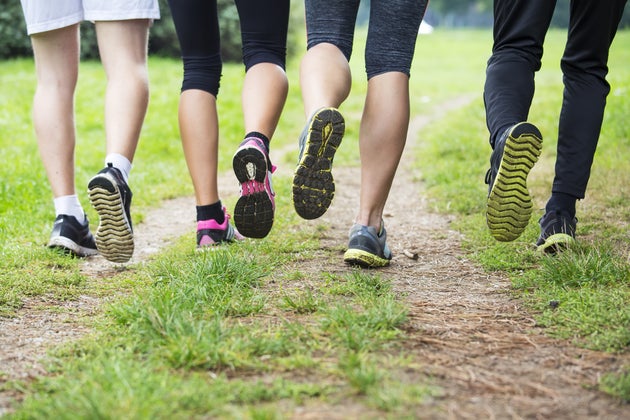 Pot, weed, cannabis, reefer, dope, ganja, whatever you call it, it's been around for thousands upon thousands of years. In fact hemp cord (hemp and marijuana are both members of the cannabis plant family) has been found in ancient settlements from 8000 B.C. Evidence of the use of marijuana to treat ailments can be traced back nearly 5,000 years. Scientist Carl Sagan even theorized that it may have been the first cultivated crop.
Despite its decades-long "War on Drugs," America has long espoused the medicinal effects of pot. In fact, from 1850 to 1915, marijuana was readily available across the U.S. in pharmacies and general stores. When Prohibition went into effect, weed was even suggested as an alternative to alcohol. Criminalization didn't happen until 1937, following the creation of the Federal Bureau of Narcotics and the passing of the Marijuana Tax Act.
High Times
Fast-forward to 2016 and recreational cannabis is once again available in Alaska, Colorado, Oregon, Washington and the District of Columbia—medicinal marijuana has been legalized in an additional 19 states. Weed has gone from a polarizing substance popularized by the Woodstock era and vilified as the "gateway drug" to being less controversial and more widely accepted by the mainstream. Don't believe it? The first person to buy legal pot in Washington in 2014 was Deb Greene, a grandmother and marathoner.
Whether you are fundamentally opposed to marijuana use or you support legalization, much like alcohol, the bigger conversation has to do with the drug's place in society at large. And that includes sports.
So should pot be considered a performance enhancer? The jury's still out. The American Journal of Sports Medicine's 2011 "Cannabis in Review" showed evidence that the drug does have the potential to enhance athletic performance in myriad ways: reducing stress, anxiety and fear; improving focus and concentration; bolstering appetite; lowering pain; and increasing respiration rates while reducing heart rate. Cannabis use can also negatively impact coordination, quickness to react and time perception, and heart rates may increase for some users. Plus, there's the potential for the feeling of relaxation to morph into paranoia.
And that is why Lauren Steinheimer, a medical marijuana user and ultrarunner, does not use edibles or tinctures before running a new or particularly challenging route. She says, "That's when I really want to feel a run and experience it to the fullest."
The 32-year-old from Mount Shasta, Calif., who uses cannabis to treat anxiety and depression, says that as a goal-oriented, highly motivated athlete, she's the antithesis of the stereotypical "pothead." She explains that marijuana "really helps me live my life." She has noticed it improves her appetite on long runs and makes running routes she's "done a million times" more enjoyable. The benefits are significant enough that she does not use pot when she races as she feels it could lend an edge.
Regulation Station
Steinheimer's stance mirrors that of the World Anti-Doping Agency (WADA), an initiative of the International Olympic Committee to ensure clean sport. It recently raised allowable levels of THC (a key compound of marijuana, which can remain in the bloodstream long after the effects have worn off ) from 15 nanograms per liter to 150. The point is to target athletes using cannabis during competition, not those who use it recreationally.
While some may say marijuana doesn't offer the same possible performance boost as EPO, growth hormones or testosterone, the potential benefits exist. "Marijuana may not be performance-enhancing in the traditional sense; however, there may be effects in certain sports which create an unfair advantage, create a safety hazard, adversely impact the health of the athlete or violate the spirit of sport," according to a study published in the Journal of Analytical Toxicology.
Jenn Shelton, an ultrarunner made famous by Christopher McDougall's bestseller Born to Run (both for her running prowess and her partying), feels the same way. "I agree that marijuana should be banned in competition. It calms your nerves, calms your stomach and blocks pain," says the competitor, who regularly finishes at the top of races up to 100 miles long. "These three components are crucial to winning a long race and therefore anyone using a banned substance like marijuana is a cheater in my book. But, who cares? If you can't beat a pothead, then shame on you."
Down Time
Bill Scher, co-founder of the True Health and Wellness Institute, an integrative healing organization, believes the true benefit of cannabis comes during recovery—not on race day—making the question more complex. "Sleep and diet are necessary for good healing from tough exercise," says the 41-year-old from San Diego, who has advised more than 100,000 clients. "A lot of what cannabis does is help to promote better, more natural sleep and restore balances to your endocannabinoid system." But if out-of-competition cannabis allows athletes to train harder thanks to improved recovery, then the benefits could be compared to those from altitude tents, electronic stimulation or even blood doping. So the question becomes: What should be allowed?
"As far as training with marijuana goes, once again, who cares? To be able to run wild is one of the most freeing experiences in the world. If you can't enjoy a run without drugs, I actually feel sorry for you," the 32-year-old Shelton says. "Sure, sometimes I smoke pot. Sometimes that overlaps with a training run, but I never intentionally train with marijuana."
Growing Issue
Trail and ultrarunners aren't the only athletes getting stoned. Many pro wrestlers, MMA fighters, basketball and football players, snowboarders and road runners (including Chris Barnicle, a promising collegiate athlete, now 28, who recently finished last at the Olympic Trials Marathon while wearing a shirt emblazoned with a marijuana leaf ) have touted the benefits of cannabis.
While it may sound like everyone is using marijuana, they aren't. Just like everyone doesn't have a beer at the end of a run. It comes down to personal preference and making the right choice for you—like whether you race, cross-train, take rest days, follow a certain diet or prefer your shoes to be minimalist, maximalist or somewhere in the middle.
In fact, in an informal poll (taken in Colorado of all places), I asked a group of 10 athletic people of varying ages about their thoughts on using cannabis in sport. Three had never tried it. A couple said they smoked some weed in college but hadn't done so since. Another said they liked it for skiing but had never considered it for racing or running. The remaining folks opted not to answer. Given the location, the data isn't too far off from a recent Gallup poll that says 44 percent of Americans admit to having used pot at least once.
"Everyone needs to stop taking themselves so seriously," Shelton says. "Train hard but have fun, and race with integrity."