Secrets To Handling One Of Running's Worst Nightmares
When your bodily functions just aren't cooperating, take comfort in these tips from a mother runner.
Heading out the door? Read this article on the new Outside+ app available now on iOS devices for members! Download the app.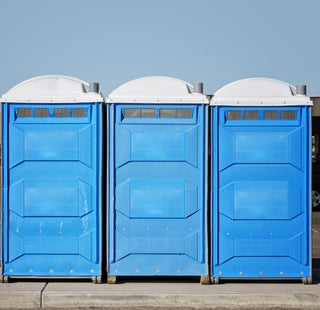 When you have a baby, you're prepared to spend a good deal of your life dealing with pee. Wet diapers, rogue urine streams—it's all part of the package. But what you might not expect is that a lot of the leakage may come from you, not your little one. The muscles down there take a beating during pregnancy and childbirth, leaving you with less bladder control (and dignity). Some women can't even sneeze without peeing their pants, so vigorous activity like running can spell disaster. Obviously, this is the bad news. The good news? It doesn't have to be this way. So before you start buying diapers for two, check out these tips to keep you dry on the run.
Hit the loo before you leave
Seems obvious, right? But make sure the last thing you do before you take that first stride is visit the bathroom and pee. Ready for step two? Pause and try to pee again. Women sometimes fail to completely empty the tank, so take a moment to double check.
Cut the caffeine
Caffeine is a diuretic, stimulant and an incontinent bladder's worst enemy. Though you may be jonesin' for java as a pre-run boost, try to resist the urge—it'll also help you avoid the other urge during your run.
Pad your pants
This tip tends to divide female runners, and women in general. Some ladies find incontinence products and apparel lifesaving, while others feel like packing anything extra in their panties is just as uncomfortable as the problem itself. Clearly this is a personal choice, but if you're in the first camp there is a surprisingly wide selection of products on the market. From drugstore sanitary and incontinence liners to specially padded (and stylishly discreet) underwear, you can find the right fit for your fanny.
Kick it with kegels
It may seem like these exercises are the go-to answer for every issue below the belt, but that's for good reason. Kegels are the repetitive contracting and relaxing of your pelvic floor muscles, aka the muscles responsible for controlling your bladder. To try them, squeeze your pelvic muscles like you're stopping the flow of urine, and try not to tense up your abs or glutes at the same time. Hold for a few seconds, release and work up to a set of 10. Do a set whenever you're sitting at your desk, in line for a treadmill, reading a story about incontinence…ahem…
Set a schedule
Consider behavior modification if you have trouble holding it in when the urge strikes. Try regularly going to the bathroom every two or three hours to keep your bladder from getting too full. Or if you find yourself needing constant pit stops, work on training your bladder by delaying a restroom visit by a few minutes every time the urge strikes; gradually increase the amount of time you wait until you're only going every couple hours.
Think about therapy
When Kegels and lifestyle modifications aren't helping enough, many women turn to—and swear by—pelvic floor physical therapy. Treatment can include teaching at-home techniques, manual manipulation or nerve stimulation. Some clinics also offer counseling, therapy and support groups; consider seeking this kind of psychological help if your anxiety over incontinence is preventing you from running.
Save surgery for last
If none of these techniques provide you with any relief, you may want to consider talking with your doctor about surgical options. As this is obviously the most invasive and complicated option, it's important you give other, lower-risk options a try first.
While post-pregnancy urinary incontinence can be a serious drag for female runners, keep in mind that the issue usually resolves itself within a year after giving birth.But if it's bothering you, hasn't gotten better by your babe's first birthday, or is stopping you from running, give these suggestions a try. And remember, the number one tip for dealing with your troubles going number one is to not beat yourself up. Your body made a baby and carried you through miles of running—be proud, not embarrassed. You go girl! (pun totally intended).