Running With The "Silent Killer" Heart Condition HCM
It's a rare heart condition of which more athletes should be made aware.
Heading out the door? Read this article on the new Outside+ app available now on iOS devices for members! Download the app.
Running With HCM
Running. Cycling. Soccer. Basketball. These are some of the more cardio-intense activities in which athletes can participate. Of course, they sound like healthy pastimes. But if you have hypertrophic cardiomyopathy, or HCM, high-intensity workouts can be deadly.
HCM is often called the runner's "silent killer," and for good reason. It is one of the most common genetic cardiovascular diseases and is the number one cause of sudden cardiac arrest in young athletes. With this condition, the left ventricle of the heart has a thickened muscle wall and cannot effectively pump enough blood to the rest of the body. That's why some people experience shortness of breath, dizziness or fainting, heart palpitations and even chest pain.
Related: New Book Addresses Heart Conditions In Endurance Athletes
Unfortunately, not everyone experiences symptoms. Some seemingly healthy people have in recent years fallen dead at the end of races without warning. Three marathoners fell prey to the disease during the Detroit Marathon in 2009; two died in 2014 at the Rock 'n' Roll Raleigh Marathon in North Carolina; and in November of this year, a runner collapsed and died during the Disney World Half Marathon in Florida. HCM is the suspected cause of death in each of these cases.
Milind Desai, a cardiologist at the Cleveland Clinic in Ohio, explained that while men are often the targeted demographic in research studies, it is an equal opportunity offender for both genders. Desai explained that the condition occurs in one out of every 500 people–and that's considered an underestimation.
"You may have genetic markers for HCM but your tests are fine, while others have full-blown symptoms and can barely walk a block without being short of breath," Desai said. "There's not a one-size-fits-all to HCM. You have to tailor the care to the individual."
Mandy Housenick, a sports writer formerly with The Morning Call, was diagnosed with HCM at age 16. Housenick is among many of those for whom diagnosis came at an early age. Lisa Salberg, founder of Hypertrophic Cardiomyopathy Association (HCMA), was diagnosed at age 12 and lost several family members to the disease. Pam Fleischaker, a writer, political consultant and part of the Fleischaker Family Foundation at Cedars Sinai, has known about her condition for the past 50 years, and her son Joey showed signs of HCM during his early teens. Another HCM patient, Chelsea Campbell, was just diagnosed in September at the age of 27.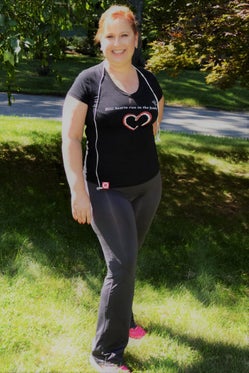 Housenick's journey with HCM began with a heart murmur. A murmur is sometimes associated with HCM because it indicates a possible obstruction in the left ventricle, but having one is no guarantee that you have the disease. As an athlete who juggled four different sports and regularly ran for training, Housenick was devastated when she was told she could no longer play.
"My days of running a 7-minute mile are over. I still run, because it's who I am and what I love," she remarked, noting that her doctors allow her to engage in physical activity as long as her heart rate stays below 150 beats per minute. "I just listen to my headphones really loud so I don't have to listen to myself wheeze."
Meanwhile, Fleischaker continues to walk and swim but takes it easy with her activity levels. In addition to living with HCM, she's also had heart and kidney transplants over the past few years. (Up to 5 percent of HCM patients' hearts burn out and need replacing.)
Her son Joey, on the other hand, participates in every sport imaginable, including extreme skiing, rowing, mountain biking–and he runs almost every day. He has an implantable cardiac defibrillator that will jumpstart his heart, should he go into cardiac arrest. The key, he says, is knowing your body's limits.
"I'm a pretty active guy; there's not much I don't do," he remarked. "I just take my time warming up rather than going from zero to 60. I might push myself, but I think it's important for people to stay fit."
He's not the only HCM patient who chooses to exercise with the disease. After having a heart transplant last year, Salberg now goes to the gym two or three times each week and has recently begun running.
"This time last year, I could barely make it to the mailbox," Salberg said. "Since then, I've run three 5Ks. In September, when I ran the Detroit 5K, I was one of their 'heart heroes.'"
Campbell, who connected with HCMA online, continues to run despite experiencing some shortness of breath. She has 5Ks, 10Ks and half marathons under her belt and is training for another half marathon in April.
"If I hadn't been so active, I might not have realized I have it," Campbell said. "I was told my activity level is okay. I'd be miserable if I had to sit on the couch all day."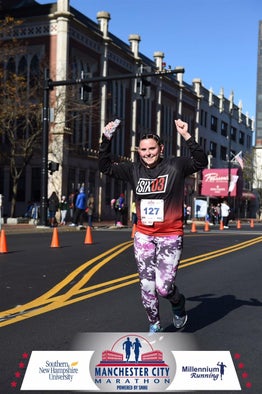 George Chiampas, an emergency room doctor and the Chicago Marathon medical director, remarked that an HCM diagnosis was grim news in previous years. He should know: he has it, too.
"Being diagnosed with HCM is less of a death sentence than was perceived in the past, and those living and being active are the examples of that," Chiampas said. "Running a marathon may not be the answer, but living active and being healthy most definitely should be."
Salberg echoed Chiampas' point. "You may have to adjust the sails a bit," she remarked. "Do a 5K or a 10K instead of a marathon. Even if you are at risk for HCM, you can still have good quality of life."
The amount of exercise a patient with HCM can engage in is still up for debate. It is clear from recent studies that a moderate amount of exercise is feasible, if not beneficial. Getting no exercise at all is certainly not a good prescription.
Dr. Matthew Martinez, associate chief of cardiology at Lehigh Valley Health Network, explained that when doctors didn't know as much about the condition in previous years, their advice was to slow down and participate in little to no activity. That viewpoint has changed.
"We're still sorting out how much exercise is safe for athletes with HCM," Martinez said. "We advocate for exercise for other forms of heart disease, so mild to moderate exercise with medical oversight can be safe."
Dr. Martin Maron, director of the Hypertrophic Cardiomyopathy Center at Tufts Medical Center, said a good guideline for athletes is the ability to carry on a conversation during physical activities.
"It's not about the heart rate, per se; it's the intensity of the workout," Maron said. "The controversy right now is whether or not trained athletes can return to the sport they loved if they have an implanted defibrillator in place."
Whether you are genetically predisposed to this heart condition or not, getting an annual physical complete with an echocardiogram is always a good idea before planning any race. Doctors may detect something you were unaware of about your health that could save your life. If you do have HCM, you can still be physically fit.
What's better than running a marathon? Knowing you'll live to see another day.
Related:
How Much Exercise Is Recommended For A Healthy Heart?
6 Foods That Make Up A Heart-Healthy Diet