Two Runners Share How The Sport Helped Them Through Depression
Two women share how running made them happier and helped them through dark times.
Heading out the door? Read this article on the new Outside+ app available now on iOS devices for members! Download the app.
This week is part two of my three-part series sharing stories of runners who have used running as a healthy coping mechanism for mental illness. Through these stories, I hope to combat some of the stigma and shame that often comes with conversations around mental health. If you connect with my story or any of those that I share, I recommend you visit nami.org for additional resources. And then head out for a run. You'll be better for it.
Adalgisa Rivera
Meet Adalgisa, a 33-year-old veteran, who has been running since June 2015.
I never really had formal training in running. Honestly, I always struggled in military training when it came to the running components. After completion of my orders from Army National Guard in 2010, I never did anything to stay active. As a result, I gained a lot of weight—up to 165 pounds at a height of 5'1".
I also went through a harsh separation and divorce. All of this, in addition to the normal, everyday life stressors like work and finances, contributed to health concerns. At the time, I didn't realize it but I was hopeless, depressed, angry and not in control. Some of my closest friends, who are active through yoga, dancing, or running, tried to help me cope with my mental illness by inviting me to join them but I just couldn't bring myself to. My mood and depression just got worse and worse.
In March of 2015, my girlfriend and I went on what would be a life-changing trip. When I came back, I felt I needed a change but didn't know what or where to start. I joined a gym and started setting very small goals for myself. "Today you will get dressed but not go to the gym. The following day, you will take a gym bag to work and go check out the gym. The following day you will go into the gym and workout." Long story short, I eventually began going to gym about 4 times a week, along with eating healthy.
By June 2015, I had already lost 15 pounds. My cousin, who was one of the original members of Harlem Run, had been trying to get me to join the movement for months. Like most people in the beginning, I had every excuse in the book. However, one day my cousin asked me again to come to a Harlem Run workout that she claimed would not involve any running. Little did I know my cousin and her running family had a different agenda. It was, of course, a group run with speedwork, of all things. I laughed and looked at my cousin, who also laughed.
Since that day, running has become a constant force in my life. It's serves as a metaphor for me to keep pushing. It's a reminder to not compare myself to others and to value all of my hard work, even when it doesn't look like that of others. Running has given me new meaning in life. Now as a leader in the running community, I offer support, advice, guidance, and encouragement. Most importantly, I get to share the pavement with other runners.
The most rewarding moments for me are when a runner tells me they don't run, then joins Harlem Run as a run/walker and eventually graduates to a faster pace. I also love when I get to cheer them on! It is great to see people tear up from excitement when a weird loud stranger believes in them and is helping them push through. It is a reminder of how the smallest acts of kindness can mean the world to a complete stranger.
Philippa Godoy

Meet Philippa, a new runner who has participated in 41 races, ranging from 5k to ultras.
I started running in 2016 as a way to lose weight and deal with depression, severe anxiety and panic attacks. After seeking professional help and taking medication for a time, I wanted a drug-free way to take back control of my health. I also wanted to learn sustainable ways to cope. Since I was isolating myself at home, I decided the first step was to get outside and breathe the fresh air.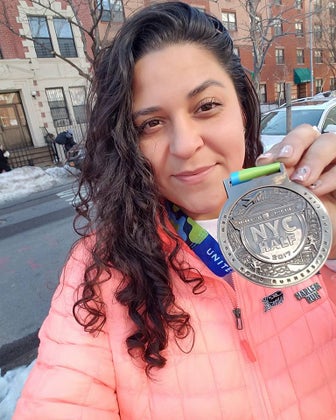 Running has helped me manage my thoughts and emotions. Training for races has provided structure and discipline, but most importantly something to work at and be proud of. Being a leader in the running community gives me a chance to pay it forward. I cannot begin to measure what I receive back. It has been a huge comfort to be around so many runners who exude positivity, focus and take pride in themselves, all while working hard through their own struggles. It's comforting to know you are not alone. Being able to talk to a friend over a few miles on the run goes a long way.