What Runners Should Know About Taking Vitamin C
Runners want to avoid colds as much as possible, so the more Vitamin C the better, right? Well...not really. Here's what you need to know.
Heading out the door? Read this article on the new Outside+ app available now on iOS devices for members! Download the app.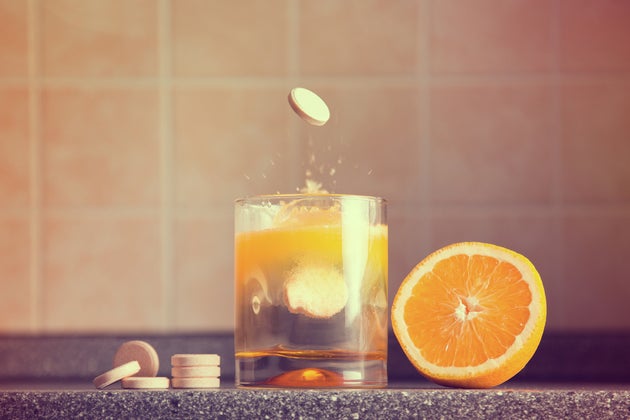 Nothing makes me more nervous than the threat of catching a cold the week leading up to a race. As a matter of fact, I've been known to add a mega-dose of Vitamin C to every meal during race weeks. Although I know that the Vitamin C in my food is probably enough to ward off the dreaded common cold, I figure that more is always better, right? Well…not really. I took a look at the research about Vitamin C and found some surprising info about this everyday nutrient.
Immunity
It's common knowledge that Vitamin C plays a role in immune function, but the extent to which it prevents and cures the common cold is up for debate. Research suggests that supplementing with Vitamin C every day will not reduce the incidence of colds, but it might decrease the duration of the cold by 8 percent. To put that into perspective, a cold may last for nine days instead of ten. In other words, there's no need to overdose on Vitamin C to prevent catching a cold. Research also states that Vitamin C will not reduce the duration or severity of an existing cold.
Because athletes (specifically marathon runners) put such physical stress on their bodies, they actually have a weakened immune system and a higher risk of developing upper respiratory issues. The jury is out on whether or not Vitamin C supplements help prevent these conditions in runners, but this makes it all the more important for runners to eat a well-balanced diet with plenty of vitamin-rich produce.
Inflammation
The good news is that Vitamin C does help runners with one annoying side effect—inflammation. Vitamin C is a potent antioxidant that plays a crucial role in decreasing the inflammatory response associated with exercise. But just consuming a diet rich in Vitamin C may not be enough to treat inflammation. While the recommended dietary value of Vitamin C is 60 milligrams, many studies have examined the effects of large supplemental doses of Vitamin C on treating inflammation. One study found that taking 2,000 milligrams per day significantly decreased inflammation levels, while another study found that 250 milligrams per day was enough to reduce exercise-induced muscle damage in women.
Exercise-Induced Asthma
Classified as a narrowing of the airways during or after exercise, exercise-induced asthma affects 10 percent of the general population and up to 50 percent of athletes. Because of Vitamin C's potent anti-inflammatory properties, several studies have tested its potential to help fight exercise-induced asthma. While not all of the research is consistent, many studies show that supplementing with Vitamin C may help reduce the symptoms associated with exercise-induced asthma. The dose of Vitamin C varies in each study and ranges from 500 milligrams to 2,000 milligrams, which would be hard to achieve with diet alone.
Should you take a Vitamin C supplement?
For simple immune-boosting potential, there's no need to take a Vitamin C supplement. Not only does food has enough natural Vitamin C, but the body absorbs vitamins from food better than a supplement. Everyone is familiar with citrus' high Vitamin C content, but it's also prevalent in plenty of other foods. Try adding these foods to your diet to easily get the recommended 60 milligrams per day.
1 cup of strawberries has 89 milligrams of Vitamin C
1 cup of chopped red bell pepper has 190 milligrams of Vitamin C
1 cup of sliced kiwi has 166 milligrams of Vitamin C
100 percent grape juice made with Concord grapes has 72 milligrams in 8 ounces (or 120% of your daily value). Plus, research shows that it helps improve blood flow to efficiently deliver oxygen to the muscles. Juice is a great fueling option for early morning runs where your stomach can't tolerate food but you need some quick energy.
For the inflammation and asthma fighting properties, it's probably better to take a supplement. Choose the pill form rather than the sugary packets that dissolve in water. The general consensus is that 1,000 milligrams is more than enough.
Alternatives to Vitamin C might work just as well.
Research suggests that getting the recommended amount of zinc (8 – 11 mg) may help ward off colds just as well as Vitamin C. Zinc is found in oysters, beef, cashews, chickpeas and fortified breakfast cereals. Recent research suggests that probiotics may also be helpful in preventing upper respiratory tract infections, but the studies are still very preliminary. However, with 70 percent of the immune system living in the gut, there's no reason why you can't add a probiotic to your daily regiment. And of course, any fruits and vegetable will help prevent inflammation. As with everything nutrition related, there's never a downside to eating as many fruits and vegetables as possible.