Do Runners Actually Need To Cut Back On Sugar?
Runners rely on sugar to pump their muscles full of long-lasting energy, so should they really be cutting back on consumption?
Heading out the door? Read this article on the new Outside+ app available now on iOS devices for members! Download the app.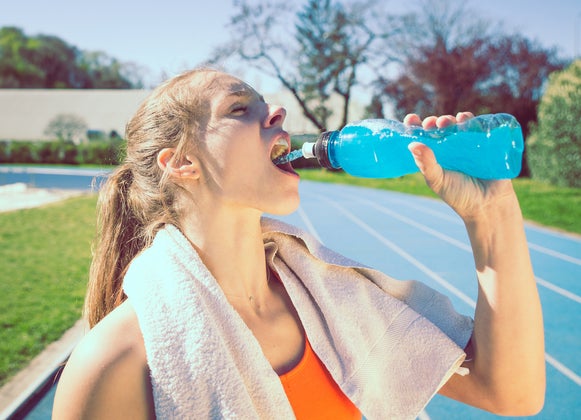 Among runners, it's pretty well known that gummies, gels and sports drinks are great fueling options. What do all of these things have in common? Sugar. With the obesity epidemic and the rate of diabetes at an all-time high, many people are being advised to limit their added sugar intake. On the contrary, runners rely on sugar to pump their muscles full of long-lasting energy, so do these recommendations apply to them?
Physiology 101
It's vital to understand how the body uses sugar to comprehend if you really need it or should cut back. As every runner knows, carbohydrates are the main fuel source for running. What you may not know is that carbs are broken down into simple sugars—mainly glucose—during digestion. This glucose fuels the muscles and provides energy for exercise.
Obviously, carbohydrates are found in many different types of foods, like fruits, vegetables, grains, dairy and other "junk foods"—like salty and sweet snacks. Regardless of the type of carb eaten, the body breaks it down to glucose. When I tell people this, they always ask the same question—what's the point of eating fruits and vegetables then? The answer is simple—fruits, veggies, whole grains and dairy products have other beneficial properties, like fiber, protein, vitamins, minerals and antioxidants, all of which positively impact your health. Sugar on its own, like in candy or cookies, doesn't provide any health benefits, besides providing energy.
The Runner's Paradox
While runners are dedicated to health and pay close attention to their diets, they may actually need more sugar than the standard individual. The Academy of Nutrition and Dietetics recommends the following daily guidelines for carbohydrate intake:
Low intensity activity: 3-5 grams (g)/kilogram (kg) of body weight
Moderate activity: 5-7 g/kg of body weight
High intensity activity: 6-10 g/kg of body weight
Fueling the day before a race: 7-12g/kg of body weight
For a 130-pound woman training for a half marathon at a moderate pace, that's about 350 grams or 1,400 calories of carbs in a day. Although not all carbs equate to added sugar, they are higher in sugar than both protein and fats. This means that because of the nature of the carbohydrate rich diet, runners should and do consume more sugar than other people.
What do the experts say about sugar?
To tackle this conundrum of finding the perfect sugar balance, I enlisted the help of an expert. Chrissy Carroll, MPH, RD, LDN, ACSM-cPT is a Sports Dietitian, Triathlon Coach, Personal Trainer and blogger at Snacking in Sneakers. When asked about added sugar in the runners diet, Carroll said, "I think runners, like everyone, should limit added sugar intake as part of their everyday diet. Added sugar contributes empty calories, and too much can be problematic for weight management and chronic disease risk." Carroll recommends 80/20 rule for everyday eating, that is "80% healthy, whole food meals with 20% flexibility for some less healthy options (which can include a little added sugar)."
But Carroll does recognize that sugar is used for fuel during long runs. "By taking in sugar during exercise, you help keep a continuous supply of energy flowing to the muscles." She suggests that runners choose what they feel comfortable with during exercise—either manufactured sports nutrition products or real food options. "One note to keep in mind is that the body can only absorb so much of any one type of sugar at once. Traditional runner fuel, like gels and sports drinks, are typically formulated with precise blends of different types of sugars to maximize absorption and reduce the risk of GI upset." She also notes that while natural food products may not have this "optimal" blend of sugars, they can still be used as fuel quite successfully. "For example, research has shown that raisins can be just as effective as sports chews for fueling. Other options might include dates or dried pineapple," adds Carroll.
The Bottom Line
As with most things in the nutrition world, moderation is key when it comes to sugar. Although runners need a bit more sugar than most people, that doesn't give you license to eat a brownie sundae after each run. But to eliminate all sugar from your diet may actually hinder your running performance. If you think you may be eating a bit too much added sugar, swap out some of the processed stuff for natural sources.