Relieve Stress By Adding These 7 Foods To Your Diet
Try introducing a few of these foods into your diet when stress has you in its clutches.
Heading out the door? Read this article on the new Outside+ app available now on iOS devices for members! Download the app.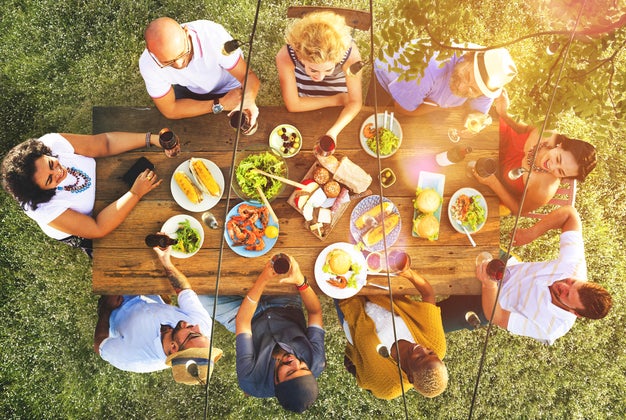 No one likes feeling stressed out, but sometimes there's nothing you can do to avoid it. When you're stressed the last thing you want to have to worry about is putting together a meal for yourself, so going for some fast comfort food by way of a drive through or delivery is mighty tempting. Unfortunately this can do more harm than good. The food we eat is an important factor in our stress levels. There are a few simple changes you can make in your diet that can help clear that crease from your brow. Try introducing a few of the foods below into your diet when stress has you in its clutches.
Mix in Some Spinach
Spinach is great when you're feeling the weight of your day because of the large amounts of magnesium naturally found in this leafy vegetable. You may not realize it, but most people actually suffer from magnesium levels that are lower than the recommended amount. And since low levels of magnesium can lead to elevated C-receptive protein levels, a status that heightens stress and increases the odds that you'll suffer from depression, get those greens in where you can. Try replacing your iceberg or romaine lettuce with a spring mix that includes spinach, slice some up to go inside your tacos, throw them into your smoothie, or layer them on your hamburger bun for a boost of flavor and happiness.
Pour Yourself a Glass of Red Wine
There's a reason why people feel the urge to reach for alcohol when they've had a hard day. Having a glass of red wine at the end of the day can provide you with any number of benefits, starting with the fact that it's a central nervous system depressant. As the alcohol does its magic you feel more and more relaxed as your nerves calm down, allowing you to get to sleep easier at the end of the night. Red wine has also been proven to help with cardiovascular health and improve your immune system. Just remember to stick to one glass a night and to drink it slowly. Too much alcohol can have an adverse effect on your body and actually increase your stress levels.
Related: 5 Healthy Reasons To Have A Glass Of Wine Tonight
Go for Comfort
While going out for a fast food cheeseburger isn't your best bet, there's something to be said for the psychological effect of comfort food. When done correctly, you can actually reap psychological benefits that have a very real impact on your physical health. Go for a warm bowl of oatmeal filled with nuts and fruits. It's warm, relaxing and the complex carbs in oatmeal are digested more slowly than others, giving your body a steady stream of carbohydrates it needs to keep you going.
A Chocoholics Dream
As much as people may joke about needing a chocolate fix when they're under a lot of pressure, there's some real science behind the idea that chocolate can be the cure for what ails you. Dark chocolate in particular has been shown to lower levels of stress hormones to help soothe your nerves. The recommended amount of chocolate is the size of a 1.4 oz bar each day for about two weeks to see some real results. Now there are some doctor's orders that are easy to follow.
Get Nutty
Stress and high blood pressure seem to go hand in hand, which is why one of the first recommendations doctors have for patients with higher blood pressure levels is to try to cut back on the stress in their lives. So whether you're partial to walnuts, almonds, cashews, pumpkin seeds or pistachios, any and all of these nuts have loads of fiber, antioxidants and unsaturated fatty acids to help lower your blood pressure. On top of that, the high level of Omega-3 fatty acids in walnuts in particular lowers your odds of getting depression while selenium in almonds and cashews can help brighten your day. Make sure you only stick with a handful as nuts can be high in fat.
Related: The Best Nut Butters For Runners
Pour Yourself a Cuppa
Coffee can increase feelings of stress and anxiety due to its caffeine levels (in addition to any sugary milks or syrups that are added to it), but tea has the opposite effect. A nice warm cup of herbal tea is more than just a relaxing drink to sip by the fire while curled up with a good book. It also happens to have a lot of benefits. The herbal combinations in teas have long been used to treat various ailments and stress is certainly one of them. There are a few specific kinds of teas that target stress, and it's worth making sure you have at least one of these stored in your pantry for those days where you could use a boost. Chamomile or passionflower may be the easiest to find in most American grocery stores, though tea shops should also have several recommendations if you tell them what you're looking for.
Hop on the Curry Train
Curry is quickly becoming a trendy dish in American dining, and it's not hard to see why. It's tasty, versatile and easy to make. It also just happens to be great at relieving stress. The spices in your curry contain capsaicin, which is the molecule that makes your mouth heat up. As a response to this spicy invasion your body releases relaxing endorphins to try and calm your body down. The curry itself, curcumin, also blocks stress from reaching parts of your brain in instances ranging from the daily grind to actual traumatic memories according to research.
Order Extra Guacamole
Avocado fans rejoice, because these delicious fruits can also help fortify your body against stress. Chalk full of glutathione, they work to keep oxidative damage from affecting your body and are also a fantastic source for B vitamins, helping our brains and nerve cells stay healthy and happy. As if that wasn't enough, they're also high in monounsaturated fat and potassium, both of which have been proven to help lower blood sugar levels.
Eat These Foods Instead of a Fast Food Fix
Instead of stopping for a burger after a stressful day, reach out for some of these foods and feel good about being relaxed and healthy at the same time.
What are your favorite things to eat when you're stressed? Are you going to give any of these foods a try?
Related: Recipe For Tropical Guacamole Dip