The Problem With Letting Numbers Define Your Self Worth
Setting goals is great; it is letting the results define who you are that is the problem. Here's why you are more than your pace or PR.
Heading out the door? Read this article on the new Outside+ app available now on iOS devices for members! Download the app.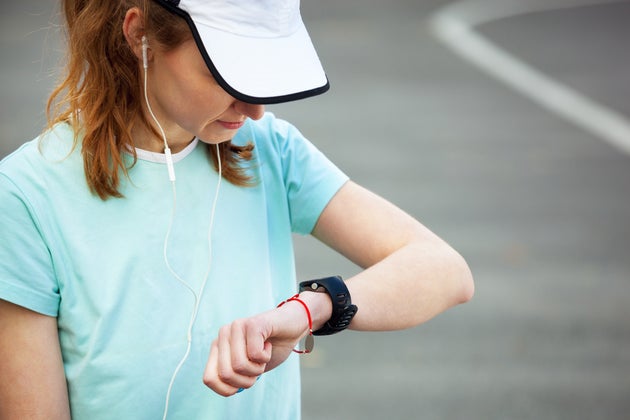 Runners love numbers: race distances, mileage, time, ounces drank in a day. We know what old PRs were before we crushed them and what average pace we had to run both during the race and on any given run in training to reach said PR. We get superstitious about a race number, set run streak goals, and check other runners paces, mileage and races on Strava or Garmin Connect. Some of us proudly drive around with a 26.2 or 13.1 sticker on our car while others humorously slap on a 0.0 sticker despite running ultra distances.
Numbers aren't inherently negative. They motivate, encourage, teach and help measure improvement. The problem arises when we take numbers and let them define who we are as a person. When we let our love of numbers seep in to other areas of our life in a negative manner. When we wake up daily and obsessively weigh ourselves, letting the number on the scale dictate our mood for the day. When a run no longer becomes enough because it wasn't exactly what was written on the plan. When we strive to reach our goals but let our weight, age, mileage, or size of our jeans negatively push us. When we are only happy when those numbers are what we deem as acceptable (and beat ourselves up internally when they aren't).
There was a point in my life that I would enter my weight into a BMI calculator on a near weekly basis, always striving for the number to decline. In my head I had allowed the negative comments about my body not looking like a typical runner's body, to push me towards what I deemed to be the ideal runners body—something that resembled the elites that I saw on magazine covers. There is nothing wrong with the bodies of elite runners, the majority of whom are extremely tiny people. The problem was in the fact that my body isn't theirs and striving to look like them wasn't going to make me a better person, let alone better runner. When I finally reached a weight that I deemed appropriate, it was hard to maintain and likely very unhealthy for my body. Hitting my goal weight didn't make me happy. The voice inside that was critical didn't stop. I had taken striving for a goal, often times a noble endeavor, in a different and very unhealthy direction.
Once I achieved my goal weight, I aimed to reach a weekly mileage high. Each week I was pushing myself farther to reach a certain number. The mileage number wasn't there to help me reach my marathon time goal, the number WAS the goal in and of itself. I reached a weekly high of 92 miles while sneaking in extra miles whenever I could on my treadmill. When my baby slept, I jumped on the treadmill. When my older kids were in school, I jumped on the treadmill. When my husband was outside playing with our children, I jumped on the treadmill. One run a day no longer became enough.
When I reached the goal of running over 90 miles in one week, I expected to feel a lasting sense of accomplishment. I was happy—but it was fleeting. I had reached my goal BMI, my goal weight and my goal mileage, but still didn't feel satisfied. I wasn't enough.
At the time I believed that improving as a runner only consisted of PRs. I was blind to the fact that you can improve as a runner and not run a PR. Striving for personal records wasn't inherently bad; it only became that way when I let the time on the clock determine my self-worth. I reached many of my time goals, first going under 4 hours, then reaching a Boston Qualifying time, after that came the desire to run under 3:30 and when that wasn't enough I pushed till I ran under 3:20. Eventually I came close to my goal of running under 3:10 with winning time of 3:11 at a small local marathon. Again, it wasn't the goal that got me in trouble, it was defining myself by the number. By believing that I was in fact the number. Miss 3:11 is what I would call myself in my head and I dreamed of the day I would one day see a 2 in front of my marathon time.
Numbers change though. PRs will fade or slow at some point and weekly mileage will eventually be reduced and every day we grow older. When we allow numbers to determine our self-worth we set ourselves up for disappointment when one of those numbers changes in a manner we do not want.
You are still worthy if you gain weight, if you slow down, if your weekly mileage never increases. You are still lovable if you have to buy larger jeans or if you running pace resembles something that looks more like a shuffle than a gazelle moving effortlessly across the Sahara Desert. You are still a runner whether or not your PR days are behind you or still yet to come.
Numbers can be an excellent tool to gauge growth, but never forget that they are JUST numbers and not indicative of your value as a runner or person.