One Thing To Recognize While Treating Chronic Pain
Got chronic pain? Consider this when seeking treatment.
Heading out the door? Read this article on the new Outside+ app available now on iOS devices for members! Download the app.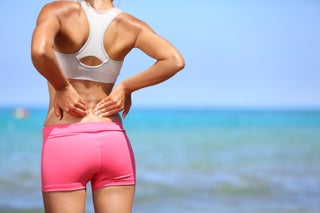 The Institute of Medicine has reported that more than 100 million Americans suffer from chronic pain due to illness, accidents, injuries or inactivity. In fact, chronic pain is the primary reason for doctor visits. Yet most of us take the wrong approach to dealing with it, especially runners who often choose to train through pain.
In order to know how to prevent or treat chronic pain, we must understand it. "Chronic pain is anything that lasts over 6 months," shares master trainer Kori Lyn Angers, CSCS, USAW, FMS, who works for Equinox. "This could be a condition, like a chronic injury, or even take place after the pathology of injury is already gone and pain still persists."
The type of chronic pain that is experienced depends on the injury incurred, of course, but it can come from actual trauma or even an overuse injury. "For example, if your muscles along the cervical spine are slowly compressing the spine, that could cause nerve pain eventually and lead to chronic pain," she explains. Angers also shares that if it is pain from injury to the muscles or joints, it may not be a one-time injury; instead, it could be something that has happened more slowly, over time, from overuse.
Related: Prevent Pesky Joint Pain With These Tips
For runners, Angers shares that the way to treat joint pain is to recognize the adaptiveness of the body. "As you work out, you are creating a cascade of reactions throughout your body," she explains. "If you are consistent, it will lead you to a place where the body will want to get out of the pain, and you will be adapting to a new place."
Related: 3 Moves To Prevent Back Pain
As your body adapts to that new, pain-free range of motion, it is important to not push or force it. Angers recognizes that as runners, we always want to be on the go, but she is quick to remind that you shouldn't run through pain or push it. "When it comes to chronic pain, you can't predict the movement of the body," she adds. "You need to ask your body nicely; don't push it."
When working through chronic pain you should not only recognize that you are taking care of the biomechanical structure of your body, but you are also addressing mental health. Those with chronic pain can suffer from depression due to the constantness of their symptoms, so moving and exercises will help you treat those depressive symptoms of pain.