A Nutritious One-Dish Dinner Straight From Cookbook Author
Packed with healthy fats, proteins, veggies and tons of flavor, you'll get everything you need cooked up in just one dish.
Heading out the door? Read this article on the new Outside+ app available now on iOS devices for members! Download the app.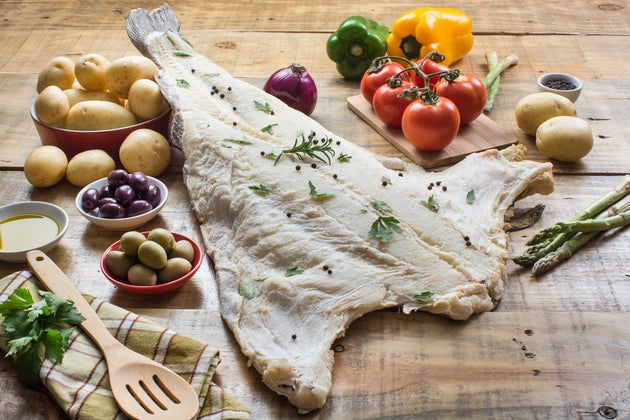 The rich stuff is not bad for you! Switching to a fat-filled diet not only transformed one runner's health— it helped her become a mom.
This one-dish dinner has it all going on—nourishing fats, protein-packed fish, uplifting veggies and tons of flavor. The herbaceous zest from the pesto combines with the juices from the zucchini and tomatoes to create a luscious sauce.
Pesto Baked Fish and Roasted Spring Vegetables
Recipe Serves 4
Ingredients
1₁⁄₂ pounds Pacific cod, skin and pin bones removed, cut into 4 or 5 fillets
1₁⁄₂ pounds baby potatoes (leave skins on), chopped into bite-size pieces
2 Tbsp. extra-virgin olive oil, divided
1 tsp. fine sea salt, divided
₁⁄₄ tsp. ground black pepper
2 zucchini, cut into ₁⁄₂-inch half moons
1 pint cherry tomatoes, halved
₁⁄₄ cup fresh oregano leaves
4 cloves garlic, smashed
₁⁄₄ cup pesto (Kale Walnut Pesto—using this recipe—or store bought)
1 lemon, halved
Directions
Preheat oven to 425. Bring fish to room temperature. Place potatoes in a 9-by-13-inch ceramic baking dish (ceramic conducts heat better than glass). Toss potatoes with 1 Tbsp. olive oil, ₁⁄₂ tsp. salt and the pepper. Bake for 20 minutes. Add zucchini, tomatoes, oregano, garlic and remaining olive oil and salt to the baking dish and toss to combine. Bake for 20 more minutes. Meanwhile lightly sprinkle fish fillets on both sides with salt and pepper, and spread about a tablespoon of pesto on top of each fillet. Place fillets on top of the veggies and return to the oven for 10 to 12 minutes, or until the fish is opaque and flakes easily with a fork and the potatoes are fork tender. Squeeze the juice of ₁⁄₂ a lemon over top of the entire dish and slice the remaining ₁⁄₂ lemon to garnish each plate. To serve, spoon a generous serving of veggies on a plate and top with a fillet of fish.