No Bake Almond Butter Cookies Are A Guilt-Free Treat
This recipe from Running On Veggies is the perfect dessert that is easy to make!
Heading out the door? Read this article on the new Outside+ app available now on iOS devices for members! Download the app.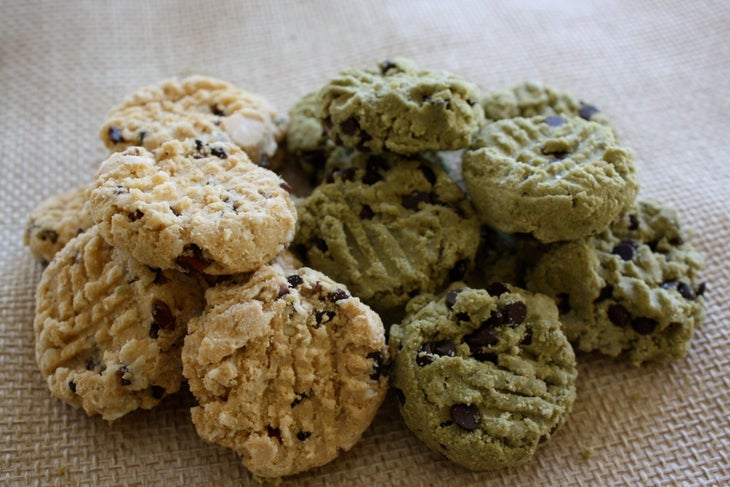 A fun trip to Whole Foods after school left me with an empty wallet and a lot of new cool ingredients. Who else gets carried away when food shopping? Some things I picked up included coconut and almond flour. I've used coconut flour before. I found it was really absorbent and had a great flavor that I loved! I usually never bother buying almond flour because it's easy to make yourself–you just grind almonds into a flour. But it was on sale so I couldn't turn it down!
With these ingredients, I made cookies that are no bake and so easy to put together! You can turn this almond butter cookie into whatever nut butter cookie you like! If you don't like coconut, no need to add it. I love adding bitter cacao nibs for its health benefits. You can sub stevia sweetened chocolate chips for the cacao nibs if you want a sweeter treat. It totally reminds me of raw cookie dough, with the same texture that I love!
Baking "healthy" should not be complicated. I find "unhealthy" baking to require more ingredients. I can actually be more complicated. Few ingredients and easy assembly make these cookies a "go to" recipe!
Related: Recipe For Quinoa Pizza Crust
While making these cookies, they reminded me of "PB2″ cookies that I've been seeing everywhere. If you're not familiar with PB2, it is peanuts grounded into a flour mixed with sugar. It's appealing to a lot of people because it's nearly half the calories and fat of peanut butter. I always stress to people to not check the calories, fat or even carbohydrates on a product, but rather to look at the ingredients. This product is a great example of where someone can be easily tricked into consuming added sugars and not even know. PB2 wont kill you, but it's better to be more aware of what you're eating and eliminate unnecessary sugars. Some simple solutions would be to eat real organic peanut butter, make your own version with powdered peanuts or use an almond butter version of PB2 by mixing almond flour with water to a creamy texture. Keep in mind most PB2's are not organic and peanuts are one of the most heavily sprayed crops. There are a few things that need to be organic for me and peanut butter is a must!
I also made a protein version of this cookie using Vega Vanilla Chai Protein. I even added a little mint extract so now they are chai mint almond butter cookies! It gave it a nice flavor and a cool color.
No Bake Almond Butter Cookies
1 cup almond flour
1/2 cup coconut flour
4 tablespoons almond butter
5 tablespoons unsweetened apple sauce
3/4 cup almond milk
1/4 cup of dates
1/2 cup shredded coconut (optional)
1/2 cup cacao nibs (or chocolate chips)
Optional add in: 41 grams (1 serving) of your favorite protein powder. Be sure to add more liquid—around 1 cup total of almond milk (1/4 cup extra)
In a medium size mixing bowl, combine almond flour, coconut flour and almond butter until well combined.
Blend almond milk and dates until smooth.
Add almond milk/date mixture and the remaining ingredients into your flour and almond butter mixture.
Line a baking sheet with parchment paper. Using a small ice cream scooper to form little balls. Press them down gently using a fork. Makes 14-15 cookies
Place in the freezer or eat them as is! Store in an airtight container in the freezer. You can let them thaw for a couple minutes to get a softer cookie feel.