Mile Posts: Should You Run With A Pace Group?
Pace groups can help you hit a goal time, but they aren't for every runner.
Heading out the door? Read this article on the new Outside+ app available now on iOS devices for members! Download the app.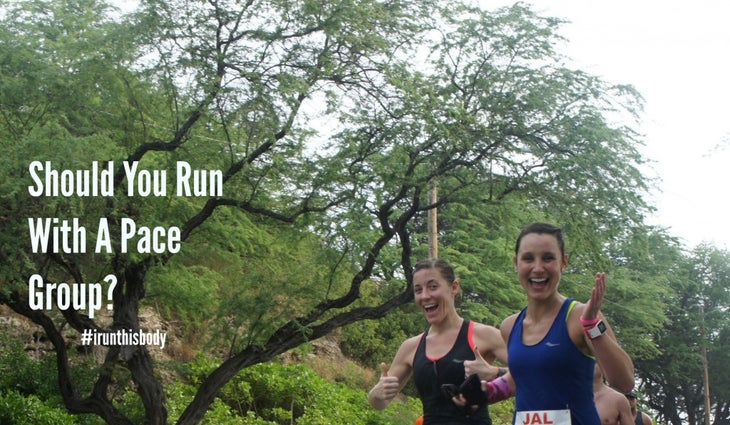 You have put in the work for an upcoming race. You feel ready to go, but start to worry that maybe your goal pace is too fast or that you might not be able to do it alone. A friend suggests maybe you should run with a pace group. Leave the pacing to someone else while you just turn off your brain and run.
Personally I'm not a fan of pace groups, but I do think they work well for some. Here are some pros and cons to consider when deciding whether to run with a pace group come race day.
Pros:
The person pacing the group has hopefully run the pace or time you are aiming to achieve numerous times within a race.
It can mentally be easier to run with others by your side. This can be particularly helpful when there are obstacles, like wind, that can make running feel harder when you are alone.
You have other runners surrounding you that are running the same pace. This means that as a group you hopefully don't have to weave in and out around other runners, wasting precious energy.
If you manage to stick with the group, you will run your goal time or slightly faster.
If you start with a slower pace group than your goal time, it will help you start slower. Once you speed up, you can leave the group and attempt to run your way up to the next group if possible.
Related: So You Want To Be A Runner
Cons
I'm a believer in the rule of nothing new on race day and a pace group is exactly that. Unless you happen to know the pacer, you are putting months or possibly years of training in the hands of someone new.
Most races will require pacers to have run the time they are pacing, but some races don't. If you plan on using a pace group, it's a good idea to find out the requirements to lead one at the race you are running.
Pacers are human. They have off days just like the rest of us. Unless your group is being paced by more than one pacer, you are relying on the fact that someone you have likely never run with and don't know is going to get you to the finish line in the time you want. I've seen pacers alone and struggling in races where they fell behind the group.
Running with a pace group doesn't allow you to run to your strengths. I'm fairly decent at hills but not so great at running flats. I'd prefer a rolling hills course over a flat course any day. If I were to pace a group, I might push the group harder when I felt good and slow down in places where I didn't. The runners I was pacing would be running my race, not their own. If they are great at the flats and terrible at hills, I might not be the best pacer for them. They would be pushing in places where they need to back off a little.
You don't know the pacing strategy of the group, unless you make a point to ask. Do you like to negative split races? Or are you a runner who runs even splits the entire time? If you like to negative split and the pacer is going for even splits, you are going to start out too fast and will increase your chances of hitting the wall.
The pacer has hopefully run a much faster time than he/she is pacing. If the pacer starts out too fast though, regardless of whether he/she is aiming for even or negative splits, it isn't a big deal. He/she can compensate and still get you to the finish line in the predicted time. If this is a stretch goal for you or if you are trained right at the pace you need to run with no wiggle room, this could ruin your entire race.
Pace groups can be a wonderful option during a race, but they certainly aren't for everyone.
Do you like them? Have any more pro's or con's to add to this list? Share them with me on Facebook!