Lose Weight Without Counting Calories
Try this different approach to weight loss that doesn't involve numbers.
Heading out the door? Read this article on the new Outside+ app available now on iOS devices for members! Download the app.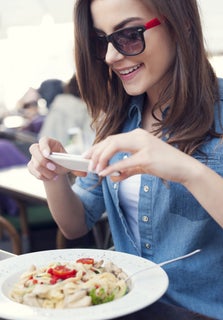 Go Instagram on your diet by snapping photos instead of counting calories.
Many people have a New Year's resolution to lose weight, or a goal to shed pounds before life's next big social function, and one way to approach this is keeping track of calories burned and calories consumed. While losing weight does require you to burn more calories than you take in, the problem with counting calories is that it's often easy to get caught up in counting calories more than paying attention to what types of calories you're actually consuming. You might still lose weight, but you probably aren't feeding your body healthy ingredients to perform at its top level.
According to the American Council of Exercise (ACE), you need to burn approximately 3,500 calories to lose one pound, which equates to shaving approximately 500 calories per day from your diet over 7 days. But instead of diving into Excel sheets of numbers, give your diet a makeover in areas that might need some clean up and document the changes you notice and feel. Here are some suggested steps to start the process:
Set a goal.
Example: Lose five pounds in 30 days.
Map out your plan.
Write down how many days will be spent working out, and provide yourself with specifics on workouts (how many miles, how long, what type of workout, etc.)
Establish a meal plan for the week—aka what will you have for breakfast, lunch and dinner, plus snacks. Prep your meals ahead of time (many people do a full week's prep on Sunday) so you aren't tempted to skip a meal or eat out.
On day 1 of your experiment, write down your weight. (Try to weigh yourself at the same time everyday to get the most accurate measurement of progress.)
Take food photos and track progress.
You have your training plan mapped out and food laid out for the week, so you're already setting yourself up for success. Next step: Take a photo of everything you eat, from main meals, to mini snacks, to mid-day pick-me-up bevvies (or post-work brews). At the end of each week look at your photographed meals and evaluate what you're eating. Are you taking in too many carbohydrate-heavy meals? Are your portions too large? Which foods contain too much sodium? If you had a cheat day, what did you eat and how did it affect the overall goal? The pictures will give you a visual overview of what and how you're eating and where you could afford to make adjustments.
At the beginning of the second week, weigh yourself again and see if there's a noticeable difference. Note how your clothes feel as well. Write all this information down and continue to take pictures of your food, even if you dine out. This will hold you accountable to feed yourself with healthy nutrients that will fuel your workouts and help you reach your goal without getting caught up in the numbers game. The visual reminders will also serve as a realistic look at your daily diet.
Fara Rosenzweig is certified personal trainer with a love for yoga and running. When she's not at the gym or outside logging the miles, she's planning boot camp classes for friends.