Hungry Runner Girl: Overcoming A Bad Run or Race!
Janae shares how to look forward when a bad run gets you down.
Heading out the door? Read this article on the new Outside+ app available now on iOS devices for members! Download the app.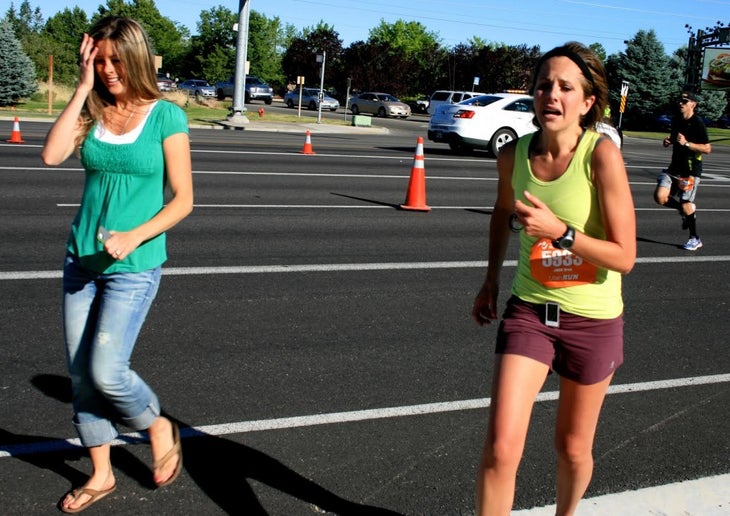 As you can probably tell, the above picture was taken during a really bad racing day for me.
A few years ago, a bad run would leave me pretty bummed for the rest of the day. A bad race left me upset for the week. Over the years I have found ways to overcome the runs that don't go as expected. Here are things that I do to bounce back from not performing my best, missing my goals in a race or having a run where I feel lousy.
Don't let running become your universe. I love Kara Goucher's quote, "Merely enjoying things outside of running helps my running by keeping me balanced and fulfilled as a complete person." Have other interests outside of running that make you happy. When we are out of balance and focus too much on running, an injury or bad race will really bring us down. Make sure you are including other hobbies in your life that bring you confidence and joy so that you can bounce back from running setbacks. You are so much more than your running, so don't get down on yourself when it doesn't go well.
Call a running buddy. Talk to somebody that understands why running is important to you and why you are upset that you didn't hit your goal. They will remind you that bad runs are just part of the game. I love calling my running partner and talking it out with her because she empathizes with me. She has been there too. But she also encourages me to move past it and work harder next time.
Look back on your training journal. Realize that your bad race/run was just ONE day out of many successful runs. Look back on previous training cycles. I am sure you will find some of these so-called bad runs and realize that you bounced back from them while learning a thing or two!
WE ALL experience bad runs and races. Even the elites have bad races and they face a lot more pressure when it comes to running. Running IS their job. Sometimes I think that social media makes us forget that bad runs happen to all of us. We can scroll through Instagram and see everyone's successes and great runs. It makes us forget that they have bad runs too! We usually only see the good ones on social media:)
Don't look back. You're not going that way. Move forward with your day. My last 16 miler for Boston training was rough. Mentally I was not in it. My entire body felt like lead from the very beginning. I was counting down the steps until the end and felt very defeated. I was wondering during my run how in the world I was going to be able to hit my goals in the marathon when 16 miles almost ate me alive. I finished my 'bad' run, ate some eggs and bacon, took a shower, stopped thinking about the run and moved on with my day. Learn what you need to learn from it, but then forget about it and look ahead.
Multiple bad runs and races may be our bodies way of telling us to step back in our training and to rest! When we are overtrained, we will not perform to our potential. Taking some time off or backing off on your intensity is the best medicine for overtraining.
Let the bad runs fuel my flame to do better and work harder. I try to learn from the mistakes that I made and do things differently. The bad races motivate me to get to the starting line as many times as I need to until I reach my goals.
Remember — those bad runs are what make those good runs feel even more amazing.