Hungry Runner Girl: Embrace Your Easy Runs!
Easy days are so important for your development as a runner. Find out why!
Heading out the door? Read this article on the new Outside+ app available now on iOS devices for members! Download the app.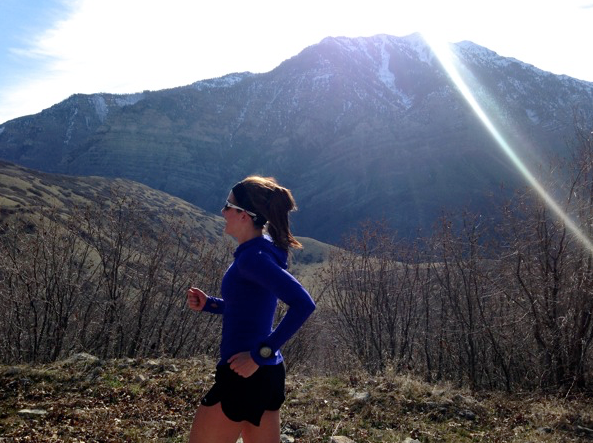 When I first started running, I thought that every run was supposed to be hard. I thought that I should be pushing myself to the max as much as possible in order to get faster. I would do the same big loop every day and try to beat my previous record. It just made sense in my head at the time that in order to get faster, I needed to always run faster.
Fast forward through many overtraining injuries caused by pushing myself too hard, as well as learning a lot from my running coaches. I am now a firm believer that easy runs are a crucial part of training. I now know that easy runs are part of the equation of getting faster and avoiding injuries. Many coaches recommend that easy running should take up 50-75% of your weekly mileage! Let's talk about why it is so important to include runs that are done at an easy (for you) pace!
Easy runs are the best way to build up your running foundation, especially if you are a beginner runner, coming back from an injury or returning from a running break. Running easy while building up your base will help you to avoid injuries that are common when doing too much too fast. Building up your speed and your mileage at the same time is tricky and often results in an injury. Start out the smart way. Build your base and strength by running easy.
Easy running allows you to still get out on the roads and strengthen your muscles and bones! You are not putting a lot of stress on your body like with a hard workout, but you are still training your muscles, tendons, ligaments and bones to slowly adapt to running and physical activity.
"Capillary development is another benefit of easy running. As the density of capillaries increases throughout those muscles, a greater amount of oxygen is supplied in a more efficient manner." (source) Transporting more oxygen and energy to our muscles because we have developed more capillaries is going to improve our running!
When you are running easy, it is the perfect time to work on your form! Going at an easier pace can help you to analyze your form and make minor tweaks! I love this diagram with 4 simple steps for better running form in THIS post!
When you have a greater amount of slow-twitch muscle fibers (easy running helps to develop these), you are more prepared to use fat for energy. We all have 'copious amounts' of fats in our body and a limited amount of carbohydrates. The more fat (and less carbohydrates) that we can burn while running, the longer it will take us to hit the 'wall' which is caused by carb depletion.  Easy running teaches your body to burn fats before carbohydrates.
Easy running helps you to recover from your previous hard workout! Hard workouts will create small tears in your muscles. When you go for an easy run the next day, you are actually helping your muscles to recover from the hard workout. Easy running delivers the oxygen and nutrients needed by those muscles to aid in recovery!
These types of runs aid in avoiding mental burnout. When I used to run hard every day, it became a chore to me. I didn't look forward to it anymore. Now that I take plenty of easy days each week, I go into my speed workouts craving a hard run. I am mentally ready to push myself because I took a easy day or two.
They help you to avoid injuries! If we run hard every day, our bodies just do not have time to properly recover. That results in injuries. Speedwork puts a lot of stress on your body. If we don't give our bodies a break often enough then we will be forced to take a much longer break due to injury.
Easy running allows you to relax. I think we all need more of that. I love my easy runs because it gives me a chance to have some really good conversations with my running partners. I am able to really enjoy the views, de-stress and get lost in my thoughts.
Remind yourself of these benefits of slowing down the next time you want to run fast on a day that you should be running easy.