Hungry Runner Girl: Creating a Positive Body Image
Janae shares 6 ways that she is able to focus on her body in a positive way.
Heading out the door? Read this article on the new Outside+ app available now on iOS devices for members! Download the app.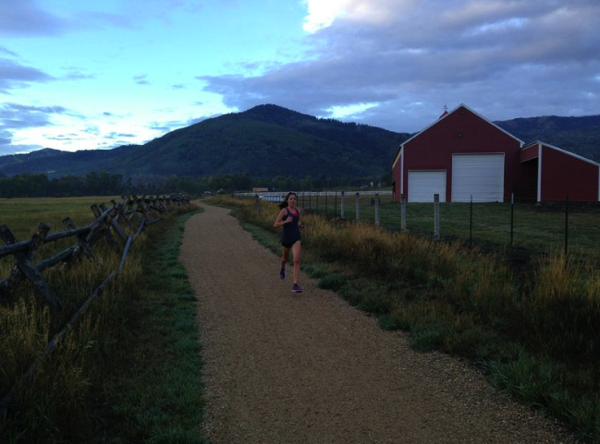 I spent a good chunk of my early 20's struggling with my body image. These detrimental thoughts were a result of thinking thinner equals faster in my running, being involved in a negative relationship and constantly comparing myself to everyone. I spent way too much time wishing to be different and working towards perfection.
I think the biggest thing that helped me with my body image issues was getting pregnant with my little girl at the age of 25. I started to appreciate my body more than I ever had before. I was thankful for the opportunity to use my body to create what I knew was going to be the best thing that ever happened to me. I was kinder to myself. Running became even more fun as I was letting go of the desire for perfection.
As I have gotten older, I feel like I am continuing to get better and better in terms of body image but every now and then (usually correlating with hormonal times of the month) I have a few days where I struggle.
I wanted to share my list of things that I do to help me to feel better about myself. I know as women, we tend to be hard on ourselves. And as runners, we tend to have type A personalities who seek control and perfectionism.
Focus on what your body can do rather than what it isn't or can't do. Heck, you can run from point A to point B without getting tired. You can run up that hill like it is nobody's business. You can hit a certain pace that you probably didn't think was possible a few years ago. The cans are a lot more fun and beneficial to think about than the can'ts.
Work on being happy in the now. It sure is a miserable way to live when you are constantly thinking you will be happy when… you lose 5 lbs, the baby weight comes off, you tone up to look like so-and-so or you get that perfect marathon time. I think being content and enjoying where you are now is a big part of the key to being happy.
I think about how I want to look back on my life. When I am 75 years old, do I want to look back on my life and think about how hard I was on myself? About how much time I wasted thinking negatively? No way! I want to look back and think about how much I loved, experienced, traveled, served and of course, I want to think about some of my really great running memories.
I try to get outside of myself. When I have times where I struggle with how I feel about myself, I realize I am thinking about myself far too much. I try to focus on helping my little girl, serving my family and friends or getting out in the community. It helps to switch my thoughts and actions from my body to serving other people. The second I start trying to help other people with their problems is the second I forget all about my own.
I ask myself these questions. Are you eating mostly healthy foods? Are you exercising? Are you getting enough sleep? If you can answer yes to these questions, then your body is probably exactly where it wants to be. We all have different set points and if you are treating your body right, then you are right where you need to be!
Go out and run. Accomplishing a tough run and coming home filled with endorphins always helps me to have a more positive perspective on everything, including my body image. Running helps me to feel more gratitude. I come home from a run thankful for each part of my body that helps me to continue to run and be active.
Be a little kinder to yourself. You are doing just great!