Hungry Runner Girl: 13 Things I Do When The Going Gets Tough
When a run gets tough, try one of Janae's tactics to keep moving forward.
Heading out the door? Read this article on the new Outside+ app available now on iOS devices for members! Download the app.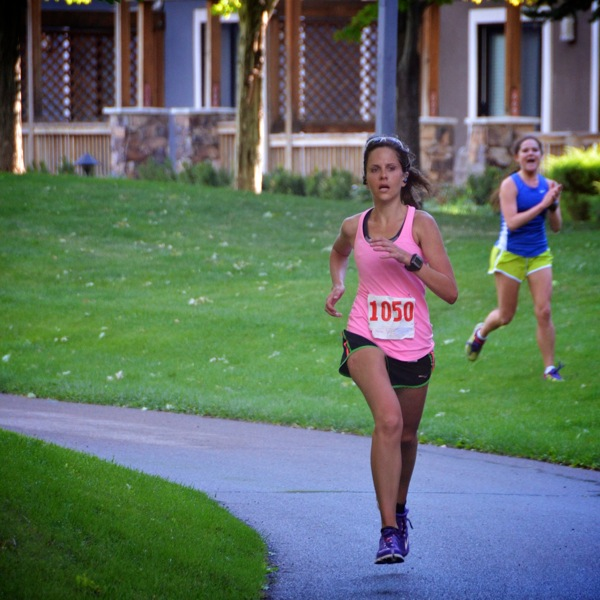 It happens to all of us at some point.  Maybe in a race, a hard workout, or a long run- we just feel off. It happens. We feel like we can't possibly run one more step. We feel like our tank is empty mentally, physically or worst of all, both. We've all been there, and we have all learned to come up with ways to keep pushing ourselves forward to discover our strength and reach the goals that we have set for ourselves.
Whether you are training for your first 5k or shooting for a personal record that you didn't think was ever possible, it is important to find what helps push yourself to the next level.
Here are 13 things that I do when the going gets tough.
1. Stay in the moment. Thinking about running five more miles when the first 21 miles of my marathon have left my legs feeling like jello is not what is going to help me to finish. Rather, I stay in the mile. I keep my brain thinking about where I am in that moment, not how much farther I have to go.
2. I think of things that I have overcome in my life. The trials, the speed bumps and the lows. It helps me to realize that I have conquered some tough stuff in the past (like we ALL have). It helps me to have confidence that I can continue to persevere when I want to quit.
3. I pump my arms harder. When I turn my attention to my arms rather than focusing on how tired my legs are, I am able to push through a tough spot. The faster I pump my arms, the faster my legs go to keep up with my arms.
4. Repeat YOUR person's name over and over again. At mile 12.5 during my last half marathon, I started feeling really defeated. My music stopped working. I was feeling like I had already given everything I had to give. I decided to repeat my person's name (my little girl, Brooke) in my head, which gave me the strength to keep going. Just thinking of her waiting for me at the finish line got me there.
5. Turn that power song on. Put it on repeat if you have to. Find that song that speaks to you and includes lyrics that motivate. For me, my power song is, 'Till I Collapse by Eminem: "Find that inner strength, get that motivation to not give up and not be a quitter"
6. Think about how you have done it before. There have been runs or races in the past that were tough, when you wanted to quit, when the weather was insane, but you didn't. So don't do it this time either.
7. I count steps. It takes my mind off of how tired I am. When I am exhausted toward the end of the race and I can barely think of much else, counting my steps for at least a few blocks helps me to push forward.
8. Remember that your brain gives up long before your body does. Your brain does this as a part of survival. It tells you that you can't keep going…but you can. I'm not talking about unhealthy levels or behaviors, but your body has a lot more to give than we think it does.
9. Eat or drink something. Some water and a Gu always give me that boost of energy that I need to get that second wind during a tough spot in a run or race.
10. Choose a spot and get there. Then choose another one. You know that you can at least get to the next stop sign, so do it. Make mini goals along the way and use those to reach your big goal.
11. Run for someone that can't. Think about that injured friend who wishes they were out running or that person who is going through so much right now that they can't fit in their normal runs. Complete your run for them. I think of my dear friend's daughter that has never been able to walk, and I run for her.
12. Visualize tying a rope to the person in front of you and have them "pull you" along. I keep imagining this until I have enough strength to do it on my own. That brain of ours is powerful and using visualizations can really keep you going.
13. Speed it up a bit, I know this sounds crazy when you are already super tired but it works for me. It takes different muscles to go different speeds so switching up the muscles you are using by increasing your speed will help with some of your muscle fatigue!
What do you do when the going gets tough? Tweet @hungryrunnergrl and @womensrunning to let us know!