How To Recover Properly After A Race
The most important race is often the one to proper muscle recovery after the finish line.
Heading out the door? Read this article on the new Outside+ app available now on iOS devices for members! Download the app.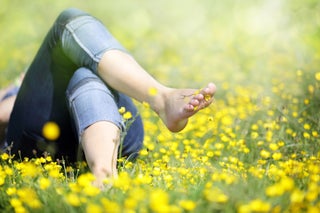 There's a secret race that most athletes neglect—the one that happens after you cross the finish line. That forgotten but tremendously important event is the "race to recovery."
Any athlete, recreational or elite, understands the importance of preparing for a race or run. In training you prepare for distance, hills and speed. You cross-train, stretch, taper and follow proper nutritional guidelines. You drink the right stuff, wear the right wicking, reflective and compression apparel and even swap in the right running shoe laces. But have you ever thought about what your body needs in order for you to fully recover and get you ready for the next event?
Regardless if that next event is a marathon, 5K or just getting back to walking around the office without two peg legs, the quicker and more you can recover, the better.
Related: How Stephanie Bruce Handles Recovery Issues
Here are some tips to help you win your next "race to recovery":
1. Dine and Dash. Within 20 minutes of crossing that finish line, grab your medal and head over to bag check or the food tent and grab some grub. Your body has a window of opportunity to soak up the largest majority of the incoming nutrients. That food replenishes the stores that your body drained in order to fuel you through the race.
Dine: Aim for 10-20 grams of protein and a 3.5:1 carbohydrate-to-protein ratio.
Dash: Rehydrate and add a dash of salt for replenishment and water re-absorption.
Try: A small chocolate milk or crackers with avocado and a water bottle with a dash of salt.
2. Rock and Roll. Pull out your lacrosse balls and dollar-store bouncy balls–it's time to rock and roll. Lets face it: No one likes stretching, but you need to do it. Even if you only take 3 to 5 minutes to stretch out the major muscle groups (quads, hip flexors, hamstrings, glutes, calves and pecs) it is better than nothing. You'll thank yourself tomorrow.
Rock: Sit in a chair and place bouncy balls under the arches of your feet. Apply as much of your body weight as you can handle and start to roll the balls around under your feet. Think of it as a mini massage.
Roll: Place the lacrosse balls under the trouble spots that seize up and give us a post-race hobble. I recommend rolling out your pecs, piriformis, IT band and calves.
Try: Just make sure you don't overdue it. Running places trauma on your muscles, and although they may feel tight, remember there are multiple micro tears throughout the fibers. Do a little bit on the first day and a bit more the next day, but listen to your body. Make sure you're not doing more harm by aggressively rolling still-inflamed and aggravated tissues.
Related: The Basics Of Foam Rolling
3. Float On. Throw a cup or two of Epson salt (aka magnesium sulfate) into your warm bath, or if you have the time and funds, take a trip to your local float house and let them do the thinking. All you have to do is relax.
Try: The DIY version is cheaper. There's minimal science behind why it exactly helps alleviate sore muscles, but if all it does is give you an excuse for a warm bath, go for it!
4. Shelf the Shoes. Trade in those shoes for some barefoot yoga classes for a couple of days. Stretch out those muscles and focus on your core while you let those major running muscles repair.
Try: Classes are great, but they can be expensive. Search for a Groupon, Living Social or local ClassPass deal—or an even more affordable option is to download a recovery yoga session or podcast and do it at home. A recommendation for you: Blissology Project.
Diane Rizzardo is a Student Physiotherapist, Kinesiologist and west-coast girl. Previously a varsity soccer player, she now enjoys distance running. A highlight of her career in the field of health and fitness has included previously managing the official Sun Run InTraining program for North America's largest 10K race and working with clients of all ages and abilities to achieve their personal fitness and overall wellness goals. Contact Diane at diane.rizzardo@alumni.ubc.ca or on LinkedIn (Diane Rizzardo) for a link to her personal blog.