How You Can Get Comfortable In The Kitchen
The kitchen can be intimidating, but one expert has some recipes and staples to make it your favorite place in the house.
Heading out the door? Read this article on the new Outside+ app available now on iOS devices for members! Download the app.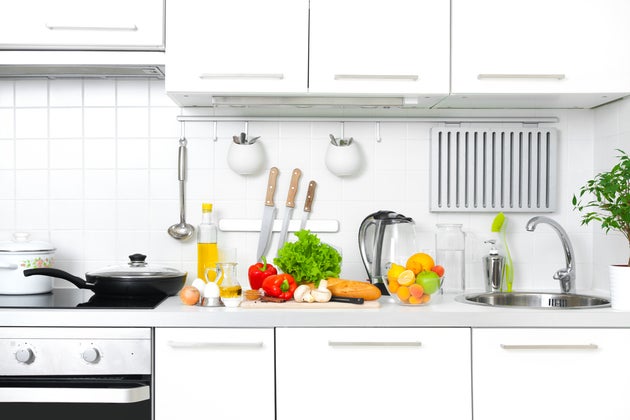 The kitchen can be an intimidating place, especially after a long day of work (or when kids are running through it each asking for a different meal). After a bit of practice and with some pantry staples, you can become comfortable in the kitchen—and even a little bit creative!
I don't necessarily think people are scared of the kitchen," explains GiGi Dubois, expert nutrition contributor and founder of GiGi Eats Celebrities. "I honestly believe people just don't venture into the kitchen that often because they're too busy thanks to hectic schedules—and they believe cooking takes far longer than it actually has to."
The key to getting the most out of your time in the kitchen is to have a few essential pantry staples on hand. She recommends spinach, eggs, salmon, olive oil (and/or coconut oil) and sweet potatoes. Not only are they all nutritious, but you can make multiple recipes with them to keep your meals fresh and inventive.
Spinach
"This leafy green—along with butter lettuce—is my favorite," shares Dubois. "It can be sautéed (in olive or coconut oil) or eaten raw, paired with the salmon that I always have in the fridge (so as to make a salad) or can be mixed in with eggs and or sweet potatoes!"
Dubois notes that spinach has about a week-or-so shelf life in the fridge, so you can get a big tub and not worry if you don't use it every day.
Eggs
"Eggs are quite possibly the easiest and healthiest ingredient to have on hand for those 'I need to eat, but I don't know what to make' moments," explains Dubois. "Hard boiling, poaching, scrambling (try GiGi's Rainbow Scrambled Eggs), making sunny-side up or over-easy eggs… deviled eggs even (try GiGi's Healthy Deviled Eggs), the options are endless!"
Eggs are an important source of protein—which is why they are so perfect for breakfast—and they also contain healthy fat. Because of this, even though you may have heard that egg whites reign supreme, don't throw out that yolk!
Salmon
"If I could propose to salmon, I would," jokes Dubois. "I am obsessed. It's the most delicious fish (in my personal opinion) and it's so easy to prepare. You can pan sear it or broil it, and it really adopts any flavors you add to it very well."
Dubois prefers her salmon simply with salt and pepper, but suggests spicing it up a bit with tomatoes, basil, pepper, olives, capers and, if you're up for it, anchovies. Giving the salmon a bit of a Mediterranean flavor profile. So take advantage of the large amount of omega-3 fatty acids and snack on some salmon, with GiGi's Salmon with Hummus or Salmon Ceviche recipes.
Sweet Potatoes
"Sweet Potatoes are so amazingly delicious, you can make them sweet—which makes them taste like dessert—or savory—which makes them taste like potato chips (if you slice them thinly and broil the slices in the oven)," adds Dubois. "Don't you dare walk by without picking up a few of those orangey-red tubers at the grocery store ever again!"
Sweet potatoes are an excellent source of fiber and are packed with vitamins and minerals. To see how they taste when you make them sweet or savory, try this recipe from GiGi for Sweet Potato Pancakes and choose your preference!
Get Out Of Your Comfort Zone
If some of these recipes seem a bit more inventive than you are used to, it may be time to get out of your comfort zone and get inventive in the kitchen.
"Thinking outside of the box is how people can start getting more creative," explains Dubois. "Is your turkey sandwich with mayo and swiss cheese boring to you? Well, then why don't you swap out the mayo for some pesto and use a different type of a cheese (grass-fed is always best)? Or, nix the cheese in general and throw in some creamy avocado. And if you're trying to nix bread from your diet, you can try grilling up slices of eggplant and using that as your bread, or using grilled portobello mushroom caps! You could even wrap up the filling to your sandwich with lettuce!"
When recipes feel stale, you can focus on swapping just one item at a time to expand your creativity and do a mix-up for your taste buds. This is especially great for leftovers—by the third meal it can feel a little stale and you may be tempted to just chuck it and go out, instead. Swapping an ingredient or two is a great way to keep foods fresh and eat in more.
"When it comes to getting comfortable in the kitchen, videos and books can help (hopefully my YouTube Channel helps as well), but I really think it has to do with overall mindset," summarizes Dubois. "If you want to start cooking and you're motivated, then you're ready to get cooking! If you feel forced, then you're quickly going to revert to your calling for take-out. Cooking is fun. Cooking is relaxing. Cooking is rewarding. Cooking is not a chore—unless you convince yourself that it is."