How To Combat A Dog Attack On The Run
What to do when that four-legged canine attacks you while on the run.
Heading out the door? Read this article on the new Outside+ app available now on iOS devices for members! Download the app.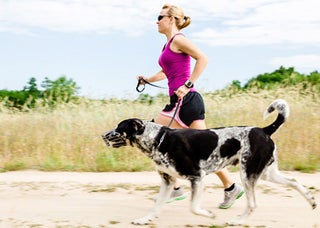 Dogs are a man's best friend—but can be a runner's worst nightmare when they attack.
Runners should all be on alert for potential danger during a run—most commonly in the form of someone who may attack. But there is one frequent danger that can be overlooked: dogs. Though they are man's best friend, dogs can jump into "hunting prey" mode, and it is important to be prepared for any four-legged animals that may come your way. Even those who hit the trails or roads with a dog—not only to spend time with them and get them moving, but also for added protection—are susceptible to unexpected dog attacks as well.
Tricia Case, owner of Trailblazing Tails, Inc. and a teacher of pet first aid and CPR, is unfortunately not a stranger to dog attacks while on the run. (It is important to note these are not everyday occurrences.) Her company takes dogs out for runs in Los Angeles and Portland, so Case has some tips for runners who may encounter these canines, either on a solo run or while out with their furry friend.
"Dogs are not unpredictable animals if you are looking for their body language," explains Case. "However, If you are running, you probably aren't paying attention to that body language if there is a dog that is starting to charge after you."
Your best defense is to be vigilant and to look for cues about what type of dog is coming after you: aggressive or fearful.
Related: 4 Tips For Running With Your Pup
With a fearful dog, they may have high anxiety and most commonly bite from behind, where they feel less threatened. "For these dogs, it is important to look them in the eyes," says Case. "The dogs that tend to bite from behind have a fear, and that fear can be activated if you look them in the eye and [firmly] say something like, 'No! Bad idea!'"
Aggressive dogs should be handled differently, however, as they should not be looked at in the eyes. For aggressive dogs, Case explains that you should stop in your tracks. "Plant your feet and fold your arms across your chest, so you try to not encourage the dog's prey drive," she says. "If nothing is flailing, your arms aren't moving, then you aren't as interesting anymore; they were chasing you because you were running, and their prey drive was turned on."
If you are running with your dog, the situation changes a bit. It is important to be mindful of where you run so you can become a good predictor of your own dog's behavior. Case notes that this prediction, along with preventing anything negative from happening, are key when running with your dog.
Unfortunately, should a dog attack your dog, there are few things that can be done. "The best advice I can give is to be aware of your environment," says Case. "If a dog does come to attack your dog, the best thing to do is let your dog defend itself."
This can be a hard thought to wrap your mind around as the owner—most people would do anything to keep their dogs safe. However, if you intervene and are bit, you reduce your chance of being able to help your dog later. Case suggests that if possible, you can try to create a distance or barrier between the dogs, by using a fence, tree or car. Cutting off the attacking dog's airway somehow—either by plugging its nose or spraying water in its face—so that they have to breathe and release your dog, is another option. However, if this approach means you must intervene and get between the dogs, it may not be the best option.
If you or your dog are attacked on the run, seek correct medical attention as soon as possible. If your dog is attacked in the hot summer months and does not have any traumatic injuries, keep in mind that they may become more easily dehydrated and overheated. Case explains that high stress situations can add to the already existing conditions and lead to a dog overheating very quickly.