How Running A Marathon Impacts Your Body
We commend ourselves and all of your for tackling 26.2, but we like to remember the proper precautions while training.
Heading out the door? Read this article on the new Outside+ app available now on iOS devices for members! Download the app.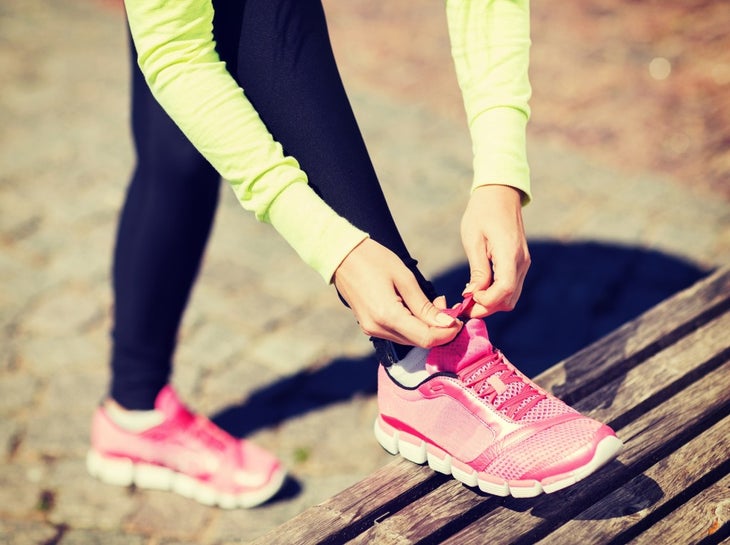 Marathoners are considered elite athletes. The physical and mental tenacity it takes to complete 26.2 miles in a matter of a few hours is impressive, and training and racing leads to fit bodies for the runners.
What runners new to marathon training may not realize, however, is that there are some potential negative physical effects from this type of intense activity. This isn't to say marathon running is bad for you—but merely a way to prepare new marathon runners for what they might face. It's important to remember that just about anyone who trains properly, fuels the body effectively, wears the right footwear, and is not suffering an injury can cross a marathon finish line.
Here are a few potential physical pitfalls of training for and running a marathon, and what you can do to combat them:
Inflammation
Running long distances can lead to muscle inflammation that sticks around for longer than other types of physical exercise. This is not just uncomfortable; some studies have found that oxidation damage is carcinogenic. Don't get too worried though. If you gradually increase your mileage during training, your chances for inflammation are reduced significantly.
Injuries
Just because running is not considered a full-contact sport does not mean you cannot get hurt. Common running injuries include muscle strain, shin splints and a painful foot condition called plantar fasciitis. Most of these injuries can be prevented with the right stretching, taking rest days, and building up mileage slowly. Just remember that if you are injured during the course of your marathon training, it is best to let that injury heal completely before trying to hit the pavement again. If you go back too soon, you risk re-injuring yourself.
Related: Prehabilitate These Areas To Prevent Injury
Lower immunity
Some long-distance runners report compromised immunity, especially following the big race. The best way to combat any unwanted illness is to take vitamin supplements, including a probiotic to regulate digestion. Eating a healthy diet and getting enough sleep will also keep distance-running-related sickness at bay.
Osteoarthritis
Running long distance alone will not lead to osteoarthritis for people with otherwise healthy joints. Where running plays a role is when injuries to those joints take place. Secondary osteoarthritis happens when joints are injured, usually repeatedly, over the course of a lifetime. The recovery time for these injuries can lead to less lubrication in those areas long-term, which can lead to osteoarthritis.
Heart attack
The original marathoner, Pheidippides, is said to have died after running the 26.2 miles in Greek mythology, presumably because his heart gave out on him. There have been reports of people in modern times dying as a result of heart complications associated with running a marathon, but the race itself is never the actual culprit. Other factors like high blood pressure, high cholesterol or undiagnosed heart problems are usually behind these occurrences. Before running any sort of long-distance race, get a clean bill of health from your doctor. Always stop running if you feel light-headed, chest pain, or have extreme trouble breathing and seek medical attention immediately.
With the right training program and enough time, any runner can complete a marathon and be healthier for it. Understanding exactly what physical obstacles may arise is important to reducing the chance that health problems will stand in the way of your marathon dreams. Before you put that training program into practice, talk with your doctor, plan a realistic training schedule, and pick out the right footwear for your particular feet. Gear up for success—and with some hard work, you'll cross that finish line before you know it.
Javier Sanchez-Mariscal is an integrity-driven, multilingual Consumer Insights and Communications Manager with a strong concentration and enormous success utilizing technology and sales strategies to support business objectives and revenue generation. With over 5  years of working with Injinji, Javier's passion for fitness and the outdoors has only grown. Follow him on Twitter and Facebook for tips to bring your fitness hobbies to the next level.