Try This Healthy Spin On Traditional Buffalo Wings
With football starting back up, this recipe is perfect for game day or when you are craving a snack.
Heading out the door? Read this article on the new Outside+ app available now on iOS devices for members! Download the app.
*This recipe originally appeared on Running on Veggies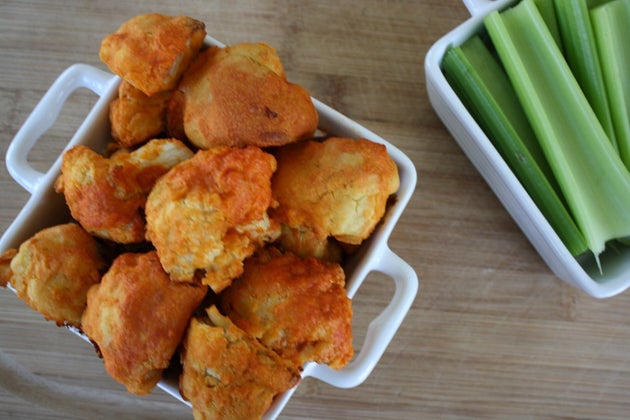 In my book there is no such thing as too spicy. Hot sauce is a staple when it comes to my meals. I pretty much add a bit of it into everything, including this next dish. This recipe was a no-brainer for me because it is a healthy version of what used to be one of my favorite things to eat—buffalo wings! Yes, believe it or not, I used to find buffalo wings so addicting and perfectly spicy that they just kept me coming back for more. But these days, since I am hyper aware of what goes into my food, standard buffalo wings have flown out of my life. However, since I believe wholeheartedly that you can pretty much make a healthy version of any "unhealthy" food, I was certain I could find a way for buffalo wings to make a comeback. I would just need to think outside the box…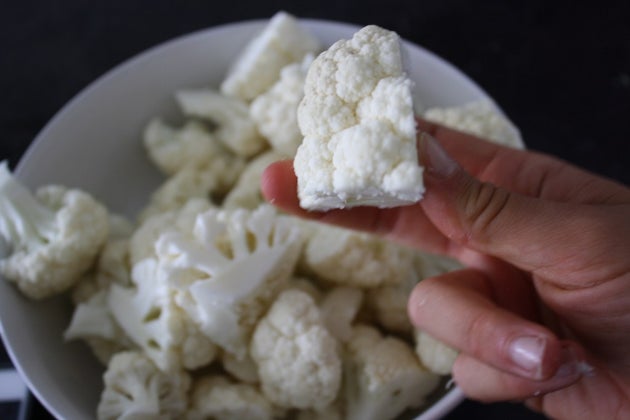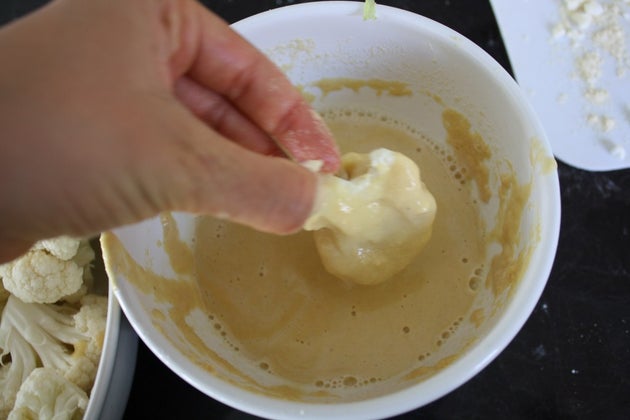 After doing some research on buffalo wings I noted that the main components are wings, hot sauce and some type of breading—all things that can easily be made healthy. Cauliflower is one of my favorite all purpose veggies. It can have multiple different textures and it absorbs flavors. It is so versatile, which is why it can be found in so many recipes from soups to rice to mashed "potatoes." And now it can be made into buffalo wings!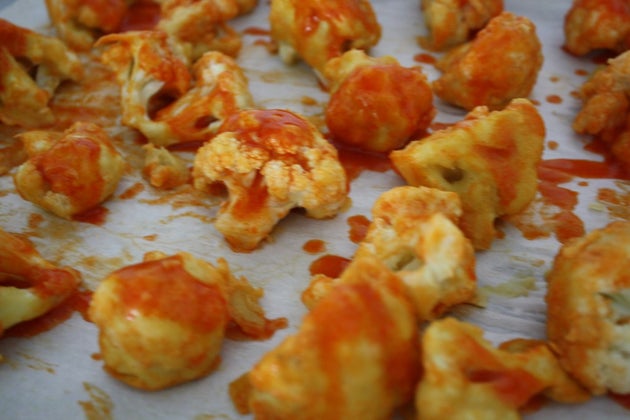 Cauliflower is the perfect "wings" substitute here because it maintains its shape and texture when cooked. And even if you're not a buffalo wing type of person, this is worth a try. This recipe is easy to prepare and really nutritious. For the breading I use garbanzo flour. If you are not familiar with garbanzo flour, it is just a fancier name for chickpea flour. It offers a ton of plant-based protein and fiber (see everyone–this is a perfect example of how easy it is to ramp up the nutrients in a dish). Trust me, this is a worthwhile swap for your traditional bleached and processed white flour.
I can even imagine making this with sliced zucchini as the "wings," but cauliflower is definitely my number one choice to imitate the real deal. Serve it with celery for that traditional "restaurant look" and you will have everyone guessing how you made vegan Buffalo Wings.
You may find yourself eating the whole tray. But hey, things could be worse. You can also experiment with different flours to see what tastes and textures you like best. This is a crowd pleasing dish that is guaranteed to impress your guests.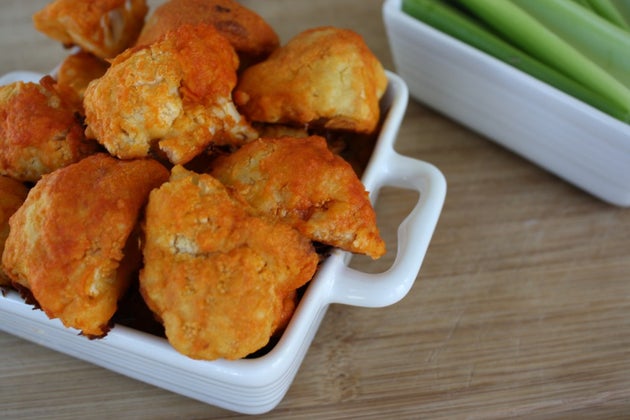 Ingredients:
1 head cauliflower cut into evenly sized florets
1 cup garbanzo flour
1 1/4 cup water
1 teaspoon garlic powder
1/3 cup your favorite hot sauce (I used Franks Redhot)
1 tablespoon melted coconut oil
Directions:
Preheat oven to 400 degrees
In a medium size bowl whisk together garbanzo flour, water and garlic powder. You may need to add a little more water depending on the thickness of the mixture. You want it to be thick but not too thick so that the cauliflower holds the coating.
Line a baking tray with non-stick spray. You want to be sure the cauliflower is cut in somewhat even pieces so it cooks each piece evenly. Dip cauliflower into mixture, coating each side. Place on prepared baking tray. Bake in the oven for 15 minutes at 400.
While cauliflower is in the oven, prepare your hot sauce mixture. Combine hot sauce and coconut oil in small bowl. (I like Franks Redhot or Cholula. Tabasco would be too strong for this recipe)
Once cauliflower has cooked for 15 minutes, take it out and coat it with hot sauce mixture. You want to be sure you get it coated on all sides. Best to wait until its cool before tossing it in a bowl with the hot sauce.
Place cauliflower back on your prepared tray and cook for an additional 20 minutes at 425
Note: This recipe is very spicy is you would like it milder just use less hot sauce or dilute the hot sauce mixture with a little water.