What Happened When I Gave Up Sugar For Two Weeks
Interested in cutting the sucrose from your day-to-day life? Here is what happened when one runner did just that.
Heading out the door? Read this article on the new Outside+ app available now on iOS devices for members! Download the app.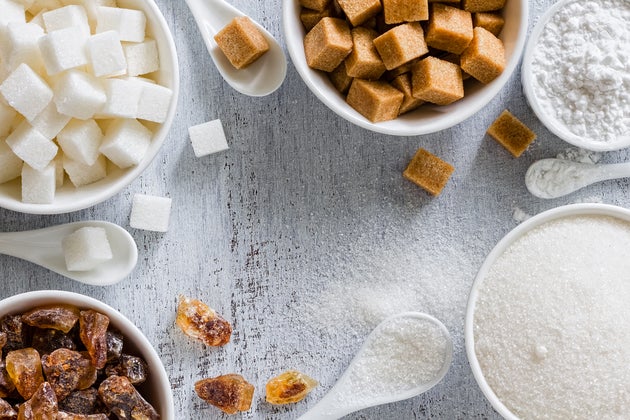 I love sugar. Chocolate or vanilla, cake or cookies, breakfast or dessert, I'll take it all. I grew up with a major sweet tooth thanks to my mom's side of the family telling me that chocoholism is in our blood. As soon as I eat anything savory, I crave something sweet. Get the picture? It's bad. Luckily I work out and eat prettily healthily otherwise, so I tell myself that it all balances out. But I know I could improve, and with an energy-sapping toddler and another baby on the way, I wanted to feel a little bit better. So I decided to try (major emphasis on try) to give up sugar for two weeks to see if it changed how I felt. Because I'm not superhuman, I settled on just ditching added sugar, mostly in the form of dessert; healthy foods like fruit and natural sugars were still on the table.
Giving up my daily dose of dessert was decidedly not easy, but I made it to the end and am here to share my honest sugar-free findings. I did end up feeling less sluggish, more energized during workouts, and just generally "lighter." Thanks to a couple weeks of focusing on the taste of naturally sweet foods like fruit, my taste buds became more sensitive to real sugar after I was done. By the end of the experiment, I had no problem getting a sweet fix from a bowl of fruit salad or a smoothie made with frozen berries and plain Greek yogurt. And my favorite effect of going sugar-free was my sense of pride and accomplishment; giving up dessert was really difficult for me and knowing I had the willpower to do it was extremely satisfying.
RELATED: What To Expect When Weaning Off Of Sugar
So if you're considering saying sayonara to sucrose too, know that if I can do it, anyone can. But it's not going to be easy, and you should know what you're getting into. Before I started I read plenty of accounts online by people who have done the same type of experiment, and while they definitely inspired me to attempt it, I also found that many of them only emphasized the successes without sharing any of the difficulties that would have helped me to stick with it when I was struggling. So allow me to prepare you with a couple tough truths- and helpful tips- that I faced to make it a little easier for you to go sugar-free:
It starts really easy—and then gets really hard.
Day one was easy. I was super motivated and ready to go 100 percent cold turkey and didn't give dessert a second glance. Day two was almost as easy as I rode the momentum from the first day's success. Day three? Day three was the absolute worst. I was so over the experiment and wanted a fix—bad. I held out but it took every bit of willpower and distraction I could muster to stay strong. The next couple days were rough (and I swore I heard the ice cream truck jingle about every three minutes) but by day five, I was over the hump and the rest of the experiment was pretty doable. Be aware of the calm before the storm and know that once you get through the third or fourth day, it's all downhill from there.
Tip: When you're jonesin' hard, try brushing your teeth, chewing gum or drinking lemon water; the strong flavors dominated my palate and made the idea of sugar seem momentarily gross.
Fruit is not dessert, but it will calm a sweet tooth.
I've read a few accounts about going sugar free where the author claims to have fallen in love with fruit and learned to crave it instead of dessert. Yeah, this was not the case for me. I do love fruit, but come on, it's never going to be a bowl of ice cream. For the sake of this experiment I did eat fruit after most meals to try to and quiet my sweet tooth and I will say, for the most part it did do the trick, and yes, sometimes I even craved a bowl of summer-perfect strawberries. I stand by the fact that fruit is fruit and dessert is dessert—but now that my taste buds have gotten a reboot I'm happy to have some berries or grapes after dinner most of the time and let dessert be a well-deserved treat.
RELATED: How to Kill Your Sugar Addiction Before It Kills You
Tip: Make your fruit fancy to make it more satisfying. Make a bowl of colorful fruit salad to keep in the fridge, freeze berries or grapes to eat like hard candy, smear a little nut butter or smashed date on an apple for a crunchy-creamy texture, or freeze bananas and blend into faux "ice cream."
Brace yourself for the weekend.
Like most people who start a diet of some sort, I chose a Monday to say my goodbyes to sugar. I survived the week pretty well, but when Friday rolled around I was getting a little antsy. I don't know about you, but I look forward to the weekend as a time to loosen up a little on my food choices, so when I realized I would need to behave a bit better on Saturday and Sunday, I was pretty bummed. Luckily I enjoyed some Friday night pizza and went out to lunch with my family, so I still felt like I was indulging a little bit.
Tip: If you feel the same way about weekends, do yourself a favor and make sure you still have a treat of some sort to look forward to so you feel satisfied enough to stay on track the next week. If you're dining out, go for the fruit cup, cheese plate, or a specialty (unsweetened) coffee drink to top off your meal dessert-free.