Getting Ahead of Menopause
Starting these habits in pre-menopause will have you running strong through menopause and beyond.
Heading out the door? Read this article on the new Outside+ app available now on iOS devices for members! Download the app.
The word "menopause" brings to mind a woman woken by hot flashes and plagued by mood swings. While most women have some idea of the hormonal upheaval that accompanies the end of fertility, that transition period is gradual and full of uncertainty. With physical changes that often include sleep disruptions, bone injury, and weight gain, it's not uncommon for runners nearing menopause to feel their PR attempts and ambitious training goals involve a metaphoric race against time in addition to literal races against the clock. 
Although athletic performance begins to decline at some time in midlife, recent results show master's women increasingly competing with world class athletes decades their junior. At the 2019 New York City Marathon, four women over 40 finished in the top 15 of the professional field. With less stigma against women continuing to train through and after pregnancy, increased opportunity to compete in robust sports programs as children and teenagers, and technical advancements to make cross training and recovery more effective, it's no wonder that today's elite runners are extending their professional and competitive careers longer. 
Perhaps most importantly, though, doctors, nutritionists, and coaches have a better understanding of the unique physiological needs of women in general—pre-menopausal women in particular. Researchers like Stacy Sims, an environmental exercise physiologist and nutrition scientist are at the forefront of a push to understand female endurance athletes' nutrition and training needs in relationship to hormonal changes both within an individual menstrual cycle and over years of hormonal changes in midlife. Similarly, increased awareness of the role estrogen plays in bone health has made for a better understanding of the relationship between menopause and exercise in the context of increased risk for fractures and ligament injury. 
From Perimenopause to Menopause
Perimenopause, sometimes called pre-menopause, begins in the one to five years preceding menopause and lasts, on average, four years. According to Dr. Allison Kay, an OB-GYN based in Seattle, the median age of menopause (51.4 years) can be affected by both genetics (or what patients might think of as family history) and tobacco use (smokers experience earlier menopause). Women begin to experience perimenopause at age 47 on average, though some women may notice changes sooner. Common signs of perimenopause include irregular periods, heavy menstrual bleeding, insomnia, memory trouble, vaginal dryness, and lower libido. Since a woman isn't "menopausal" until she's been without a period for a year, the line between perimenopause and menopause can only be seen in retrospect. 
Women face potential bone and heart health challenges as estrogen production plummets leading up to, throughout, and following menopause. For the 1% of women who go through menopause early (before 40), years of lost estrogen lead to osteoporosis, bone fractures, and ischemic disease, where plaque builds up in vessels and restricts blood flow. Most doctors will prescribe hormonal treatment in those cases, says Dr. Kay, because those who experience menopause before 40 are "losing 10 years of good estrogen exposure for bones and heart," Dr. Kay explains, "for those women we start them on hormones typically until the age of 51."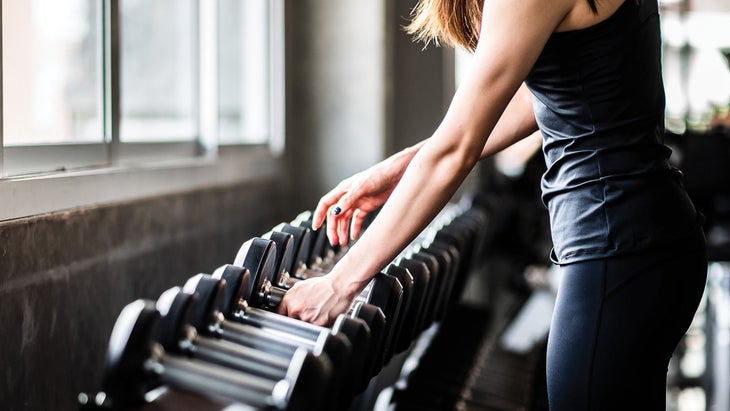 Nutrition for Strength
In Sims' book Roar, she lays down the foundation that "women are not small men," and parses the relationship between female hormones and athletic performance in the context of training, nutrition, and recovery. While doctors frequently recommend both cardio and strength training to patients of all ages, Sims is focused specifically on women who engaged in training with the goal of improved performance outcomes beyond general health. 
Sims has studied the ways in which women's nutritional needs vary throughout both perimenopause and menopause. Because estrogen levels affect metabolism and fat storage, she explains that menopausal and postmenopausal women often experience a change in body composition, with more fat accumulation in the belly accompanied by muscle loss. Falling estrogen levels result in increased protein breakdown and muscles that become less reactive to the activities and nutrients that help build them. 
To compensate, Sims recommends athletes increase overall protein intake to account for about 30% to 35% of their daily calories, focusing on protein with specific muscle-building properties. Whey protein, for example, is high in the amino acid leucine, which helps build muscle as well. The timing of protein consumption is important, too: "The best option after exercise is a combination of fast-release (whey) and slow-release (casein) for a continuous 'feed' of muscle-mending amino acids into your bloodstream." Yogurt or milk, for example, contain both proteins.
It's not uncommon for middle-aged women to bemoan both an increase of GI issues during high-hormone phases of their cycles and the fact that it's harder in general to digest pre- and mid-workout fuel than it once was. Sims explains the science behind this: Fluctuating hormone levels can often lead to various types of GI distress. Studies done as early as the 1960s have shown that menopausal women may be particularly sensitive to fructose, often leading to increased fatty acids in their bloodstream and subsequent metabolic consequences including insulin resistance. Sims writes that for "postmenopausal athletes this means less fructose is converted to glucose and available for energy." Unabsorbed fuel not only equates to runners not getting the intended benefit from that fuel but can also lead to cramping and bloating. As alternatives to the traditional gels and sports drinks, she suggests foods with a lower glycemic index, like Bonk Breaker, Picky Bars, or glucose tablets. The glycemic index of foods in regular diets may play a role in GI distress too, and Sims recommends substituting fruits and vegetables for grains, breads, and pastas while also keeping an eye on protein intake.
Heavy menstrual bleeding is common in perimenopausal women as well, so Dr. Kay recommends iron supplements to mitigate iron deficiency. Perimenopausal and menopausal women should monitor both iron and vitamin D levels in their annual blood panels.
Exercise and Bone Strength
Due to the increased risk of bone injuries for women with osteoporosis, Dr. Kay recommends weight-bearing exercise—like running—and vitamin D supplements to support bone health. Weight-bearing exercise strengthens muscles but it also plays an important role in maintaining or even building bone density later in life as the impact itself stimulates bone growth. All post-menopausal women are at risk for osteoporosis once their bodies' estrogen production drops as a result of menopause.
The women Sims studies in Roar—competitive runners and triathletes—are already engaged in high levels of weight-bearing activity. She recommends menopausal women focus on increasing power to offset an increased rate of protein breakdown that leads to decreased muscle maintenance. 
According to Abby Bales, a doctor of physical therapy and a certified strength and conditioning coach, the decline in estrogen and testosterone leads to lower muscle mass and decreased bone density. Additionally, the aging body has a decreased rate of using ingested protein to build muscle and the inflammatory processes found in aging diseases (arthritis, joint inflammation, etc.) catabolizes proteins found in the body on a regular basis for repair, says Bales. "This process can sometimes drain protein from the musculature in the body itself, in the absence of proper dietary protein absorbed." Declining estrogen levels can also lead to "decreased elasticity in connective tissue" that can leave menopausal women at risk for ligament and connective tissue injuries as well as osteoporotic fractures. 
When asked what preventative steps she'd advise for menopausal women, Bales was emphatic: "Lift heavy weights three or more times per week. Do strength training in your full range of motion with lighter weight. Walk or run outside. Dance. Work on balance and changing directions. Challenge your heart rate, don't just cruise. If you don't use it, you will lose it." Specifically, Bales recommended doing three to five reps of heavier weights and incorporating exercises like squats, thrusters, and deadlifts as part of a well-rounded lifting routine. 
While adequate sleep plays a significant role in recovery and injury prevention for every athlete, menopausal women are subject to sleep disruptions both as a result of elevated core temperatures (what we often think of as "hot flashes") and a reduction in the hormones that support relaxation and deep sleep.
Menopause ushers in reduced production of melatonin, the hormone that helps lower core temperatures at night. Fluctuating estrogen levels also impact temperature regulation and interfere with the body's self-cooling mechanism. In turn, this can lead to difficulty falling or staying asleep. In addition to regulating body temperature, Sims explains that sex hormones that are dropping during menopause play vital roles in helping us sleep. Progesterone, which drops along with estrogen during menopause, is an anti-anxiety hormone. Estrogen is essential for REM sleep, promoting metabolism of serotonin, reducing the length of time it takes to fall asleep, and the ability to stay asleep. Dr. Sims recommends valerian and Montmorency tart cherry juice to increase the body's production of melatonin for more restful and restorative sleep.
It's a rare runner who's toeing the line at the New York City Marathon hoping to win prize money—master's age or not—but the women over forty who are continuing to perform at a world-class level are paving the way for competitive masters runners at every level. Just as each runner responds differently to various workouts and training plans, perimenopause and menopause look different from woman to woman, but broadly speaking, the keys to maximizing success and longevity can be found in careful monitoring of nutritional needs and a robust strength-training routine. Most likely the benefits will extend beyond the race course as well.