Here Is How You Should Fuel Your Workouts And Runs
Nutritionist Katie Casto Hynes explains the best ways to fuel your runs. Learn the when, what and the how of proper fueling.
Heading out the door? Read this article on the new Outside+ app available now on iOS devices for members! Download the app.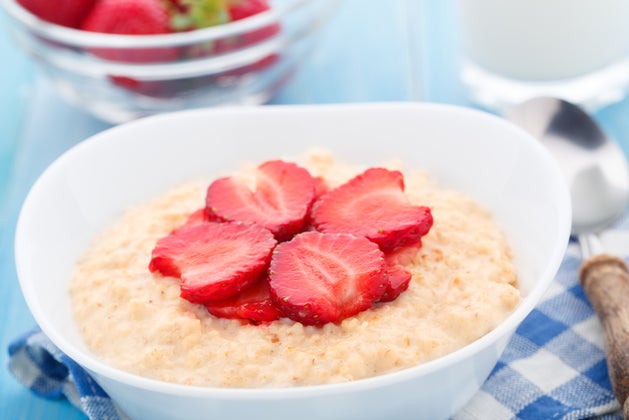 Crisp morning air, leaves changing colors, crunchy apples, and everything pumpkin. Fall is here! But better yet, perfect racing weather and marathon season are upon us. As we gear up for fall racing, it is important to fuel your runs, especially the hard workouts and long runs. Proper fueling will lead to better workouts and provide more energy.
When To Fuel:
Aim to eat 30 minutes to 4 hours before your workout or race. Yes, this is a big window of time. Use workouts leading up to a race to test your gut. How close to the run can you eat without upsetting your gastrointestinal (GI) system? Every individual is different. Timing can also be tough depending on what time of day you're running. Who wants to get up at 4am to fuel that 6am run? Rest is important too! However, before an important race or key workout, it may be worth waking up 2-3 hours earlier to eat. Then, try going back to sleep for a few extra ZZZs. 
What:
Simple carbs move quickly through the gut and into the bloodstream as glucose. These "sugars" are ready to roll! Pre-fueling is all about topping off the muscles before your run with readily available energy and maintaining blood glucose levels during prolonged exercise. Think about easy and quick options like brown rice crackers, pretzels, fresh fruit, low-fat yogurt, low-fiber cereal, or a snack bar.
How Much:
Keep it small. And reduce the size of the snack the closer to exercise that the meal is consumed. 20-60 grams of carbs is all you need to top off your muscles. What does 20-60 grams of carbs look like? Here are some snack suggestions:
1 slice of toast with 1 tablespoon nutbutter and honey
1 medium banana
1 packet of instant oatmeal with ½ cup strawberries
1 whole grain frozen waffle with 1 tablespoon jam
16 oz sports drink.
(NOTE: Before long endurance races, such as the marathon, aim for a larger meal of 2 to 4 grams carb per kg body weight)
But….not every run needs extra fuel. Teach your body to use fat for fuel by running on empty. Early morning easy runs are the perfect time for this. You avoid sacrificing a workout while also training your body to be more fuel efficient. So sometimes just wakeup and go!
Next time you plan a workout, plan a snack along with it. Try out different options to see what works best for your body. You may just surprise yourself and run your best workout yet!
About the Author: Katie Casto Hynes received her Masters of Science in Nutrition & Exercise Physiology from Teachers College, Columbia University. A former collegiate athlete turned competitive marathon runner, her passion for fueling the body with healthy foods inspired her to enter this field. She has worked with athletes to help them improve their performance through nutrition and proper race fueling.