Roasted Cherry Tomatoes Make An Excellent Meal Topping
After a quick visit to the oven, these roasted cherry tomatoes become the perfect topping for any salad, frittata or pasta dish.
Heading out the door? Read this article on the new Outside+ app available now on iOS devices for members! Download the app.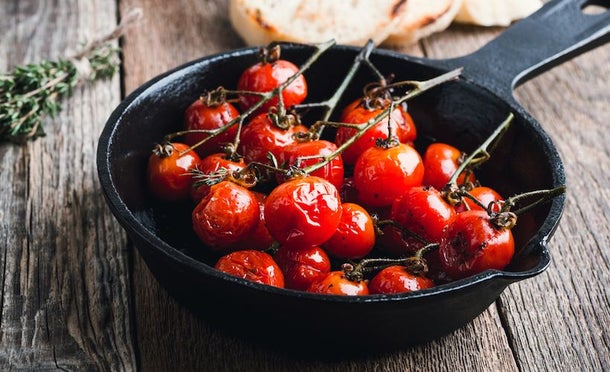 In her new cookbook Simple Green Suppers, Susie Middleton offers several healthy, one-dish vegetarian meals–most of which can be prepared in an hour or less.
Related: 4 Tips For Quick, Great Veggie Dinners
Roasted tomatoes are my absolute favorite savory flavor boost—for anything. And when I'm in a hurry, the quickest way I can get that flavor is by roasting the smallest tomatoes of all: cherries. You can roast cherry or grape tomatoes of any size, but slightly larger ones work better here. If yours are all very small, reduce the oven temperature to 425 degrees and the cooking time to 18 to 22 minutes. Best of all, you can store these little flavor bombs for several days in the fridge and use them in everything, from salads to frittatas.
Quick-Roasted Cherry Tomatoes
Makes 3/4 to 1 cup
Ingredients
8 to 10 ounces ripe cherry tomatoes, cut in half (a generous 2 cups of tomato halves)
1 Tbsp. olive oil
Large pinch of kosher salt
Directions
Preheat the oven to 450 degrees. Cover a heavy-duty rimmed baking sheet with a piece of parchment paper. In a medium bowl, toss cherry tomatoes with oil and salt. Arrange the cherry tomatoes, cut-side up, in a single layer on the prepared baking sheet. Bake for 22 to 24 minutes, until shrunken and a bit charred around the edges. Let cool for 10 minutes or so on the baking sheet before removing them. (If some of the cherry tomatoes stick to the parchment paper, lift up the paper and push the tomatoes off from behind.) Use the roasted tomatoes right away, or store in the fridge for five to six days or in the freezer for up to three months.
Related:
A Zesty Whipped Feta Spread With Lemon And Thyme
Recipe: Arugula Salad With Mouthwatering Grilled Toppings
A Grilled Vegetarian Flatbread That Takes Just 1 Hour To Make