Recipe: Stuffed Eggplant With Bulgur, Walnuts And Mint
A hearty meat-free meal that's delicious served hot or cold.
Heading out the door? Read this article on the new Outside+ app available now on iOS devices for members! Download the app.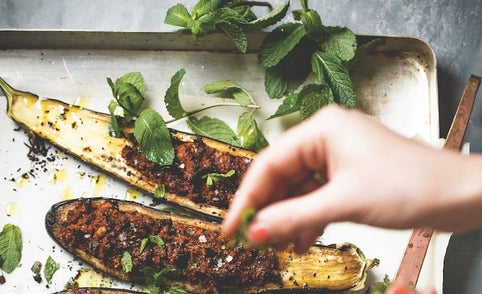 From Souk by Nadia Zerouali and Merijn Tol. Recipe and photo reprinted in arrangement with Smith Street Books.
This recipe is one of many deliciously spiced and flavorful recipes from the new book Souk, which features an array of mezze dishes to delight the senses. Mezze is a popular way of eating in the Middle East, similar to tapas in Spain, where the style is to serve a variety of hot and cold small plates to encourage sharing and savoring the dishes.
Stuffed Eggplant With Bulgur, Walnuts And Mint
Serves 4 to 6
Ingredients
2 white onions
2¾ oz. walnuts
½ bunch fresh mint leaves, picked, plus extra to serve
3½ oz. fine bulgur
2¼ oz. tomato paste
1 Tbsp dried mint
1–2 tsp Turkish red pepper flakes (pul biber or Aleppo pepper)
Mild-tasting olive oil
3 firm eggplants
Turkish yogurt
Salt
Directions
Chop the onions, walnuts and mint leaves very finely and combine in a bowl with the bulgur, tomato paste, dried mint, red pepper flakes and salt to taste. Mix in a large spoonful of olive oil.
Preheat the oven to the highest setting. Cut the eggplants in half lengthways and scoop out some of the flesh (keep it for soup or a dip). Place the eggplants on a baking tray and fill them with the bulgur mixture. Drizzle with some oil, and sprinkle with a little more salt and red pepper. Cook the eggplants in the middle of the hot oven until golden brown and cooked through.
Serve drizzled with olive oil, sprinkled with some fresh mint leaves and with some creamy yogurt on the side.
Related:
Recipe: Lemongrass, Coconut And Sweet Potato Soup
Recipe: Spiced Vegetables And Garbanzo Beans With Yogurt