Recipe: Chocolate Chili Con Carne With Coconut
A recipe selection from Susan Jane White's cookbook Tasty. Naughty. Healthy. Nice.
Heading out the door? Read this article on the new Outside+ app available now on iOS devices for members! Download the app.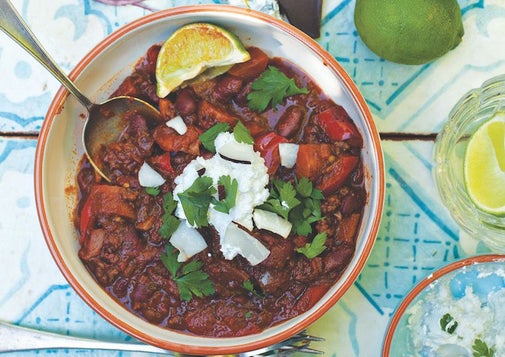 Recipe from Tasty. Naughty. Healthy. Nice. by Susan Jane White, © 2016 by Susan Jane White. Reprinted by arrangement with Roost Books, an imprint of Shambhala Publications. Boulder, Colo.
If you are a feral carnivore, like my husband, here's a good way of introducing more beans and veggies to your diet without feeling oppressed. The overtones are there (what man won't wolf down a chili con beast?), but so is the nutritional purchase.
It doesn't actually taste of chocolate, but rather, utilizes cacao powder as another spice in the mix.
By downloading some good podcasts at RadioLab.org, you'll prep this before you even realize it. Put your feet up and enjoy the dance your nostrils will do over the next two hours. Serve with great big dollops of cultured coconut yogurt, macerated red onions and exceptional company.
Chocolate Chili Con Carne With Coconut
Serves 10 to 12
Ingredients
1½ cups (270 g) dried kidney beans, soaked overnight
2 onions
2 red bell peppers
1 large carrot
4 garlic cloves
Extra virgin olive or coconut oil, for sautéing
2 tablespoons tomato purée (optional)
1 tablespoon dried oregano
1 tablespoon raw cacao powder
1 tablespoon sweet or hot paprika (optional)
1 cinnamon stick
Good pinch of dried chili flakes
Large pinch of coconut sugar
1 lb (500 g) minced beef
1 28 oz (794 g) can diced tomatoes
Just over 2 cups (300 ml) vegetable or beef stock
Salt and pepper
1 tablespoon ground cumin
2–4 squares dark or raw chocolate (optional)
To serve:
1 small red onion
1 really juicy lime
1 tablespoon fish sauce (nampla) (optional)
Fistful of fresh cilantro (optional)
Natural coconut yogurt
Directions
First off, soak the dried kidney beans overnight. The next day, prep the veggies. Dice the onion. Roughly chop the bell peppers and carrot into bite-size chunks, discarding the seeds and stalks. Slice your garlic and line up all your dried spices and herbs. Now you're ready to cook.
Heat a little oil in your largest sauté pan or frying pan (I have two going at the same time to speed things up). Sweat the onions first, stirring regularly for 10 minutes, until they become glassy. Put them aside, then sauté the peppers and carrots until soft but not browned. Add the garlic toward the end, along with the tomato purée, spices and coconut sugar (if using). Cook for a good five minutes and let your nostrils samba. Remove from the heat and pile on top of the resting onions.
Now whack up the heat and brown the beef all over. It needs to be browned or the end result will be disappointingly insipid. You may need to do this in two batches.
Tip in the soaked kidney beans (canned is okay in an emergency), canned tomatoes and stock. Don't worry if it looks a little icky. The pot will transform in a few hours. Stir in the veggies, pop a lid on and let it paddle on a low heat for two to three hours. It's done as soon as the beans are soft but not mushy.
Taste, tickle with salt and pepper, and add the cumin and dark chocolate to liven it up. If you feel it needs more pungency, add some yeast extract, blackstrap molasses or chopped anchovies. Sometimes I do; sometimes I don't.
To serve, cut the red onion in half and finely slice into semicircles. Squeeze the lime over the onions and allow them to party with the fish sauce. Top each bowl of chili con carne with a little macerated red onion, fresh cilantro (if using) and a great big dollop of cultured coconut yogurt in place of sour cream. It's the holy trinity to a good con carne.
Related:
Our Interview With Cookbook Author Susan Jane White
Lemongrass, Coconut And Sweet Potato Soup Recipe