Naked Taco Bowl Recipe From Simply Vibrant
This taco bowl recipe is perfect to bust out for large gatherings with friends or family.
Heading out the door? Read this article on the new Outside+ app available now on iOS devices for members! Download the app.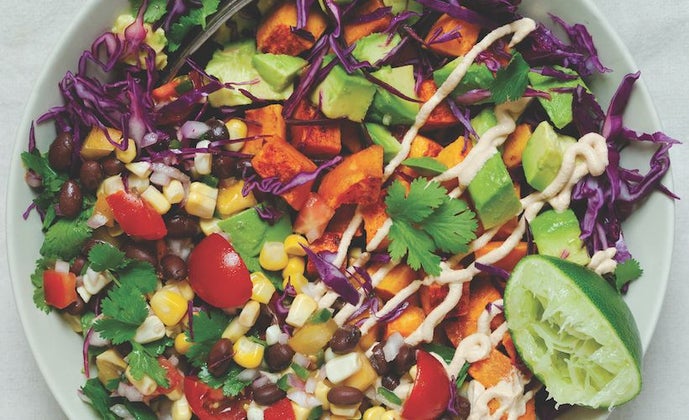 From Simply Vibrant by Anya Kassoff © 2018 by Anya Kassoff. Reprinted in arrangement with Roost Books, an imprint of Shambhala Publications, Inc.
From the new book Simply Vibrant, which features colorful, plant-based recipes, this dish has all the well-loved, familiar flavors and textures of a good taco in a bowl—there is crunch from the bright salsa and purple cabbage, sweetness and spice from the chipotle-roasted sweet potato and cashew cream, buttery chunks of avocado and piney notes from cilantro. All the components make up a great salad, but they can also be served inside taco shells if you want something more substantial.
Naked Taco Bowl
Serves 4 to 6
Ingredients
2 medium peeled and cubed sweet potatoes
½ Tbsp neutral coconut oil
Sea salt, to taste
Ground chipotle, to taste, for sprinkling
1½ cups cooked or canned black beans
Kernels of 1 corn ear
1–2 tomatoes, chopped
¼ red onion, finely chopped
1 small jalapeno, seeded and finely chopped
Approximately 1 cup cilantro leaves, plus more for serving
Freshly ground black pepper, to taste
1 lime, plus more for serving
1 Tbsp olive oil
1 small cabbage or lettuce head, thinly shredded
1 avocado, sliced
To serve:
Preheat oven to 400 degrees. Arrange sweet potato cubes on a parchment paper–covered baking tray. Add oil, salt and ground chipotle. Bake for 20 to 30 minutes, until soft.
Combine beans, corn kernels, tomatoes, onion, jalapeno and cilantro leaves in a medium bowl. Sprinkle with salt and pepper, squeeze juice of lime over and drizzle with olive oil. Toss to combine.
Divide shredded cabbage among bowls. Top with roasted sweet potatoes, black bean salsa and avocado. Serve with a lime-chipotle cream or avocado mayo (or dressing of choice), more lime and cilantro.
Related:
A Healthy Quesadilla Recipe You'll Love