Make Your Diet Protein-Packed With These 6 Snacks
These six snacks provide your body with the protein it needs to repair and recover muscles after long or intense workouts.
Heading out the door? Read this article on the new Outside+ app available now on iOS devices for members! Download the app.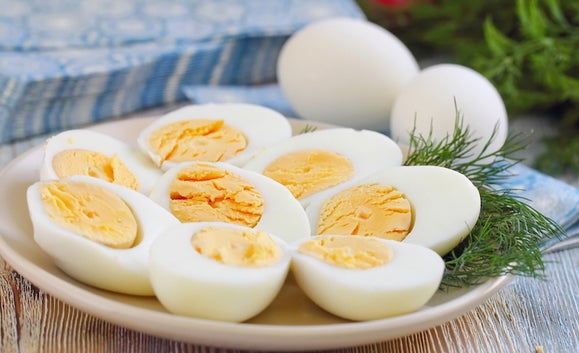 Whether you've set a goal to lose weight, run a new distance or set a PR, one of the most important ingredients you need to achieve your goal is protein.
Protein is an important building block for your bones, muscles, cartilage, skin and blood. It replenishes your muscles after workouts, which helps to speed up recovery, prevent soreness and gives you the strength you need to run strong. Following a high-protein diet will also help curb hunger pangs and cravings. Studies in recent years, including this one published in PubMed in 2004, have consistently shown that protein is more filling and leaves you feeling full.
While the total amount of protein athletes need varies on an individual basis, new research published in the Journal of the International Society of Sports Nutrition suggests that as little as nine grams of protein should be effective to kickstart muscle building after exercise. Athletes don't need powdery protein drinks or big, protein-rich meals to get enough; in fact, the study shows that athletes who drank beverages with nine grams of milk protein after resistance exercise showed increased markers of muscle building compared to those that consumed carb-only beverages.
Related: How To Eat More Protein (And A Recipe!)
Sneaking in nine grams of protein from a milk-protein base isn't the only way to get the muscle-building nutrients you need. If you're on the go, there are many other easy ways to add protein to your diet. You can find about nine grams of protein in:
Low-Fat Chocolate Milk
An eight-ounce glass of low-fat chocolate milk (eight grams of natural, high-quality protein) will not only deliver protein to refuel your body–it will also satisfy sweet tooth cravings.
String Cheese
One string cheese stick will deliver about eight grams of protein. Toss a stick into your bag before you leave for the day; it's small, so it won't take up much space and it's easy to carry wherever you go.
Deli Turkey
Sliced meat has a bad reputation for containing high sodium. However, if you get fresh, organic turkey meat, you'll reap the benefits without all the processed junk. About one and one-half slices of deli turkey will deliver nine grams of protein. Applegate is an easy-to-find brand that doesn't have all of the sodium and processed garbage found in most sliced meat.
Hard Boiled Eggs
Boil a bunch on a Sunday evening and place one or two in a bag that you can grab each day. Just one and one-half hard boiled eggs will deliver the nine grams of protein you need.
Peanut Butter
Don't feel guilty if you want to snack on a spoonful of peanut butter. Two and one-half tablespoons of peanut butter delivers about nine grams of protein. Justin's peanut butter offers to-go packs if you want something that's easy to grab for busy or travel-filled days.
Greek Yogurt
More than a calcium snack, Greek yogurt delivers 10 grams of protein for every five ounces consumed.
Related:
Repair Your Muscles With Chocolate Protein Mug Cake
7 Protein Powders That Passed Our Rigorous Taste Test