Try Something New With This Ugali Recipe From Kenya
In his new book The Endurance Diet, author Matt Fitzgerald compiles recipes like this ugali appetizer that complement any endurance diet.
Heading out the door? Read this article on the new Outside+ app available now on iOS devices for members! Download the app.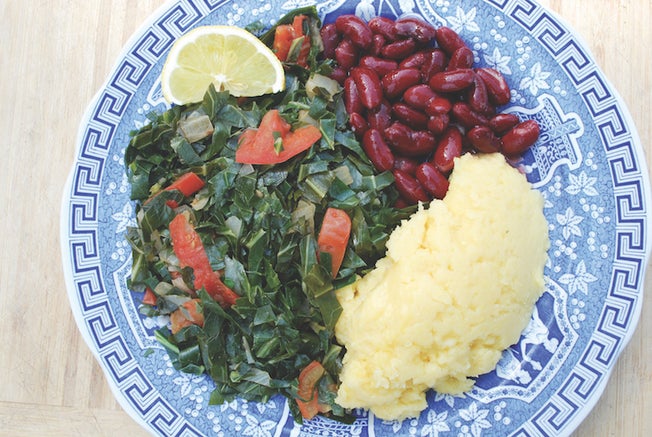 For his new book The Endurance Diet: Discover the World's Greatest Athletes' 5 Core Habits to Look, Feel and Perform Better, author Matt Fitzgerald spent 18 months comparing diets of elite endurance athletes from 33 countries. This dish from Kenya works great as an appetizer to share with friends or a delicious meal for the whole family.
Related: Eat Like An Elite With Help From This New Book
Traditionally, this meal, like most Kenyan food, is eaten with the hands: You tear off a small piece of ugali and form it into a ball with a depression in it. You then use the ugali to scoop up the greens (sukuma wiki) or whatever stew or meat is served alongside it. These greens can also be enjoyed with chapati, or flatbreads. Feel free to add any leftover meat to the greens when you add them to the sukuma wiki to provide additional protein, or add a side of canned beans for a vegan protein.
Ugali Recipe With Sukuma Wiki
Serves 4
Ingredients (Sukuma Wiki)
1 white onion
2 tsp. olive oil
1/2 tsp. cumin
1/2 tsp. coriander
1/8 tsp. cayenne pepper
2 plum tomatoes, chopped
1 pound collard greens or kale (2 bunches), stems removed and shredded or chopped
1 cup water
1/4 tsp. salt (or to taste)
1/8 tsp. black pepper (or to taste)
1 lemon, quartered
Ingredients (Ugali)
2 cups water
Pinch of salt
1 cup corn flower (white or yellow)
Directions
Sauté onion in olive oil over medium heat until soft, for 8 minutes. Add cumin, coriander, cayenne and tomatoes, and stir. One handful at a time, add shredded collards or kale, stirring to coat with other ingredients. Add 1 cup water and cover. Cook 30 minutes or until greens reach your desired tenderness. While greens are cooking, start the ugali by bringing 2 cups of water and a pinch of salt to a boil in a saucepan. Turn heat to low, and slowly add corn flour, stirring continuously to break up lumps. Continue to cook and stir for 3–4 minutes, or until mixture is a stiff porridge. Turn off heat and scoop into a serving bowl. When greens are cooked, season with salt and pepper to taste. Serve sukuma wiki alongside ugali, with a lemon wedge to squeeze some fresh lemon juice on each portion of greens.
Nutrition Facts:
159 calories, 4g total fat, 30g total carb, 5g fiber, 4g protein
Related:
The One Eating Habit Molly Huddle Changed To Rise To The Top
This Beef And Soba Noodle Recipe Brings The Heat To Dinner